Disclosure: This post has been compensated in connection with my appointment as an ambassador in the Ragú® Mom's the Word on Dinner Program.  Visit http://www.facebook.com/ragusauce to join the conversation.
I am often looking for ways to get my kids to try different foods.  If you were to ask the little ones on any given night what they want for dinner, the answer is sure to be pasta … or cheese sandwiches, but most likely, pasta.
So when Miss M saw me in the kitchen tonight cooking dinner, the conversation went a little like this:
M:  "What are you making us for dinner?"

Me: "Soup"

M:  "But I don't like soup"

Me:  "You like pasta, sausages and pasta sauce though right?"

M:  "Yummy, but I don't like soup".

Me:  "You'll like this one".
She didn't quite believe me and stomped outside to report to her brother that I was making soup for dinner.   Who proceeded to announce his dislike for this to the neighborhood by screaming "Yuck".   Score 1, ME!  Neighborhood parents, looks like you'll just have to continue feeding your own kids because they won't want to come here now.
So when the soup was ready, here's what I do to keep the little ones happy.  I ladle out the pasta, sausages and just a little of the soup into bowls for the twins – in the small amount of liquid that I put in their bowl (not pictured below, that is my bowl) there is sure to be a little of the veggies.  And shh, don't tell them but I may hide a little spinach or tomato under a piece of pasta or sausage.  Then I top it with parmesan.  This way I only have to cook one meal, but everyone is happy.
So my thoughts on making this soup is I wanted to include as many of the ingredients as possible that I would normally use to make a pasta dish, but give it a new twist, make it a little fun, and have the kids try something new.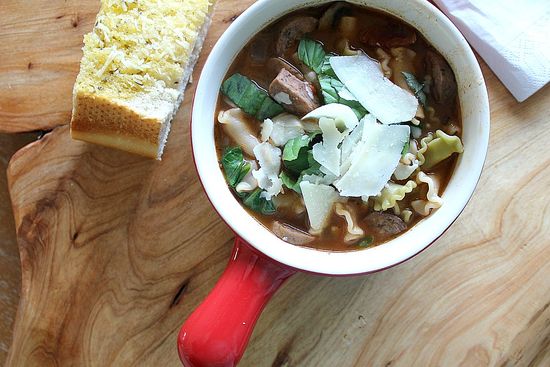 Ingredients: