Christmas cookie decorating with kids can be fun, but messy. Here are our tips for hosting a holiday cookie decorating party at home.
Cookie decorating is a big part of our holiday celebrations. It's something I do with my children every year, and is a great way to teach them to mix and bake cookies.
This holiday season invite some friends over and host a cookie decorating party.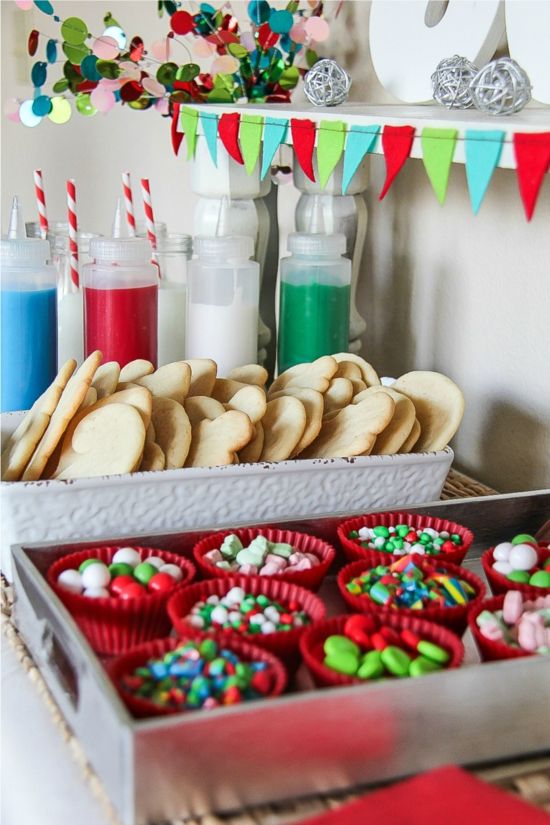 Note: This project was originally created for the Nestlé site Simply Celebrate, however that site is currently offline.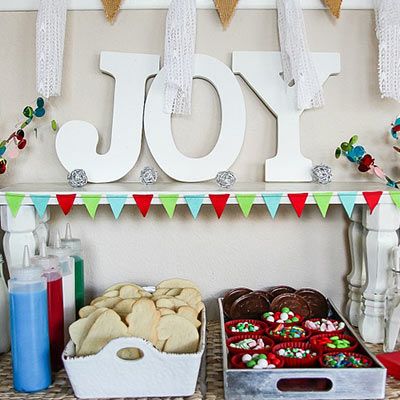 Ingredients
Sugar Cookies
3 cups all-purpose flour
1 1/2 cups white sugar
1 cup butter, softened
1 egg, lightly beaten
1 tsp. vanilla essence
1 tsp. baking soda
1/2 tsp. baking powder
Icing
 2lbs powdered sugar (sifted)
1/2 cup meringue powder
1 cup of water
1 1/2 tsp vanilla extract (clear if you want perfectly white icing)
1 tsp light corn syrup
Food color – for making colored icing
Instructions
Pre-heat oven to 350 degrees F.
Combine dry ingredients in a bowl.
In a separate bowl cream together the butter and sugar until smooth, and then beat in the egg and vanilla. Gradually add the dry ingredients, making sure it is completely blended.
Cover your dough and refrigerate for a couple of hours.
Flour a board and roll out your cookie dough. I find that the thinner the cookie dough the more shape is retained when baking shapes. Cut out your holiday shapes and place them on a lined baking tray. Bake for 11-12 minutes. I prefer mine softer, so normally pull them out once they start to brown just a teeny bit around the edges.
Cool on a wire rack.
Icing
Combine the meringue powder and water in a bowl with a mixer until foamy. Add in the extract and corn syrup, blend to combine a little.
Add the sifted powdered sugar, mixing on low until completely combined and then turning the speed up until the icing is shiny and peaks form. Be careful not to over mix.
Cookie icing tips
You can add just a little more water (1 tsp or so) for flooding the cookies (creating a smooth texture all over) if you like. If you think you've added too much water and after testing the icing it doesn't smooth over within 10-20 seconds then add a little more powdered sugar.
I also had some regular green icing from cupcakes on hand and thought that would be fun for Christmas trees because it doesn't go hard so you can make it appear more 'tree-like'.
Pour your cookie icing into plastic dispenser bottles. Leave plastic knives out too for spreading. The bottle method is perfect for making details and outlines, and the knives are great for not only spreading the cookie icing, but also the regular icing.
Cookie icing hardens fairly quickly so keeping it in a bottle will help keep it smooth. The bottles can be shared between the kids, and you can double up on bottles though if you feel that kids will be waiting for certain colors for too long.
Toppings for decorating cookies
• Crushed Wonka® SweeTARTS® Candy Canes
• Wonka® Frosty Nerds®
• Wonka® SweeTARTS® Merry Mix
• Wonka® Gobstopper® Snowballs
• Wonka® Spree® Mini Candy Canes
Place candies into silicone baking cups and place on the table or on a tray so that kids can choose which toppings they would like to use for decorating their cookies.
The Wonka® Frosty Nerds® were definitely a favorite for decorating, and the crushed Wonka® SweeTARTS® Candy Canes made a fun winter scarf for my snowman.
What else you need
• Milk, because we love to nibble on candy and cookies while decorating
• Paper plates
• Napkins
Set all of your items up on a table so that children can pick and choose what they need to decorate their cookies. Decorate your table with simple holiday décor, using bright and fun holiday colors.
Please pin this post for later: