These pom-pom yarn love bugs are such a fun craft project for kids to make and gift this Valentine's Day.
UPDATE: This craft project was initially created for a website by the name of Kidzui, however that website no longer online.
If you are looking for a quick, easy, and fun craft for kids to do this Valentine's Day then these pom-pom love bugs are perfect.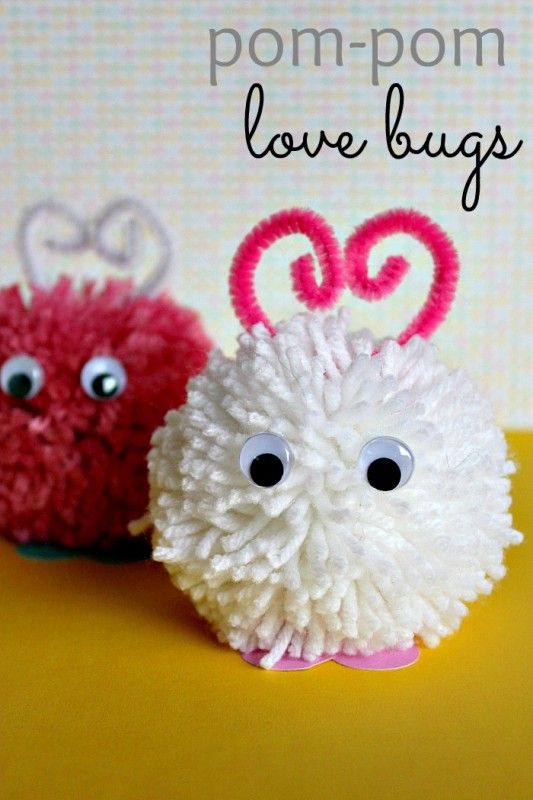 What You Need To Make Love Bug Pom-Poms
Wool
Pipe Cleaners (1 per love bug)
Pom-pom maker (or alternatively 2 cardboard donuts)
Scrap piece of colored card stock
Googly eyes
Craft glue
Scissors
How To Make Love Bug Pom-Poms
Step 1:
Wind the wool around the pom-pom maker (or cardboard donut) until there are a few layers of wool. Keep in mind that the more wool you wind around the thicker your pom-pom will be.
Using scissors cut the wool around the outside of the circle. Tie a piece of wool around the center and pull tight before removing the pom-pom maker or cardboard donut.
Step 2:
Following the line of the wool you used to tie your pom-pom together, wrap a pipe cleaner around the center of the pom-pom too, twisting the two ends together when they meet up. Wind the pipe cleaners into curly feelers and shape them so they make a heart.
Step 3:
Cut a large heart out of card stock and attach to the bottom of the pom-pom with glue to make the love bugs feet.
Glue googly eyes to the center of the pom-pom.
Do you have any fun Valentine's Day crafts planned for your kids? I'd love to hear more about them. I'm always looking for ideas.