Just 5 minutes a day is all to takes to keep your bathroom tile grout, shower, bath, and sinks clean so you don't feel overwhelmed with setting aside time to deep clean.
Disclosure: I'm sharing how I use Zep PowerFoam Tub, and Tile Cleaner to get our bathroom super clean as part of a sponsored post for Socialstars #ZepSocialstars
My least favorite job is cleaning the bathroom. I love doing laundry, I even enjoy ironing clothes and cleaning the windows, but I really, really dislike cleaning the bathroom.
But, cleaning the bathroom doesn't have to be a chore, if you spend just five minutes a day doing these things, you're bathroom will be sparkling.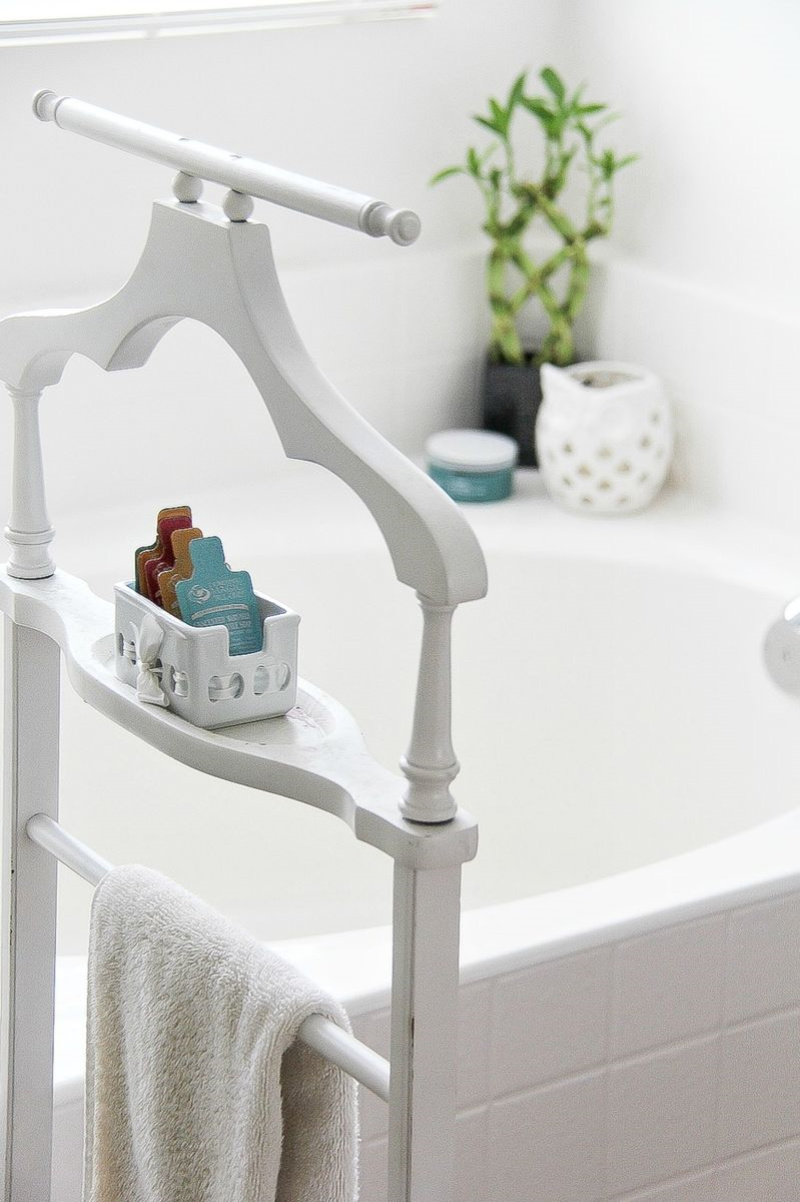 If you break up your chores into daily, weekly, and quarterly tasks there won't be any hard to remove build-up over time. If you have four bathrooms like we do then these chores take a little longer to do, unless you can convince your kids to take on a bathroom. I'm working on this!
Daily Bathroom Cleaning Tips
put things away as soon as you've used them – toothbrushes, moisturizers, hairbrush etc.
ensure you are using a fan or opening the window when showering to ensure the air is circulating, and to help prevent mold and mildew.
keep a squeegee in the shower for cleaning the glass after you shower
if you have shower curtains keep the curtains closed when the shower isn't in use, this prevents build up in the folds
Weekly Bathroom Cleaning Tips
Spread the weekly chores out over the week,  you can do one or two things off the list each day that way you don't feel overwhelmed doing it all in one day.
spray Zep PowerFoam Tub, and Tile Cleaner on the tub and in the shower, you leave it on for just two to three minutes (during that time tackle another task on the list) and then wipe clean.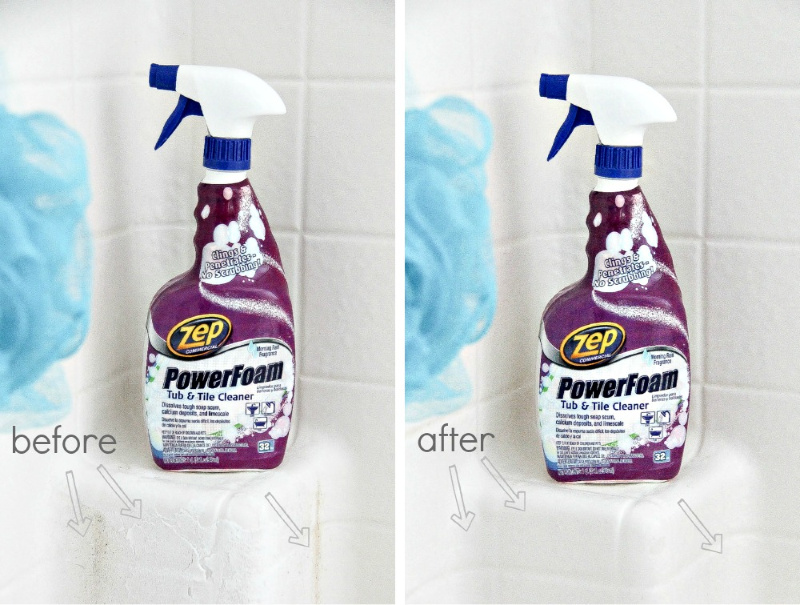 (I left mine alone for some time to allow for a little build-up to show just how easily this product works)
throw rugs into the laundry, and vacuum the floor, if you are unlucky enough to live in a rental house like we do and someone decided it would be a brilliant idea to put carpet in the master bath
clean the mirror
clean the sink and counter
mop the floor – thankfully we have tiles in the other three bathrooms
clean the toilet
don't forget to remove the hair from your hairbrush … yes I have to remind myself to do this, I shed like crazy
clean the baseboards and wipe down any marks on drawers and cabinets (I've been known to get makeup everywhere)
wipe over any light fittings and knick-knacks you keep on display
empty the trash can (if you keep one in the bathroom)
re-stock toilet paper on holders, in baskets or wherever you keep it handy
Quarterly Bathroom Cleaning Tips
clean the pipes – because if you shed like I do there's bound to be hair clogging up in there
clean the fan
Tip: I use an app called Cozi for shopping lists. As soon as an item runs out or you notice is getting low, add it to the app.
Zep PowerFoam Tub, and Tile Cleaner  is available at Home Depot for only $2.97.
Please pin this post for later: