This fruit-topped angel food cake in the shape of fairy wings that is inspired by Disney's The Pirate Fairy is the perfect addition to any fairy party.
Disclosure: I am a member of the Collective Bias® Social Fabric® Community. This shop has been compensated as part of a social shopper amplification for Collective Bias and its advertiser. #CollectiveBias #ProtectPixieHollow
Disney's The Pirate Fairy! will be released on BluRay/DVD/Digital HD on April 1st, 2014. When you purchase it exclusively at Walmart, you will also get the Pixie Hollow Bake-Off DVD which includes ten animated shorts.
Celebrate the launch of The Pirate Fairy! with a movie viewing party at home. I've got you covered for dessert with a yummy Pirate Fairy angel food cake topped with fresh fruit.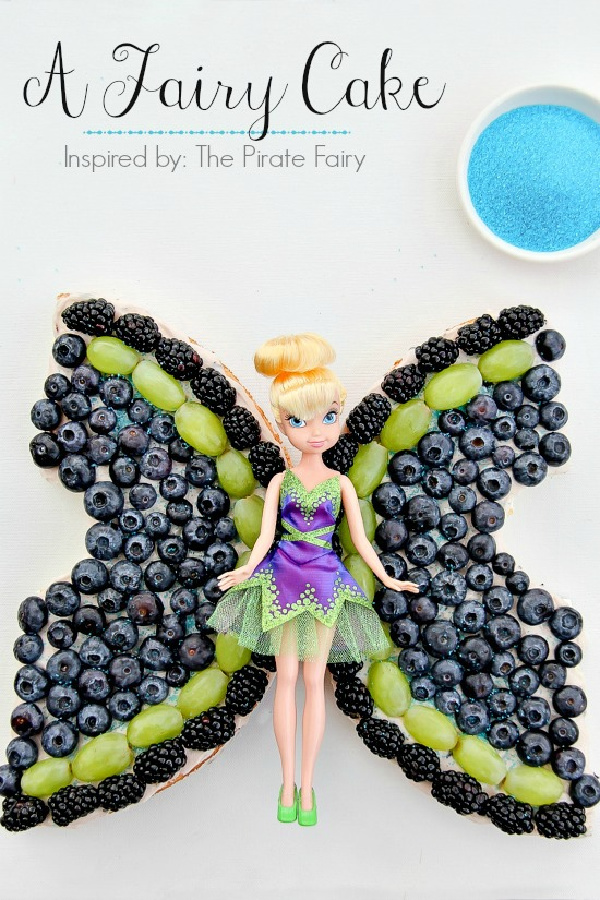 You can purchase a store-bought angel food cake for this, but I found they were a little smaller than I wanted. Here is how you can make one from scratch, and you don't need an angel food cake pan.
How to make an angel food cake pan at home
What does an angel food cake pan look like? It's essentially a regular cake pan with a round section in the center to create a hole in the middle of your cake. You don't need to purchase an angel food cake pan, follow these instructions to make your own.
What you need
12″ round cake pan
parchment paper
empty tin can
Instructions
Line the bottom of the pan with parchment paper and then place a small tin can in the center. Having something in the center helps the cake to bake evenly and flat. Without that, it would most likely dip in the middle while the outside rises up the walls of the cake pan.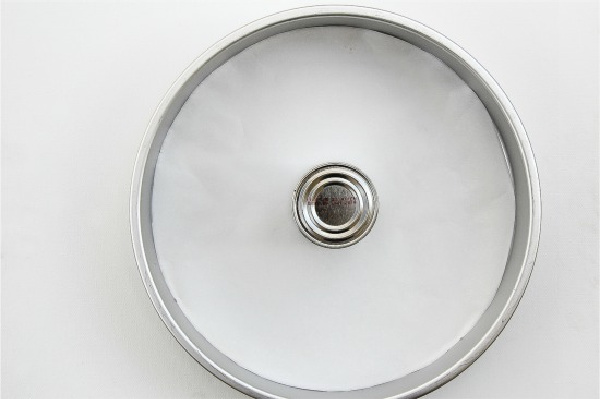 Tip: You will need to weight the tin can down because as the cake rises it's not heavy enough to support it. I learned this the hard way. Place a tray on top until the cake has built up enough stability around the can and then remove the tray.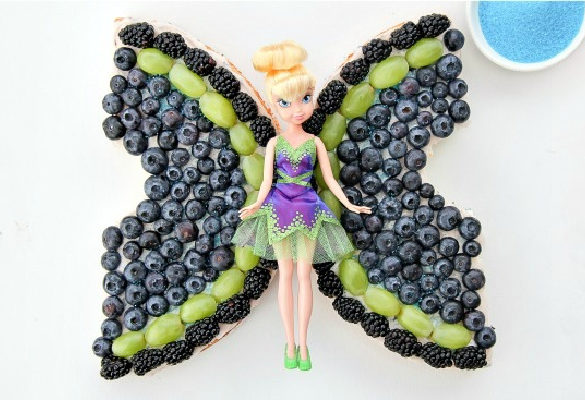 Ingredients
1 cup cake flour
1 1/2 cups white sugar (divided in half)
12 large egg whites (room temperature)
1 1/2 tsp cream of tartar
1/4 tsp salt
1 tsp vanilla extract
1/2 tsp almond extract
Fresh fruit - blackberries, blueberries, and grapes
Frosting, or whipped cream (preferable)
Blue sugar crystals
Instructions
Preheat the oven to 375F.
Combine the cake flour, half the sugar, and the salt in a bowl and set aside.
Beat the egg whites and cream of tartar until soft peaks form.
Add the sugar and extracts and continue beating on low until peaks form again.
Place the dry flour mixture into a sifter and sift it slowly into the wet ingredients, folding it in with a spatula. Carefully pour the mix into your cake pan and bake for approximately 25 minutes.
Turn the cake upside down on a cutting board until it's cooled completely. It will balance nicely on the can in the center of the cake.
Once cooled, take a sharp knife and ease it around the edge of the pan to release the sides of the cake and then turn it onto a board, removing the parchment paper from the reverse side.
Cut your cake in half and transfer to a cake board, placing the halves back-to-back. I like to take an X-ACTO knife to cake boards to cut them to the shape of the cake too.
Top with frosting, or whipped cream. 
Layer fruit on top of the frosting such as blueberries, blackberries, and grapes.
Sprinkle a little blue pixie dust (blue sugar crystals) on top for a little extra sparkle and then top with the Pirate Fairy doll. Make sure to wash and dry the doll before placing it on top of the fruit.
Recipe: by Tonya Staab tonyastaab.com
I had a little extra cake mix over so popped it into cupcake pans to make a few angel food cupcakes too.
If you are dairy-free and can't have whipped cream, then use Earth Balance spread and coconut milk to a standard frosting recipe instead of butter and milk.
While I was at Walmart I found The Pirate Fairy! Tink doll in the toy department. This makes the perfect addition to the cake wings.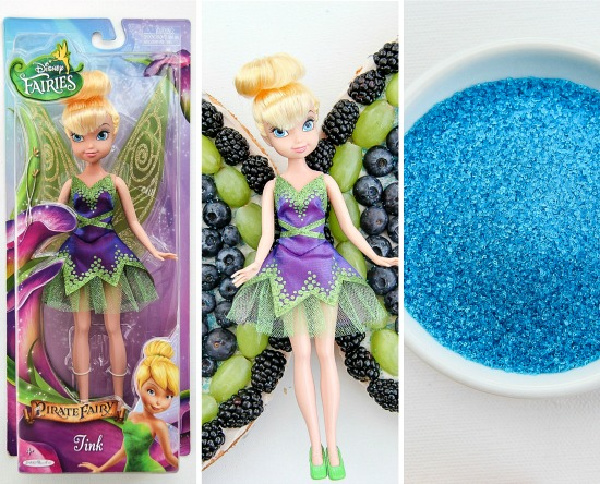 About the Pixie Hollow Bake Off
The Pixie Hollow Bake Off DVD follows Tinker Bell as she challenges Pixie Hollow's culinary superstars when she refers to the art of baking as "just tinkering with flour." Our favorite fairies must use their talents to help Tink in a head-to-head bakeoff with head baking fairy Gelata (voice of Giada de Laurentiis) and her Baking Fairies. The winning cake will be featured at Queen Clarion's Arrival Day Party.
Watch the trailer for The Pirate Fairy! here.
Please pin this post for later: