Traditions are an important part of our Christmas. I remember when I was a little girl that on Christmas Eve we would leave a special pillow case on the end of our bed and Santa would fill it with gifts that we would immediately dive into as soon as we woke up.
For my own children I began a new tradition. Instead of leaving a pillow case on the end of their bed, the kids each have a small tree in their bedroom that is decorated with ornaments that signify things they love. These are a combination of handmade and store bought ornaments, as well as sentimental ones such as those from their 'First Christmas'.

We hang a sign on their bedroom door so Santa can find them and he leaves their gift under their little tree. They open that gift as soon as they wake up.
While I heat up croissants, my husband makes mimosa's (virgin ones for the kids using apple cider). We eat breakfast in the living room around the tree. One person is designated as 'Santa', they put on the Santa hat and hand out all of the gifts under the tree.
Throughout Christmas Day we watch all of the Christmas movies that we can, we play board games and we eat. We normally have a platter of cheese, crackers, dips, fruit and seafood for lunch while the turkey is in the oven, and then enjoy our big Christmas dinner as a family at the dining table.
Here is a peak at some of our Christmas fun so far. There has been a lot of crafting and decorating and even a school concert.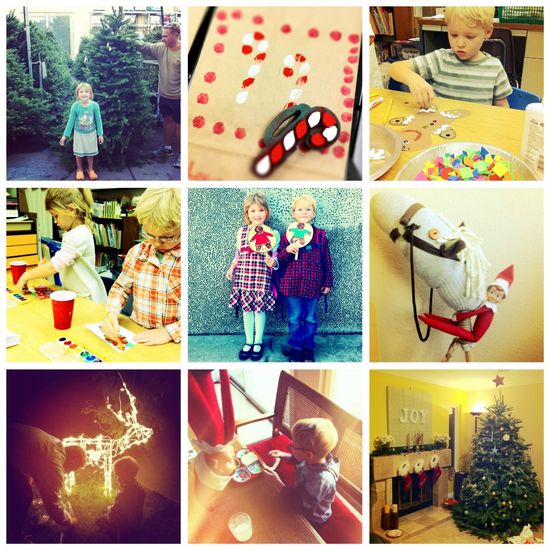 Now I'd love to know, how do you spread real cheer with your holiday decorating? Show me with your photos! Click "Add me" in the Cheer Tree below to upload your holiday decorating photos and share them with your Twitter followers and Facebook friends. Be sure to click on "Special Offers" to unwrap the hidden coupons and deals exclusively from Sears. Keep checking throughout the holidays–new deals are unlocked every day! For all your holiday decorating needs and solutions, don't forget to visit Sears and discover real deals, real cheer!
This is a sponsored conversation written by me on behalf of Sears. The opinions and text are all mine.