Holiday decorating can be kid friendly, can be stylish, and doesn't have to cost a fortune. You just need to be a little bit creative and have some basic supplies that you can re-use year after year.
We have just begun decorating. This is our fireplace.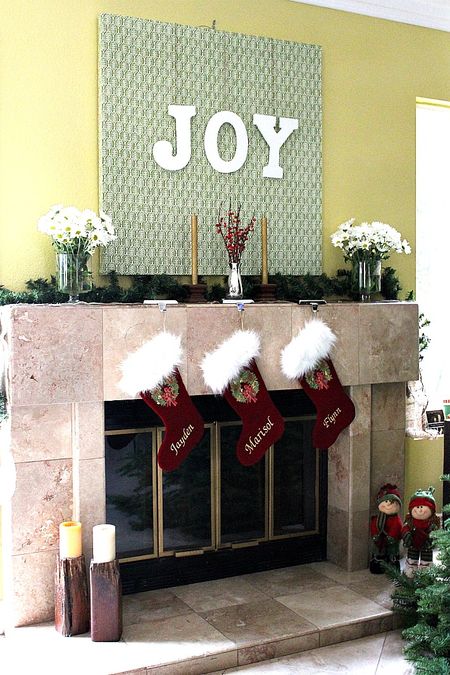 Here is how I decorated on a budget.
Sentimental Items: The candlestick holders (both on the floor and on the mantel) were handmade by my dad. These are candlesticks that I use often and not just for the holidays, but brought in a lovely 'natural' tone to the space.
Handmade Items: The green and white print canvas on the wall is simply a canvas with fabric wrapped around it that was stapled in place with a staple gun. It is on the wall year-round and can be dressed up for any season or holiday.
Gifts: On our very first Christmas after moving to the US my mother-in-law sent us the dolls (on the floor), they sing Christmas tunes and the kids absolutely love them. The kids personalized stockings were made by a family friend (who is an amazing quilter), she made them after the twins were born and we have used them every year since.
Staple Items: The green garland has been used for almost 7 years. This is the second home we've had a fireplace, so when we didn't I would use it down the center of the dining table, to hang around door frames or to hang ornaments off. It is difficult to see in this picture, but under the garland is a strip of burlap. This is something that I use and re-use over and over and for every season and holiday. It also makes a great table runner. The small silver vase with red berries I picked up a few years ago at an after Christmas sale for just a couple of dollars.
New Items: The stocking holders are new this year. Here is my tip though, buy ones that are fairly plain, otherwise year after year you are stuck with the same theme, but with the plain ones, you can change your theme or color scheme and they will always blend in. The JOY wooden letters are also new. I picked those up from the craft store, and using a staple gun attached some twine which I strung over the top of the fabric canvas and attached to the back. Fresh flowers look lovely and smell divine, I picked these up for $2.99 a bunch at my local grocery store. I also picked up a bag of 'fake snowflakes' which I sprinkled over the mantel, they look so pretty.
Here are some more tips for decorating on a budget:
Go natural: Pinecones, leaves, nuts, sticks, and acorns are all lovely (and free) items to decorate your space. You can either choose to keep them natural in color and pop them into clear glass bowls or vases or you can spray paint them (like I did last year) and either display them in something or just lay them on the table or mantel, tie a little ribbon on them and use them as ornaments, or twist them into a garland or wreath.
After holiday sales: Shop the after holiday sales for basic items that you can use the following year. Try to avoid the 'latest craze' items as next year you may decide not to go that route, but basic and fairly plain items that can be altered, painted, or jazzed up a little are a must.
Go handmade: Are you crafty, or do you know someone who is crafty? Glitter, spray paint, fabric scraps and unfinished wood products are your friend. Don't leave it until the day before you are going to decorate though, get a start on crafting early on so you don't feel pressure to get things done quickly.
Now I'd love to know, how do you spread real cheer with your holiday decorating? Please reply below and unwrap coupons and deals from Searsby seeking inspiration in the Cheer Tree. For all your holiday decorating needs and solutions, don't forget to visit Sears and discover real deals, real cheer!
This is a sponsored conversation written by me on behalf of Sears. The opinions and text are all mine.