A few months ago I purchased a gorgeous moses basket for Marisol.  She loves to play with her dolls, she pushes them in their stroller and has tea parties with them.  The next step was being able to put them to sleep at bedtime.   Of course her dolls needed a very special blanket.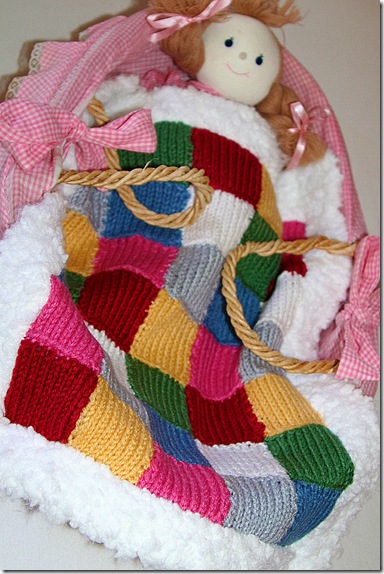 This one was very simple to knit.  I have a lot of leftover yarn from previous knitting projects so this was a great way to use a few of those up. 
Individual squares:
Cast on 10 stitches
1st row: knit
2nd row: purl
Repeat until 12 rows have been completed
Cast off leaving long ends.
Border
4mm needles
Plymouth Heaven yarn
For the top and bottom pieces cast on 50 stitches.  Knit 6 rows.  Cast off.
For the side pieces cast on 6 stitches.  Knit 96 rows.  Cast off.
Assemble
Lay your squares down in the color grid you want them in.  Hand stitch the squares together using the long ends.  Then stitch the borders on using leftover white yarn.
But shhhh, please don't tell her because this basket and blanket are tucked away for Christmas.