If you have a home office, get on top of the paperwork with these helpful tips and tools that will help you declutter and organize it in no time.
Disclosure: This post was sponsored by Fellowes as part of an Influencer Activation for Influence Central and all opinions expressed in my post are my own.
It's spring, and as such, it's time for a little spring cleaning and organizing around the home. Instead of only focusing on the basic areas of the house such as cleaning out the closets, kids toys, kitchen pantry, and garage, consider adopting new organizational habits, to help you boost your productivity all year long.
I work from home, and my office and craft room can get out of control very quickly especially if I'm working on a number of projects at once, or my kids decide to wade through my supplies looking for things to use for their own projects. So, I've been on a bit of an organizing kick recently, especially the mounds of paperwork that seem to pile up, the files that haven't been cleaned out in a long time, and organizing all of my receipts and information for tax purposes … because yes, I'm one of those people that seems to be completely disorganized at tax time and every year tell myself that next year will be different.
I'm sure that these pretty items (pictured below) will have your home office looking lovely in no time, but first let's declutter and get it organized.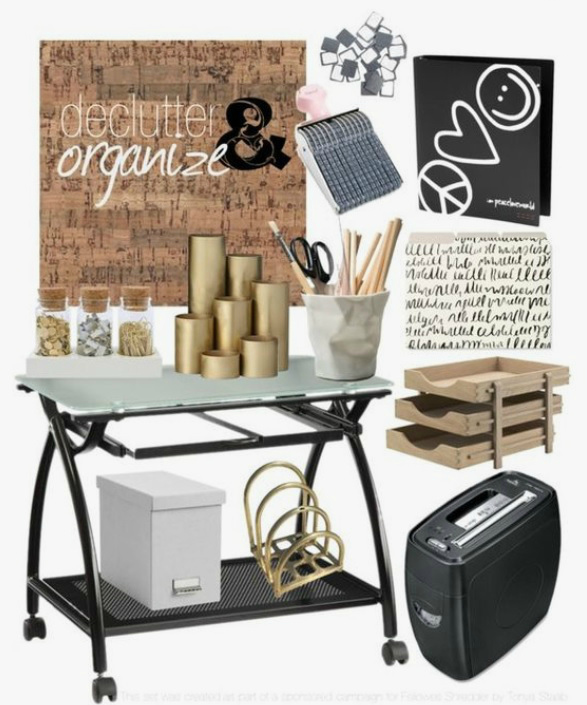 One of the best ways to rid your home of clutter is to shred no longer needed confidential documents, junk mail, and any other papers that are piling up around your home. The Fellowes' 12Cs shredder will do just that and is available at Walmart.
As I've been sorting through the files that I had in boxes and in the filing cabinet I came across medical and home documents from over 20 years ago. A lot of these had very personal information on them but were definitely no longer needed so shredding them was the perfect solution.
Laura Stack, aka The Productivity Pro, has tips to organize your home so you can spend less time dealing with the mess and more time getting back to what you love.
Tips To Organize Your Home
Get into the FIRST habit. First things first – get rid of paper! To make it easy, use the FIRST method: File It, Recycle, Shred, or Take Care of It. Receipts, permission slips, and paperwork can be processed immediately using this method. Shred all documents containing sensitive information with a cross-cut shredder like Fellowes' 12Cs that shreds up to 12 sheets of paper and has SafeSense® technology that makes it a great choice for at-home use around children and pets.
Label files logically. Label your paper files and folders clearly by subject and have some fun and use colored or decorative folders to spruce up your workspace. For electronic files, adopt a simple naming convention that includes date, name, and version number. Use subfolders to divide up large categories into smaller groupings by topic.
Set routines. You waste less energy thinking about minor tasks and have more left for bigger things. Establish routines that help you complete things faster, such as setting out everything you'll need for the next day the night before.
Time yourself on tedious tasks. Need to organize your hallway closet? Use a kitchen timer for any task you're dreading! Estimate how long the task will take and schedule an appointment with yourself on your calendar. You can't work non-stop, but you can work for 45 minutes. When you become focused time seems to fly, and you'll get the job done easier and faster.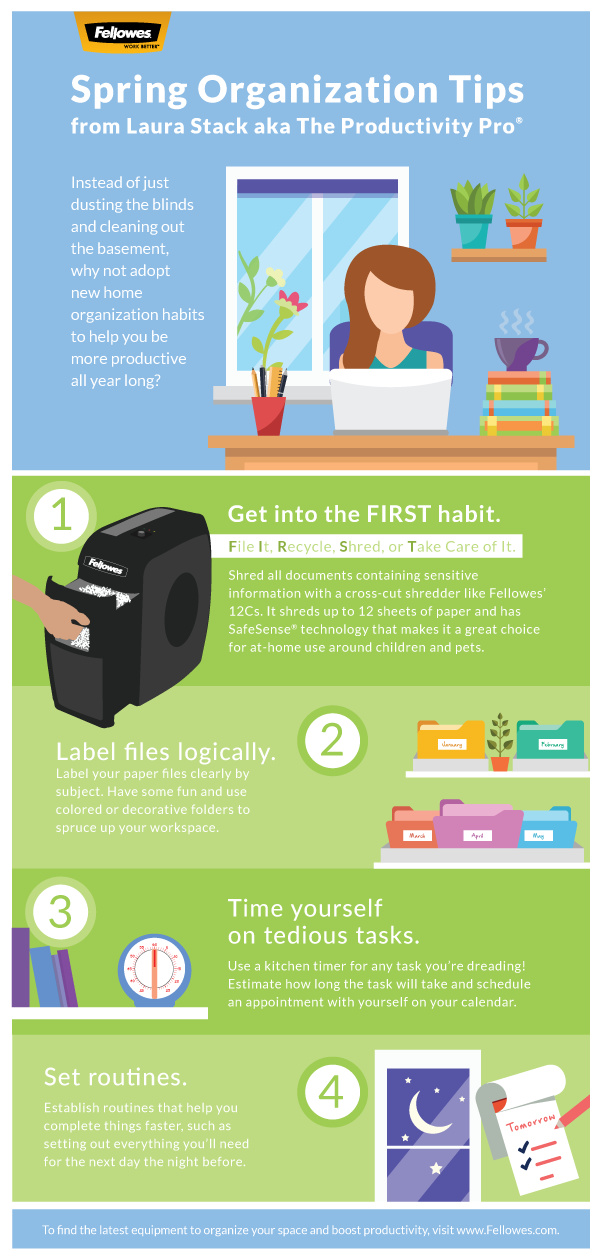 Learn more about Fellowes Shredders here:
Twitter | Facebook
Save