Event: Wine and Cheese Tasting
For: Marine Corps Spouses
Wine and Cheese provided by: The Cheese Shop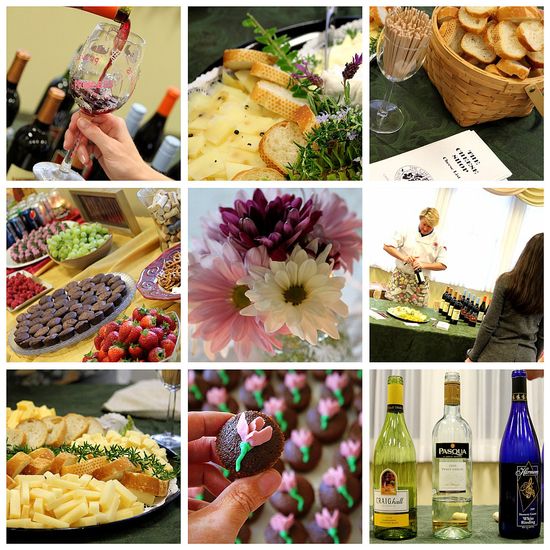 As you may know, I'm on a board (along with some amazing women) who host monthly events and provide information to local Marine Corps Spouses.  This month's event was a Wine and Cheese Tasting.  We booked a lovely room with views over the bay (which was very pretty as the sun was setting), provided yummy desserts – chocolate fondue, brownies, fruit, and of course, I baked mini cupcakes which I decorated with tiny purple flowers (the theme for the evening), we hosted a raffle of various wines, and had Kent from The Cheese Shop in Carmel bring out an assortment of cheeses along with red and white wines for us to try.  It was a really lovely night, with new friendships being formed, delicious food and much needed girl time.
My favorite wine: Harmony Cellars 2009 White Riesling
My favorite cheese: Dill Havarti and Fromage D'Affinois (Double Creme)
Here's my simple decorating tip for the tables: Canning jars filled with flowers in the color theme and surrounded by tealight candles.  Guests don't have to look around or over the top of the centerpiece to chat, but it makes for a simple and elegant decoration for each table.  I also placed these same flower arrangements with a tea light candle on either side in each of the windows overlooking the bay, which provided a lovely backdrop to the event.
A couple of other military spouse events we (or our groups predecessors) have previously arranged include:
Banana Republic event.  Banana Republic closed it's doors to the public and shared with us some of the latest fashions, provided sparkling cider and snacks, a raffle and heavily discounted items in the event we wanted to make any purchases. And yes, if you click on the link above, you'll see photos of a few of the gorgeous items I tried on.  I also picked up a skirt for $12 that you'll see photos of when I finally post about Bloggy Boot Camp in San Francisco.  Ooh and the jeans I am wearing are the fabulous Miracle Body jeans I was given at BlogHer during the Getting Gorgeous event. 
Mall Amazing Race.  Mall style.  Teams of 2 competing at the mall, each starts with a clue that will take them to a particular store, where a task has to be completed.  For example, hula-hooping 10 times in a womens sports store.  Making up a word using the first letter of each movie being shown at the movie theatre.  Being given a picture at a framing store and having to find a mat and frame to fit it.  Finding the SKU on a pair of shoes at Macy's.  On-line search to answer a question posed at the Apple Store.
I also have a great group of friends I enjoy monthly outings with.  We choose a different location each month so that we can always try something new.  Sometimes we'll go out for dinner, trying a different cuisine each time, or we do brunch, or a movie night followed by a cocktail or dessert (or both).  Most recently we saw Eat Pray Love (which I absolutely loved) and enjoyed a yummy dessert and coffee afterward.  One of our favorite outings though was a Chocolate Tour of San Francisco.
Then there is a crafting group I belong to.   We don't get together as often as I (or they) would like, but one of our favorite events is to book a local community center for a weekend and hold a craft weekend.  We can come and go day or night and craft as long as we want without interruption.  We take food, we chat, and most importantly, we craft and bond.
The reason I am sharing this with you, is that I hope to encourage my female readers (which I daresay is 99% of readership – according to my stats at least) to get out and spend more time with your girlfriends.  Whether you are a stay-at-home or go-to-work mum, it's important not to forget that you are also a woman, a woman who needs other women, whether it's to enjoy a meal with, a shoulder to lean on when things look a little dark or just for idle chit chat.  So I thought by sharing a few ideas I might inspire you to start a group, or give you fresh ideas for a group you may already be a part of.
Some of the groups I've been a part of previously, and others I haven't but might interest you:
Walking groups – walking once the big kids are in school or taking the little ones in the stroller and then stopping by a playground to let some of their energy out too.
Knitting group – I made it my mission at one time to teach my girlfriends how to knit, so we got together in the evenings and we drank wine and I provided a little knitting kit for each and taught them the basics.  A couple of them actually kept it up, and I'm pretty sure are much better than I am now :).
Breakfast group – one of the things I miss dearly about living in Australia is my fabulous group of girlfriends.  Each morning we would drop the kids off at school, then walk to a little cafe and enjoy breakfast together.  Sometimes a couple of us would then walk around the local lake, go to the mall, watch Oprah or have lunch together.  Not every day of course.  But it did happen regularly.  And it was lovely.
Book club – okay this I have never been a part of, but a few of my friends are and they really enjoy it.  I tend to be very sporadic with my reading – sometimes I'll spend weeks and weeks reading every single night before bed, then for months I won't read a thing.  I have a stack of books beside my bed that I like to get through before moving onto another stack and I really like to read what I want to read and not what is 'suggested' that I read as part of a group.  But, I know many others who love this and love the discussion. 
Running groups – okay, we all know that I'm not about to join one of these anytime soon, but again, I have friends who have and love it.  It keeps them motivated and committed to running and they get to share this with others who have the same interest.
And if this isn't enough ideas for you, I have heard of a great on-line site where you can join groups that interest you.  It's called Meet-Up and you can join or start groups in your area.
Ooh, and I have one little teaser for you.  This week I'll be hosting a very special Ladies Night In at my house.  Hint: It will co-incide with an event happening on the East Coast at the very same time with Dawn & Elizabeth of PartyBluprints.com, Beth Feldman and Chef Marcela Valladolid of Food Network.  Details to follow, but here's the teaser.
Do you spend time with your girlfriends?  What do you do together?  Share some ideas in the comments section.
This post linked to: