Who: Girlfriends
Where: Your home
Dress code: Pj's
Entertainment: Movies
What to bring: Potluck snacks
Being provided: Bailey's and hot chocolate
You are only missing one thing …
a gift for your girlfriends to thank them for coming.
Aren't these fun?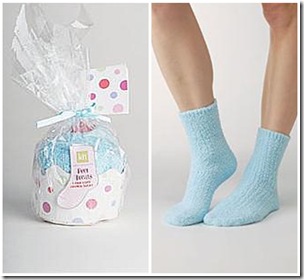 An absolutely perfect gift for your girlfriends to not only wear during your girls night in, but also to take home.
KN Karen Neuburger Cupcake Feet Treats are available from Karen Neuburger. They are available in champagne, heather pink, blue bell, green and lavender and are the softest chenille socks I've ever worn … yes I'm wearing a pair right now:
While you are visiting the Karen Neuburger site, be sure to enter their Valentine's Day contest. The grand prize is a $335 his and hers gift pack complete with pj's, robes and lounge socks as well as a deluxe Ghirardelli chocolate box.
UPDATE: The site karenneuburger.com appears to no longer be working.
Disclosure: Product for review provided by Skirt PR