During the Cheap Sally Party at BlogHer11 Kmart had a cabana set up where they were showing guests the new line of Gordon Ramsay Cookware which debuted in Kmart stores this past Sunday.  Along with showing guests the new cookware they also provided everyone with a flash drive containing recipes from Gordon Ramsay.
Not only did I pick up Gordon Ramsay's Santoku Knife and Cutting Board over the weekend, but I also made his Orange and Ginger Caramelized Chicken Wings.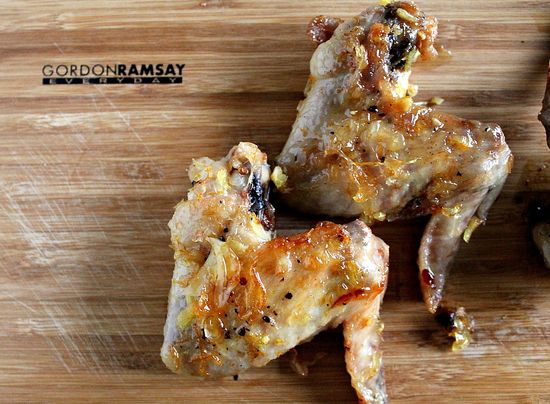 Ingredients:
Vegetable oil (for cooking)
6-8 shallots, peeled and sliced
4 garlic cloves, peeled and sliced
2 lemongrass stalks, trimmed and bashed
5cm knob of fresh ginger, peeled and julienned
Zest and juice of 2 oranges
150g / 5.3oz Granulated sugar
160ml / 5.5oz water
2 tbsp fish sauce
1kg / 2.2lbs chicken wings
Sea salt and crushed black pepper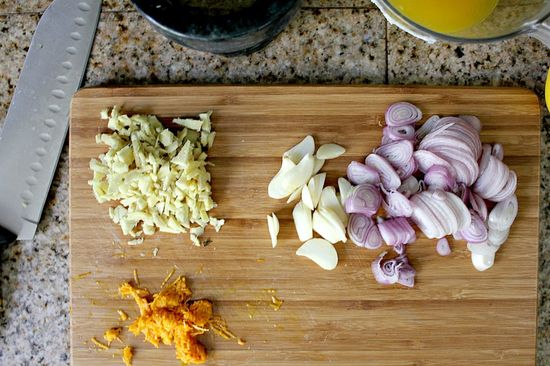 Preheat the oven to 180C (Fan 160C and Gas 350F).  Heat the oil in a pan and add the shallots, garlic, lemongrass, ginger and orange zest and cook for 2-3 minutes, until the ingredients have softened.  Add the sugar, water, orange juice and fish sauce and allow to dissolve.  Cook until the mixture has reduced and thickened.  This should take 3-4 minutes and the sauce should start turning syrupy.  Remove from the heat and set aside.
To prepare the chicken, place a large frying pan over a high heat and add 3-4 tablespoons of vegetable oil.  Season the chicken, then, in batches, sear the pieces for 3 minutes, until browned.  Add the chicken wings to an ovenproof dish and pour over the caramel sauce, mixing well to coat.  Cook in the oven for 40-45 minutes until golden brown and sticky.  Halfway through cooking baste the chicken wings.  Remove the chicken wings form the oven, season with sea salt and crushed black pepper and serve with the sauce spooned over.
Note:  These wings are so darn good.  My husband is not a big fan of wings and when I told him we were having wings for dinner he looked at me like I was trying to starve him.  He ended up going back for seconds and probably would have gone back for thirds, but I have had to instil a new rule in our house that everyone can leave the table after daddy has eaten his second helping.  I served the wings with couscous, salad greens and orange slices.


You can view more photographs from my shopping trip and Gordon Ramsay cookware here.
Disclosure: This shop has been compensated as part of a social shopper insights study for Collective Bias