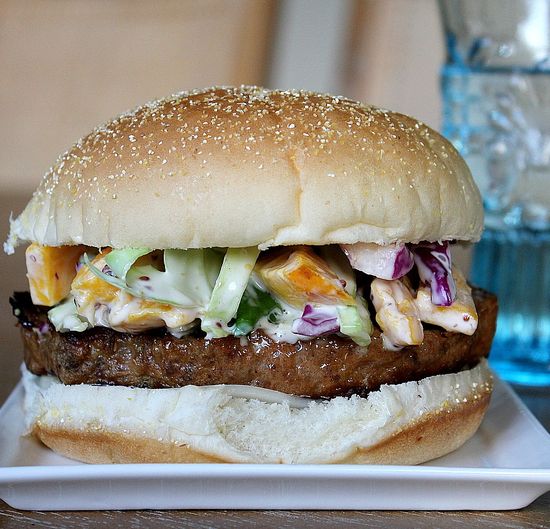 Ingredients:
Burger patties: Johnsonville Mild Italian Sausage Patties
Buns
Provolone cheese
Mango Coleslaw (see below)
Mango Coleslaw Ingredients:
2 cups purple cabbage (shredded)
2 cups green cabbage (shredded)
2 mango (thinly sliced)
1/2 cup cilantro (chopped)
1 cup light mayonnaise
2 tbs Dijon seeded mustard
1 tbs champagne vinegar
1tbs white sugar
freshly cracked pepper
While your burgers are grilling, put the purple and green cabbage and mango in a large bowl and set aside.
In a small bowl gently whisk the mayonnaise, mustard, vinegar, sugar and cracked pepper.
Pour the dressing over the cabbage and mango, toss in the cilantro, and gently combine with a large fork.
Top your burger bun with provolone cheese, burger pattie and coleslaw.
Enjoy!
Check out the Johnsonville 'No Ordinary Burger' Recipe Contest and vote for your favorite.
Johnsonville Mild Italian Sausage Patties and Original Bratwurst Patties are available only at Walmart.
Follow 'Pork Be Inspired' on Twitter and Facebook
Disclosure: This post has been compensated by One2One Network | Blissfully Domestic  as part of the National Pork Board and Johnsonville's "No Ordinary Burger" campaign