How to make Roasted Tomato and Pancetta Bruschetta. It's the perfect party appetizer.
Thank you to Hunt's for sponsoring this post and encouraging my culinary skills! Visit Hunt's Signature Recipe Collection to find tons of delicious ideas for using Hunt's tomatoes in your meals.
This Roasted Tomato and Pancetta Bruschetta is a very simple dish and makes for the perfect party appetizer, or just to enjoy for lunch (so make sure you have plenty of leftovers).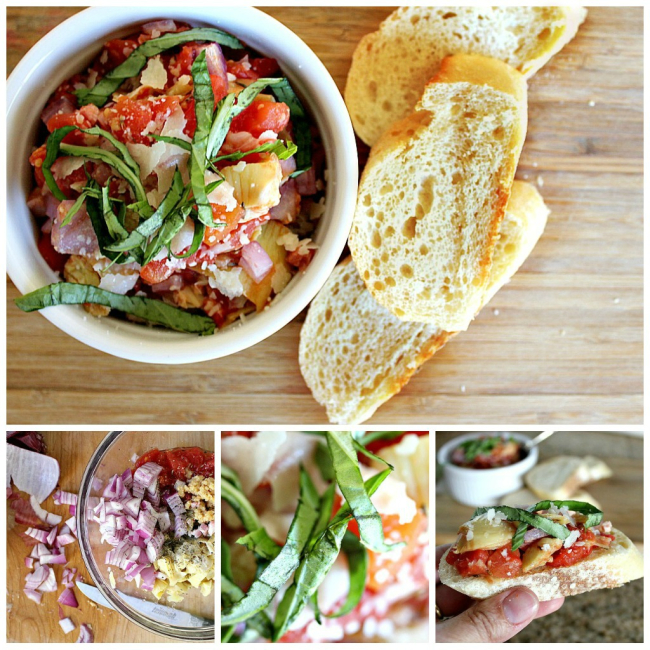 Roasted Tomato and Pancetta Bruschetta
Ingredients:
Baguette
1 can Hunts Diced Tomatoes (drained)
1 jar or can of artichokes (roughly chopped)
1/2 cup Pancetta – Italian bacon (diced)
1 red onion (diced)
1 heaped tsp crushed garlic
1 tsp dried thyme
salt & pepper to taste
olive oil
fresh basil (chiffonade)
Parmesan (shaved)
Preheat the oven to 325F.
Gently combine the tomato, artichoke, pancetta, onion, garlic, thyme, salt, and pepper in a bowl.
Place a piece of foil over a cookie sheet. Spread the tomato mixture over the foil and place in the oven for approximately 30 minutes.
Slice the baguette and place on a second cookie sheet. Brush with just a little olive oil and place in the oven for the last 8 minutes of the tomato mixture cooking (or more, depending on how browned you prefer your bread, I don't like it very crunchy and brown).
Transfer the tomato mixture to a bowl and top with parmesan cheese and basil.  Serve with the toasted bread slices.
Tip:  If using this dish for a party appetizer, leave some of the bread fresh, place in a basket and serve with dishes of gourmet oils and balsamic vinegar for dipping.
Did you know: The red antioxidant, lycopene is found naturally in tomatoes. We get most of our lycopene from tomatoes and its absorption is two to three times greater in canned tomatoes than raw tomatoes.
Visit www.Hunts.com for more recipes, and check out the Hunt's Recipe Rewards program for some great coupons!
Note: To print this recipe, please click the 'printer' button that is located with the social sharing buttons. 
Please pin this post for later: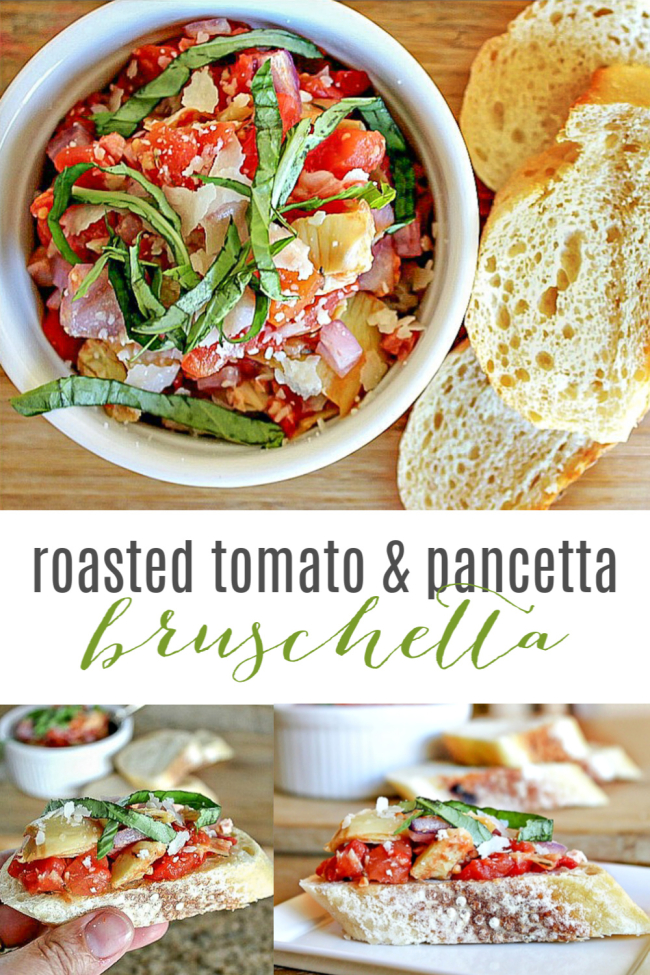 Disclosure:  Thank you again to Hunt's for sponsoring my post. Find more ideas for cooking with tomatoes at Hunt's Signature Recipe Collection. I was selected for this opportunity by the Clever Girls Collective. All opinions expressed here are my own. #HuntsRecipe #spon