It's no secret that we spend most of our summer grilling.
We grill a lot just for our family, but we also love to entertain too, which means we need to plan ahead.
Here are my 5 simple grilling tips when entertaining:
Meal plan ahead of time. If you plan on making a brand new dish, do a test run with your family first. On the day your guests are arriving is not the time to be attempting a brand new dish that you have never tried before. Stick with your tried and true favorites, unless you have time to experiment a week or so beforehand.
A day or two before your event, make sure that gas tanks (if you have them) are full, and don't forget to clean your grill.
Check supplies of staple items for entertaining outdoors: tableware, napkins, condiments, utensils, and glassware.
Set up an area with appetizers and beverages by the grill so the person grilling isn't standing alone, bring the party to them.
Prepare as much food as you can beforehand, particularly appetizers, desserts, marinades, and salads. Your guests don't want to see you slaving away in the kitchen the entire time they are there. Tip: Place salad dressings in a small jug, cover, and refrigerate, don't pour over the salad, leave that to your guests, especially if there are possible allergies.
Here's a delicious and simple salad that can be prepared ahead of time. You can even make it using your indoor grill.
Remember when I went to New York to meet Sandra Lee? Well, one of the many items I brought home with me was the Sandra by Sandra Lee Indoor/Outdoor Electric Grill. It was perfect timing too, my George Foreman had suddenly decided it was not going to work any longer. It's perfect for grilling smaller items for salads, or even fruit for desserts especially if you don't have a large outdoor grill.
I made this delicious salad recently, it's perfect as a side salad for home entertaining, can be made ahead, and I grilled the bacon on my little indoor grill.
Broccoli, Bacon, and Grape Salad.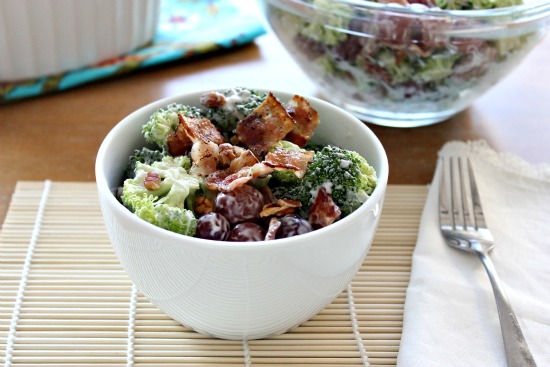 Ingredients:
4 cups broccoli (cut into bite-sized pieces)
2 cups red grapes
4 slices bacon
1/4 cup chopped pecans
1/3 cup light mayonnaise
2 tbs red wine vinegar
2tbs sugar
Grill bacon until crispy, then set aside to cool.
Toss grapes, pecans, and broccoli into a bowl.
Combine mayonnaise, sugar, and red wine vinegar in a small jug, cover, and refrigerate.
Slice bacon into small pieces then add into the bowl with the broccoli and lightly toss. Refrigerate until ready to serve.
These are just a few of my tips for grilling while also being the host. I would love if you would share your tips with me! One of my lucky readers who answers below will win a $25 Sears Gift Card!
This is a sponsored conversation written by me on behalf of Sears. The opinions and text are all mine. Official Sweepstakes Rules.