I'm all for quick and easy when it comes to dinnertime and with a couple of extra teenage boys in the house at the moment serve-yourself bars are the easiest way to feed them.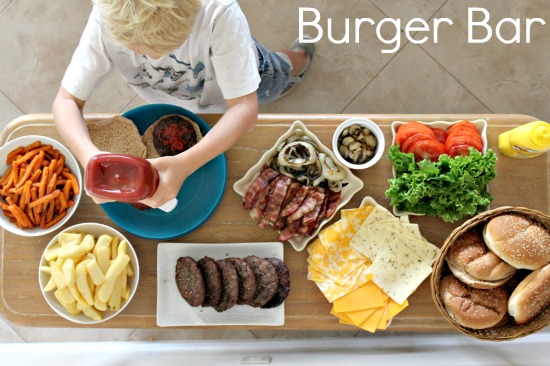 I like to keep things fairly simple with my food bars, but still give quite a few options, especially for picky eaters. For example my little man loves wheat bread, but baby girl is going through a white bread only phase. One of the teenagers can't eat cheddar cheese so I wanted a few extra options for cheese he could eat, and I'm a lover of sweet potato fries, but am definitely in the minority being surrounded by lovers of regular potato fries.
Burgers:
We grilled pre-made burgers, seasoning them with McCormick's beforehand.
If you will be entertaining visitors who are vegetarian, don't forget to put out vegetarian burgers too.
Toppings:
Lettuce
Tomato
Grilled bacon
Grilled onion
Sargento® Medium Cheddar Cheese
Sargento® Ultra-Thin Colby Jack Cheese
Sargento® Pepper Jack Cheese
Mushrooms (that were cooked in a little butter on the stove)
Ketchup and Mustard
Other items you may want to include: coleslaw, pickles, pineapple, and barbecue sauce
Other items:
Whole wheat burger buns
White burger buns
Sweet potato and regular potato fries
Don't forget to vote for Crazee Burger in the Sargento® Cheese 'America's Ultimate Cheeseburger Contest'. We ate there for dinner tonight and they really do make a good burger, and parmesan fries too. Don't forget to grab a copy of all the recipes submitted once you are done voting, and upload a photo of your ultimate cheeseburger too. Come back and let me know if you submitted a photograph.
The first person to leave a comment on this post will be sent a coupon to try Sargento® cheese slices. What's your favorite variety of sliced cheese?
Disclosure: I received products and compensation from Sargento Foods Inc. and The Motherhood for my participation in this campaign.