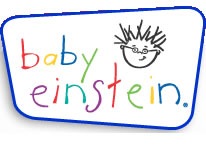 Today I had the opportunity to host a Baby Einstein party for a group of friends to celebrate the launch of Baby Einstein's new World Music DVD and CD.
Although the children had short attention spans thanks to having all of their friends to play with they seemed to thoroughly enjoy playing different instruments and watching the DVD in-between playing outside in the sunshine. I also provided music themed coloring pages and pencils for them to draw, Baby Einstein books to read and had the children's computer set up onto the Baby Einstein website – which I highly recommend to the company putting some child friendly activities on. The little ones would have absolutely loved to be able to play a few on-line games and watch videos.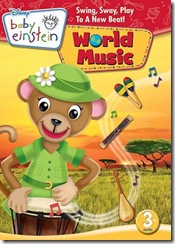 Marisol and Flynn have watched the World Music DVD a couple of times and truly do enjoy it. They seem to love that the pictures move so quickly and happily point out all of the beautiful landscapes being shown as Jane the monkey travels to each continent.
I'm looking forward to trying the World Music CD tonight. The twins love listening to music as they fall asleep. From the time they were born until they turned 2 they listened to Baby Einstein lullaby classics every single night as they fell asleep. Then they discovered they had a Curious George CD and that has been the favorite for the past 6 months or so. I think Curious George needs a little break tonight.
*Disclaimer: World Music DVD, CD and party supplies were provided free of charge with thanks to: Baby Einstein and Mom Central