This one-skillet potato and bacon breakfast recipe is quick and easy to make and the perfect way to get your day started.
This is a dish I made a couple of weeks ago and it's so quick and easy and perfect to serve with a side of poached or scrambled eggs and toast. Place a poached egg on top so that the yolk mixes into the potatoes and bacon.
One thing that makes me extra happy on Sunday brunch days is not having to use too many pots and pans. Some days that just doesn't work though, like last weekend when I made pumpkin pancakes, bacon, and scrambled eggs. I swear the combination of mixing bowls and pans filled the dishwasher that morning.
This recipe requires just a skillet and cutting board. Simple as that.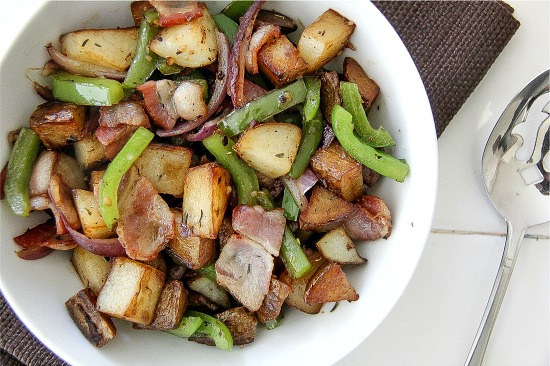 Ingredients
3 medium potatoes - wash, leave the skin on and cut into 1" pieces
5 slices of bacon - cut into bite-sized pieces
1 tsp crushed garlic
1 tbs olive oil
1 green pepper - cut into smaller pieces
1 tbs blue agave nectar
1 tsp dried thyme
salt & pepper
Instructions
Heat the oil in the skillet and then add the potatoes.
Cook, tossing occasionally until browned.
Add the bacon and continue cooking, and stirring until it is cooked through.
Add the crushed garlic, green pepper, thyme, and salt & pepper.
Continue cooking on medium heat until the peppers are heated through and the potatoes are cooked.
Remove from the heat and stir in the blue agave nectar.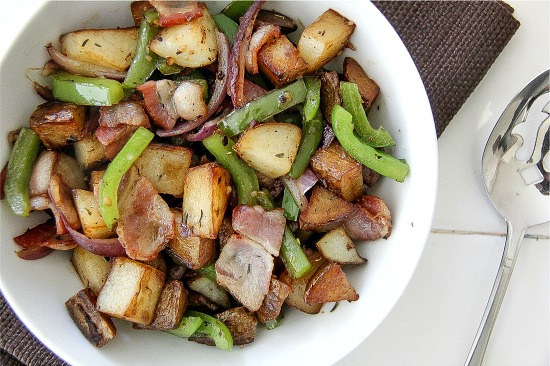 Please pin this post for later: