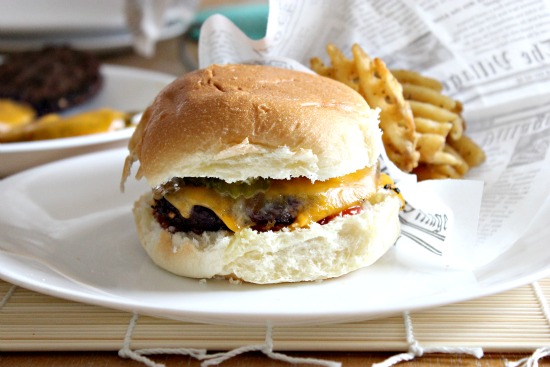 Are you spending your summer grilling?  We sure are.  Be it in the backyard, or at the beach, we grill everywhere.   This week we made cheeseburgers. 
Can you believe the little man ate two of these burgers the other day for lunch.  Seriously.  Of course he didn't have pickles like me though.  A cheeseburger really needs pickles, don't you think? 
You also need waffle fries on the side.  At least my kids think you do.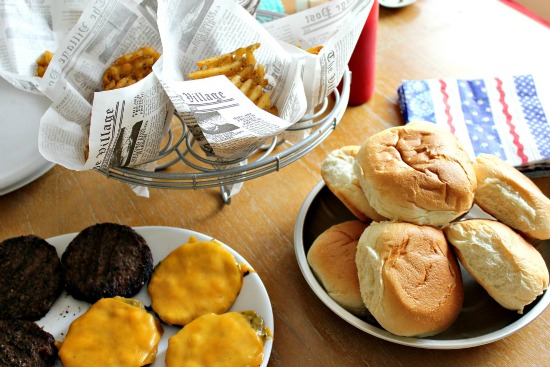 This is our favorite way to enjoy cheeseburgers, although I do like to mix it up, and will share more recipes later.
For now though, make your own cheeseburger with this recipe from a local burger place Crazee Burger who have entered the Sargento 'America's Ultimate Cheeseburger' contest.
Crazee Burger's Recipe for "Crazee Cheeseburger"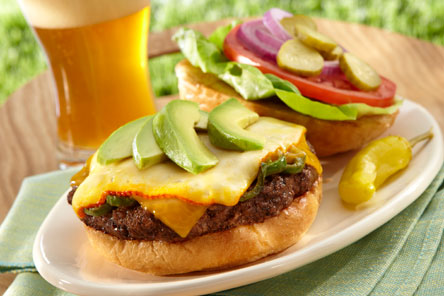 Prep Time: 10 minutes
Cook Time: 10 minutes
Serves: 1
Ingredients
8 oz. hoppy beer
1/4 tsp. brown sugar
8 oz. prime buffalo ground meat pattie
1 gourmet bakery bun, toasted
1 slice of Sargento® Deli Style Sliced Sharp Cheddar Cheese
1 slice of Sargento® Deli Style Sliced Muenster Cheese
1 slice fresh garden tomato
1 slice red onion
1 leaf butter lettuce
5 slices of kosher dill pickle
1/2 avocado, sliced
1 jalapeno pepper
Burger Seasoning:

pinch garlic
pinch sea salt
pinch paprika
pinch pepper
Directions

In a shallow dish mix beer with brown sugar. Place pattie in beer mixture and marinate in refrigerator for about 1 hour. Remove and place on grill.
Combine seasoning ingredients, sprinkle evenly over pattie and cook to desired doneness. Meanwhile, sauté jalapeno in olive oil, cooking until soft; slice and discard stem and seeds.
While still on grill, place jalapeno directly on top of burger followed by cheeses. Allow time to melt cheeses.
Place burger on bottom of bun. Top with avocado. On bun top, place lettuce, tomato, onion and pickle. Serve burger open-faced.
****************************
Now head on over to the Sargento Facebook Page where they are holding America's Ultimate Cheeseburger Contest, vote for your local restaurant and grab some more delicious cheeseburger recipes from chefs in Milwaukee, Chicago, Miami, San Diego, and New York while you are there.  Don't forget to upload photographs of your own take on the ultimate cheeseburger too.
Disclosure: I received products and compensation from Sargento Foods Inc. and The Motherhood for my participation in this campaign.