Last week I was invited, along with a couple of fellow bloggers (Christine and Suzette) to Rancho La Puerta in Tecate, Baja California, Mexico.  Yes MEXICO people.  And it was AMAZING!  I could go on and on about how fabulous this destination is, and I probably will, and you will most like see way too many photos, so you may want to grab a beverage, and snacks, and settle on a comfy sofa with your laptop.  And don't even get me started on their cooking school and culinary center.  Again, AMAZING!
I'm not kidding when I say this place is life changing, it was named World's Best Destination Spa in Travel & Leisure World's Best Awards Reader's Poll in 2011.  I secretly wondered if they would notice if I holed myself up in one of the villas and didn't leave.  Ever.  But then I remembered I have kids at home who need me, and well, then I immediatley started planning girlfriend trips in my head.  The ranch is 3000 acres of everything you could ever need – fitness classes, activities, healthy meals, spa treatments, private villas, hiking, culinary school, guest lectures, pools, and an organic garden.   There are lots of rooms for downtime with big comfy couches, fresh fruit, water, gourmet coffee, and most importantly peace and quiet.  There are four pools, a tennis court, basketball court, and volleyball.  And, did I mention the peace and quiet.  The place is so large, and so spread out that you don't hear noise from other guests, or classes.
So let me tell you a little about our day.  Although we went on a Wednesday, we experienced what Saturday's at the Ranch are like.  
Once we arrived at the ranch, we changed into some workout gear and took a tour of the ranch.  Which meant we walked a lot, I think for close to 2 hours.  We viewed some of the classes that were happening, we walked through the many gardens, and stopped for a quick coffee.  Let me share a few photos before I continue.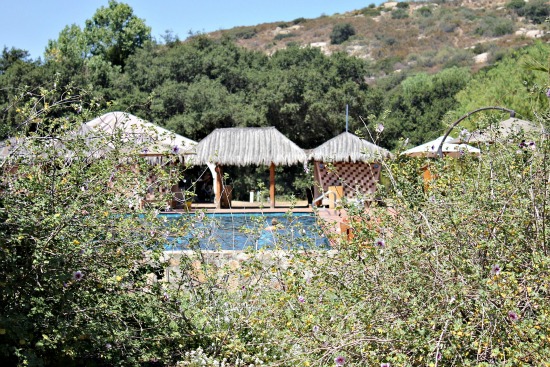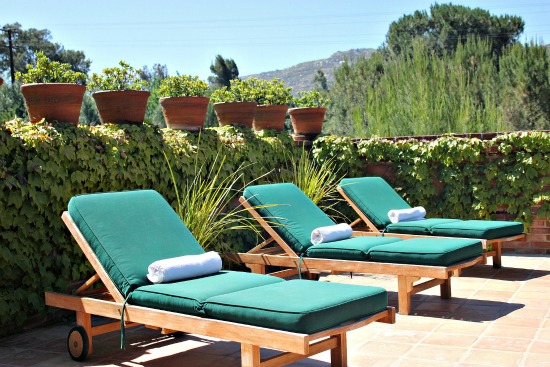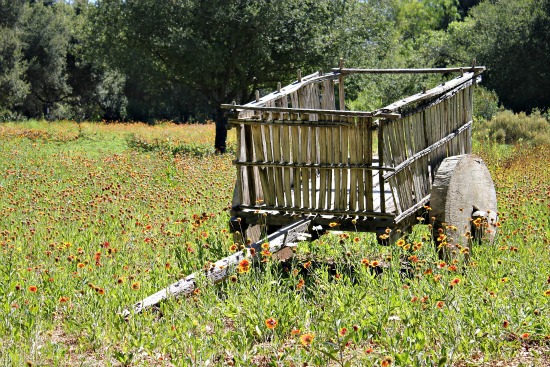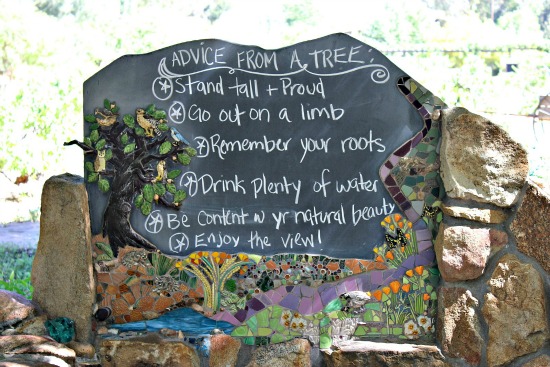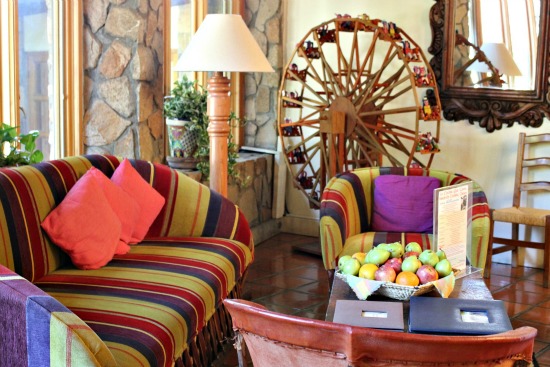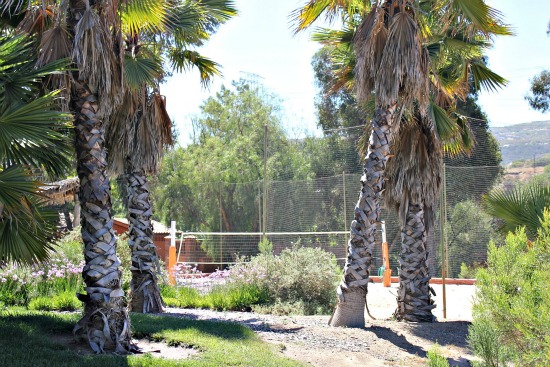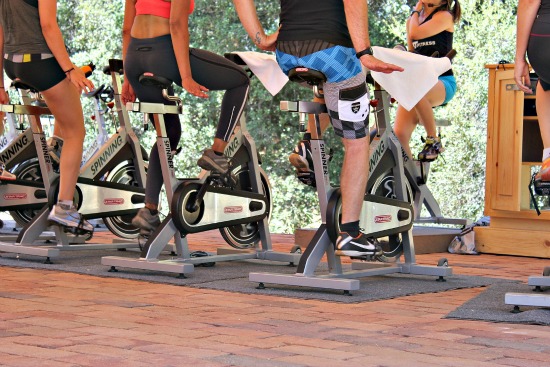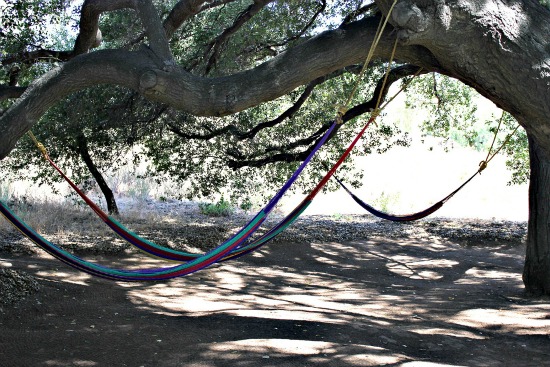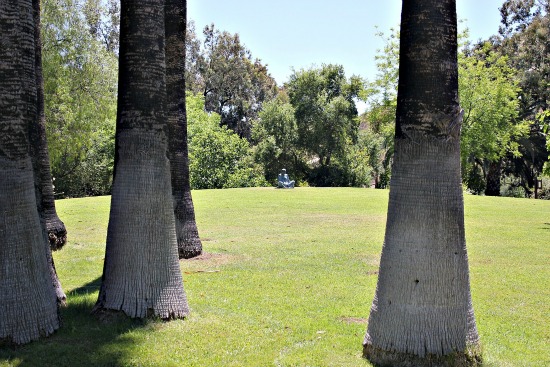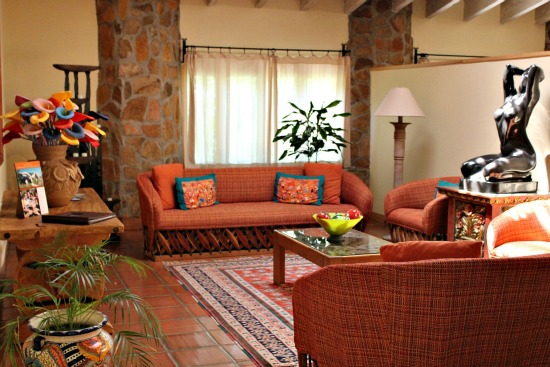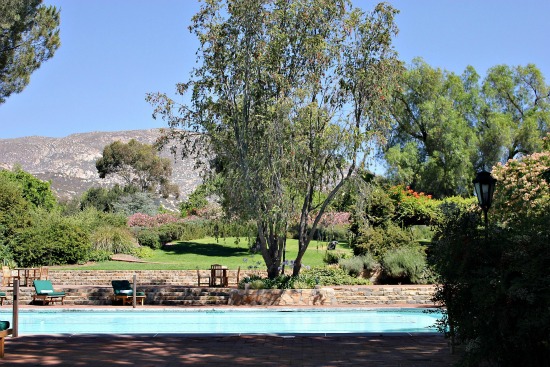 Once our tour was complete, we each enjoyed the most relaxing 50 minute massage.  You are given a locker when you arrive, along with bathrobe and slippers, and don't fear if you forget to bring toiletry items, because everything is right there for you, right down to sterilized hairbrushes, disposable razors, feminine products, and sunscreen.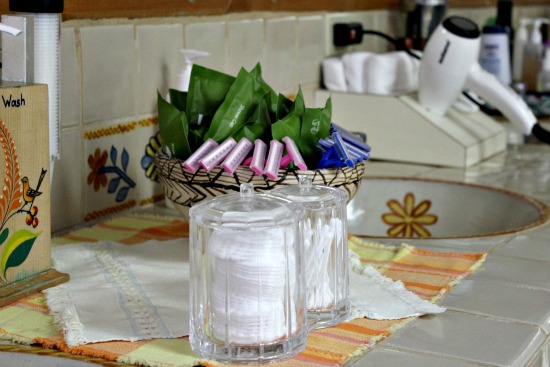 After our massages, and getting changed we were whisked off to lunch.  There is one central location for lunch and a large dinner bell that is rung when meals are ready.  We went into a smaller private area and enjoyed a delicious lunch and learned more about the wonderful ranch and their amazing Family Weeks that are coming up from August 4-11 and 11-18.  If my kids were 7, I would book this in a heartbeat for our family.
While you are enjoying everything the ranch has to offer, kids will be learning cooking, gardening, attend fitness classes, storytelling, drumming classes, nature activities, art and photography classes, bio construction, animation (with Dave Zaboski, a former Disney Animator), and they will have cross-cultural experiences too.   If families want to spend more time together to lay by the pool, or stay in their casita, that's not a problem, the schedules are very flexible, you can do as little or as much as you want.
Before I forget, let me share a few photographs of the main dining area.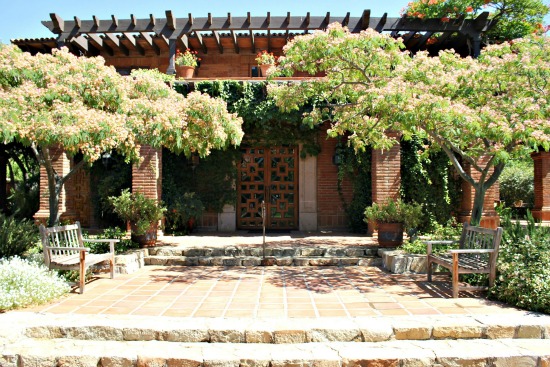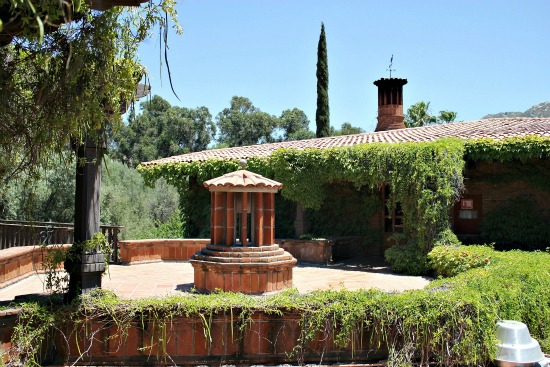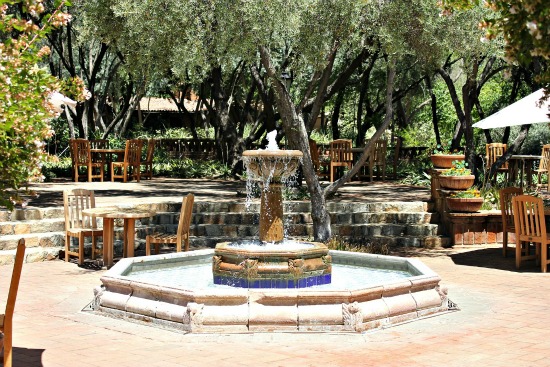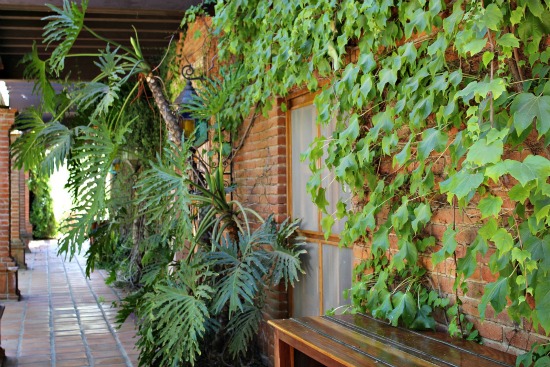 After lunch, we were given a tour of the accomodations.  They really are little houses, and they are not piled on top of one another, each has it's own space, a private deck with chairs, and a lovely view.
I hope this photo gives a little perspective as to how far the castitas are spaced apart.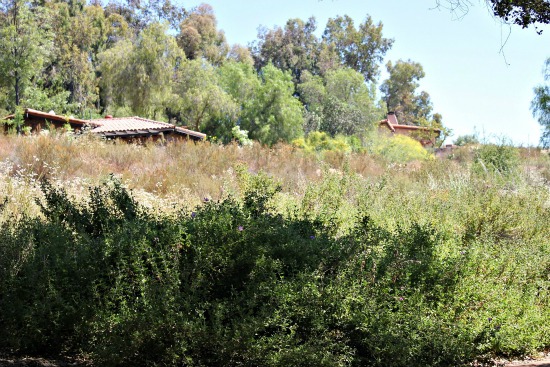 I want to show you a couple of the casitas.  The first one is perfect for parents with one child.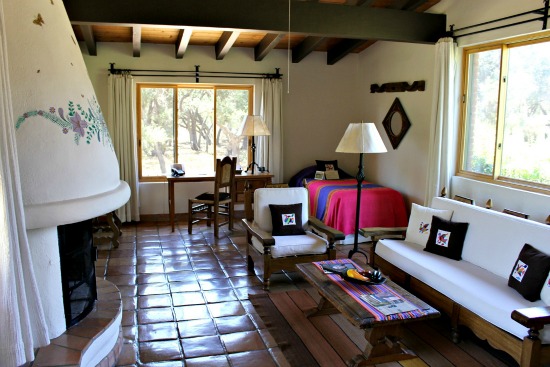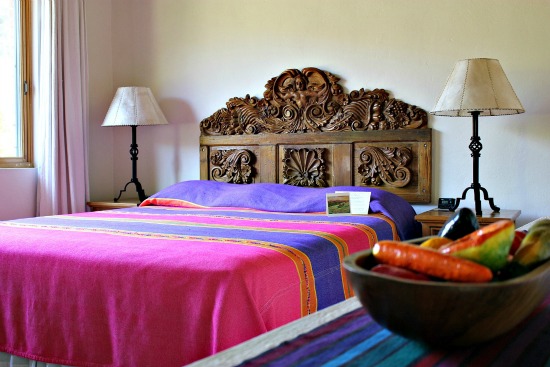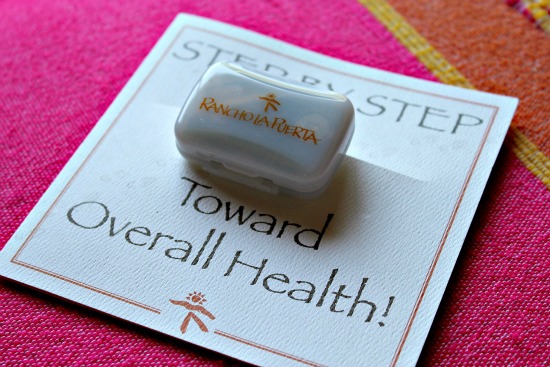 This one is great for a larger family.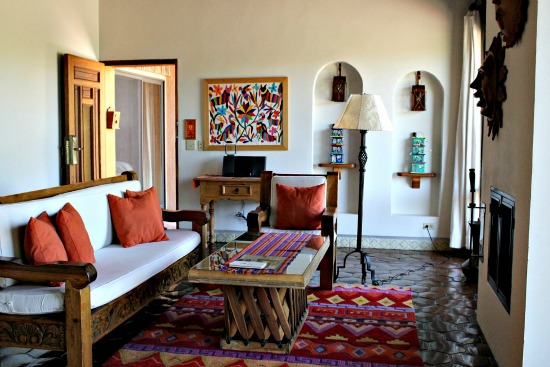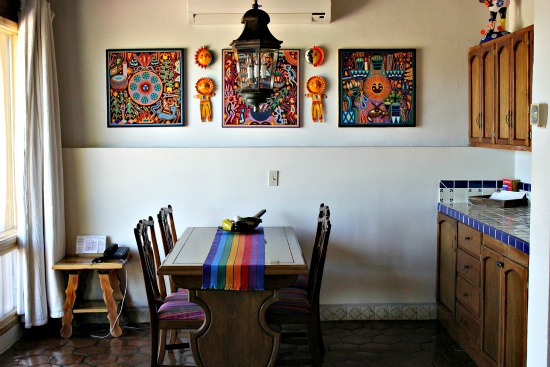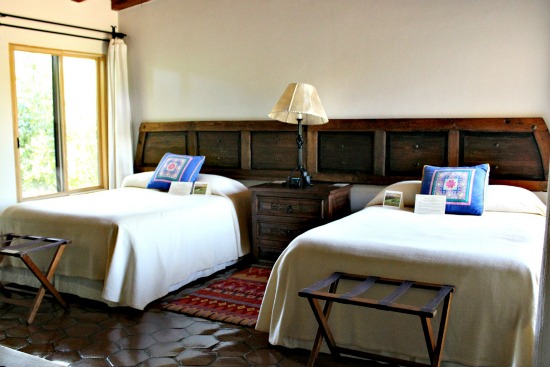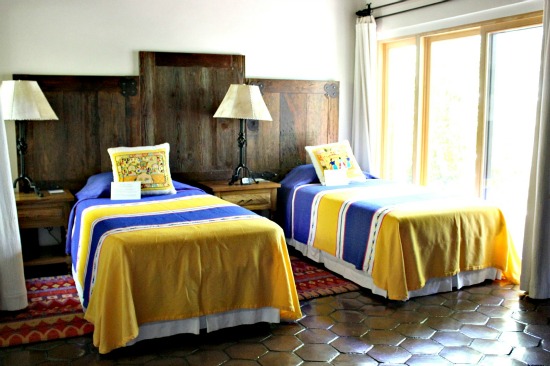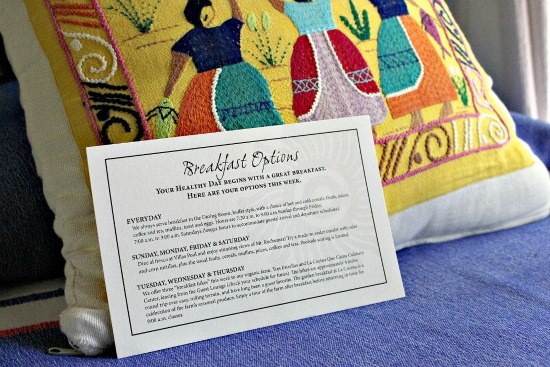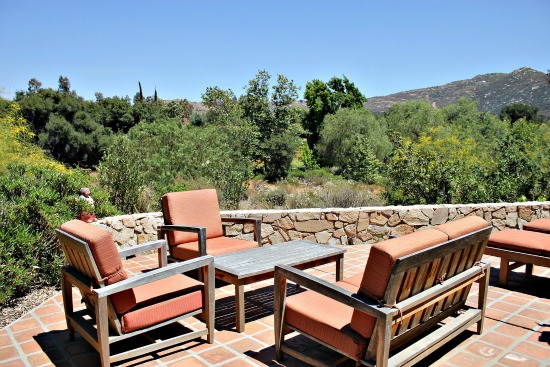 Aren't the casitas gorgeous?  Now you know why I wanted to move into one.   Best part, there are NO televisions.  It's all about spending time together and bonding.  There are movie nights that you can enjoy with other families in the movie room though.
After our tour we were given free time.  We immediately headed for one of the only rooms with wi-fi to send out a few tweets and instagram some photos.  They were serving smoothies nearby so of course we indulged.  They were berry and banana and had assorted toppings out such as granola, and toasted coconut to top your smoothies with.  Delicious is an understatement.  I should have had two.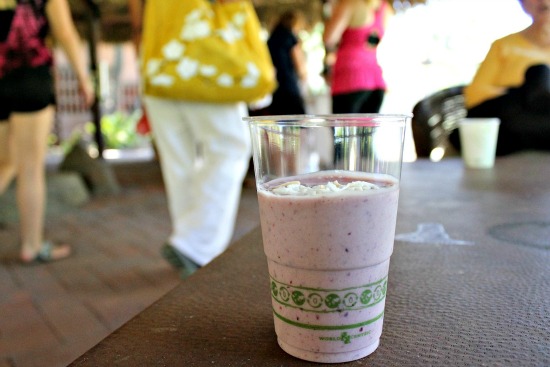 Then Christine and I braved the bathing suits and had a swim in one of the pools, before popping into the sauna for a bit.  Then it was showers, and getting ready for the cooking school.
A van picked us (and other guests) up for the 2 mile drive to the Cooking School and Culinary Center where executive chef Denise Roa teaches guests how to cook delicious dishes that they then enjoy for dinner.  The cooking school is located on the Rancho La Puerta property, along with a 6-acre organic farm.   For those familiar with San Diego, Denise previously worked at the Pacifica Del Mar, the Del Mar Racetrack Turf Club, and the Hilton in Torrey Pines, to name a few places.
We took a tour of the farm, then learned how to cook paella outdoors on the grill, and did a hands-on cooking class inside where we formed groups of two and cooked Seafood Paella with each group using a different grain.  Once the meals were finished we all sat outdoors and enjoyed a meal together complete with sangria, and tasted all of the wonderful dishes that we made.  I even have the recipes to share (see below). 
The venue: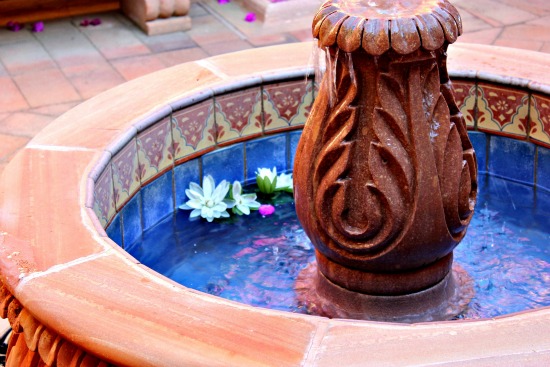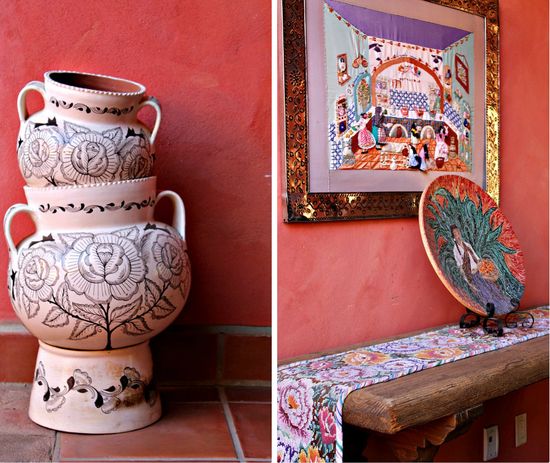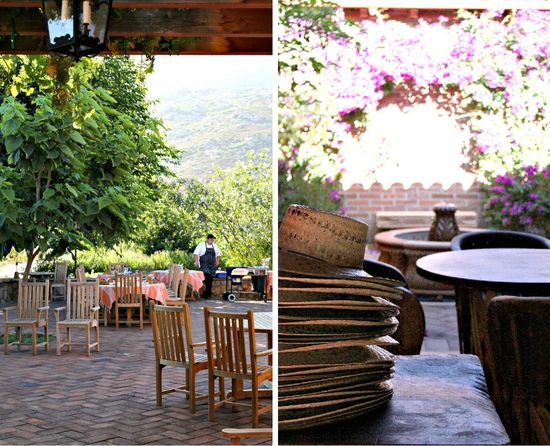 The garden: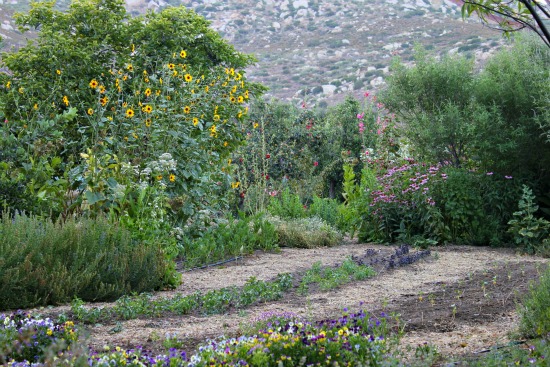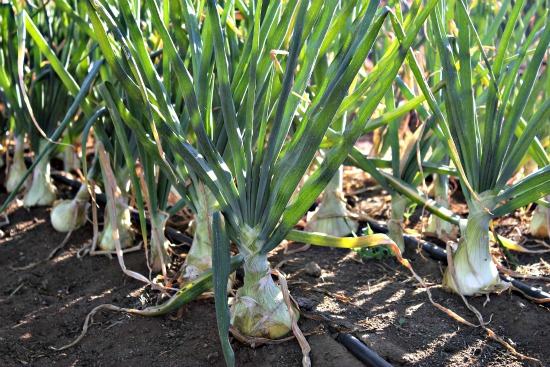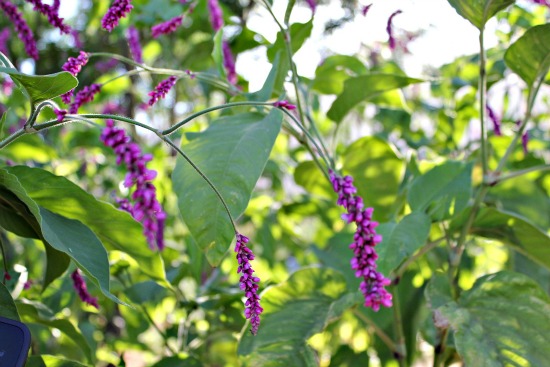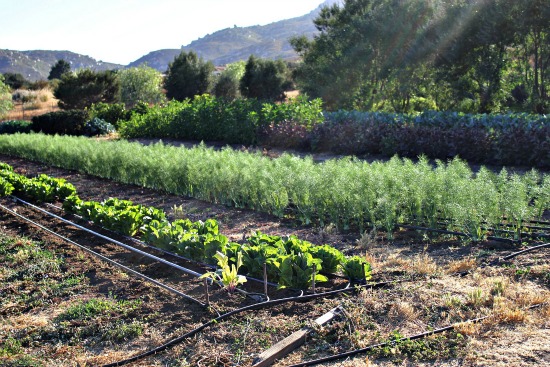 The culinary school: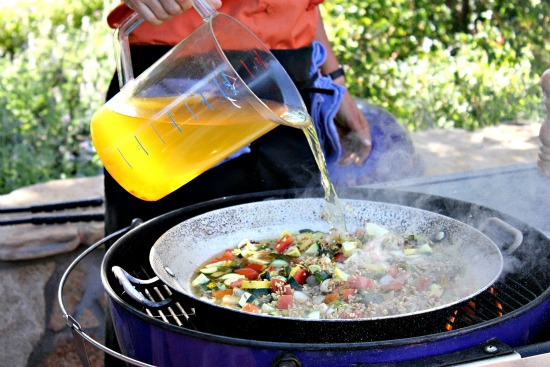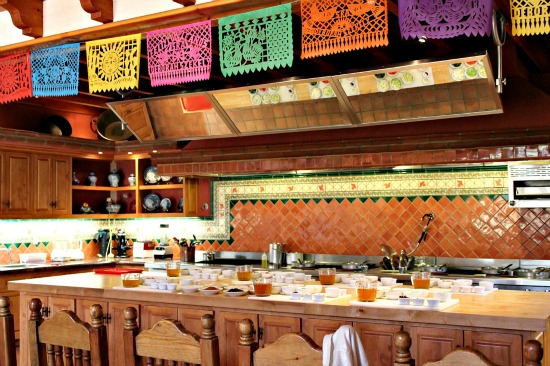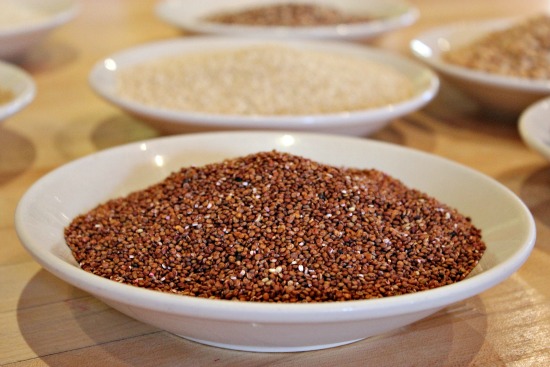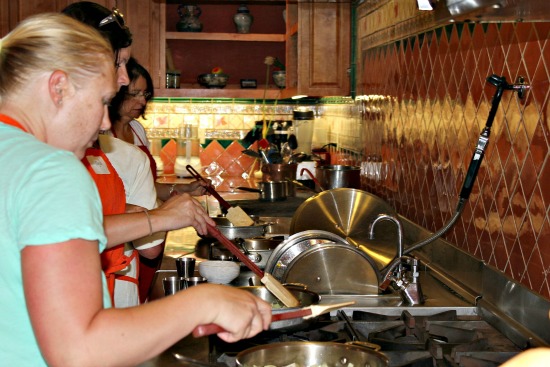 (Christine and I cooking our paella dishes)
Enjoying our dinner with the group: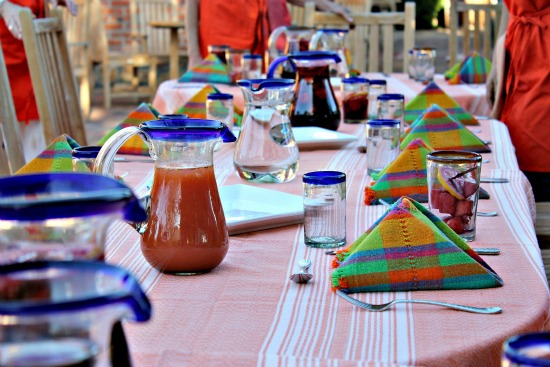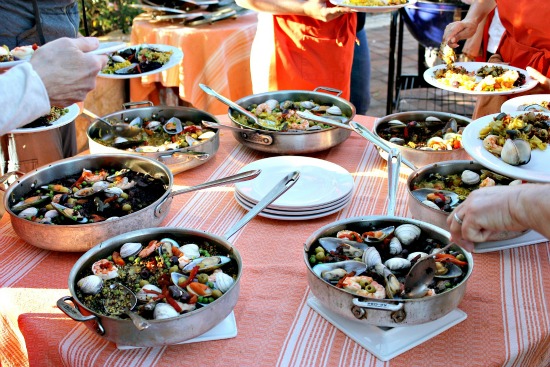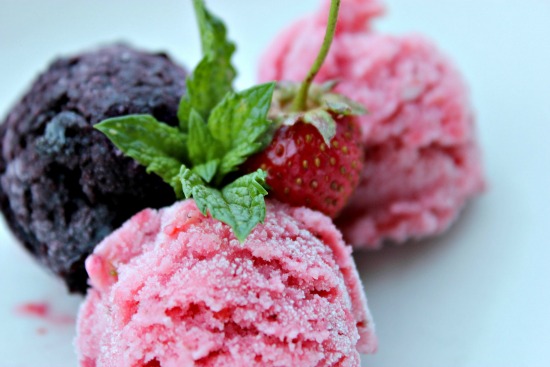 RECIPES:
Seafood Paella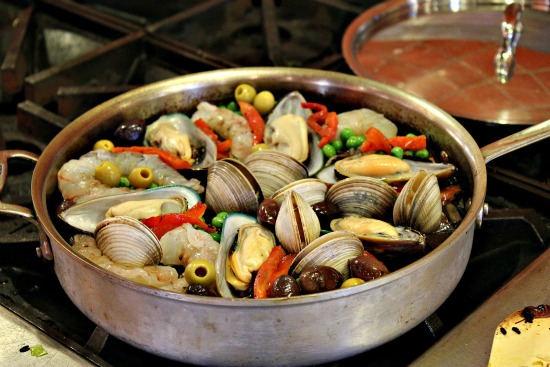 (serves 6) – you need a large pan that can go in the oven 12"wide x 3" deep
Ingredients:
1 tsp Spanish saffron threads
1/4 cup hot water
1 tbs olive oil
2 poblano chiles, (stems & seeds removed, 1/4 inch diced)
10 cloves garlic (peeled & minced)
1 cup small diced fennel
1/2 white onion (peeled, 1/4 inch diced)
1 leek, (white part only, 1/2 inch pieces)
2 cups long-grain brown rice
3 roma tomatoes (1/4 inch diced)
1 cup white wine
3 cups vegetable stock
1/2 tsp sea salt
6 large shrimp (peeled & deveined)
6 large clams and mussels
1 red bell pepper (roasted, peeled and julienned)
1/2 tsp Spanish paprika
1/2 cup Spanish olives
Preheat oven to 375 degrees.
Soak the saffrom in hot water for 30 minutes.  In a 12-inch ovenproof saute pan, heat the olive oil over medium heat.  Saute the poblano chiles until soft, stirring often, about 1 minute.  Add the onoin, leek and garlic, and cook stirring for 2 minutes.  At this time you can also add any other vegetable for sauteing.  Stir in the rice, then the tomatoes, and cook for 1 minute more.  Add white wine.  Add the saffrom liquid and the stock and salt, and stir gently but thoroughly to combine.
Bring the Paella almost to a boil; shake the pan gently, but do not stir. 
Add the shrimp, clams, and mussels and cook for 1 minute.  Add roasted peppers and olives and cover.
Move the Paella to the oven and bake for 10 minutes.  Sprinkle the seafood with paprika and return to the oven for 10 minutes more, or until the seafood is just cooked.  Remove from the oven and scatter peas over the top.  Let it rest for 15 minutes.  Serve with lemon wedges.
Sangria La Puerta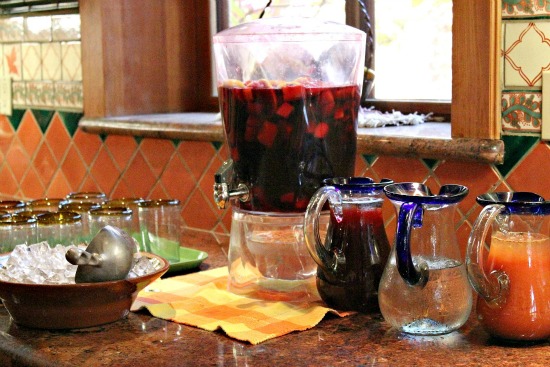 (serves 6)
Ingredients:
1 orange (thinly sliced)
1 lemon (thinly sliced)
1 bottle (750 ml) light-bodied red wine (such as Pinot Noir or Beaujolais)
1 cup fresh grape juice
1 cup unfiltered fresh apple juice
5 whole star anise
3 cinnamon sticks
Wash the orange and lemon and slice thinly from end to end.  Place the orange and lemon slices in a a large glass pitcher, add the remaining ingredients, and stir.  Chill for at least 2 hours before serving.
Strain the sangria and serve in tall glasses over herb lemon ice cubes if you like, and garnish with piece of soaked fruit.
**********************************
If that wasn't enough photos for you, I have even more on my Flickr album from the day.
Disclosure: I was provided with a day at Rancho La Puerta and returned with some goodies too.