Getting out the door for the first day of college can be overwhelming but it doesn't have to be with this guide and essential items to help guys get moving.
Disclosure: This blog post has been Sponsored by Schick® Disposable Razors. #SchickSummerSelfie
Jay starts back at college next week, he'll be in his second year, which means he's basically a pro at this now.
If you don't count the 3am text messages I get asking me to wake him up … even if he's over an hour away.
And let's not even start on the fact I haven't been sent the required book list to purchase yet.
But day one (and most days after this) will pretty much look like this: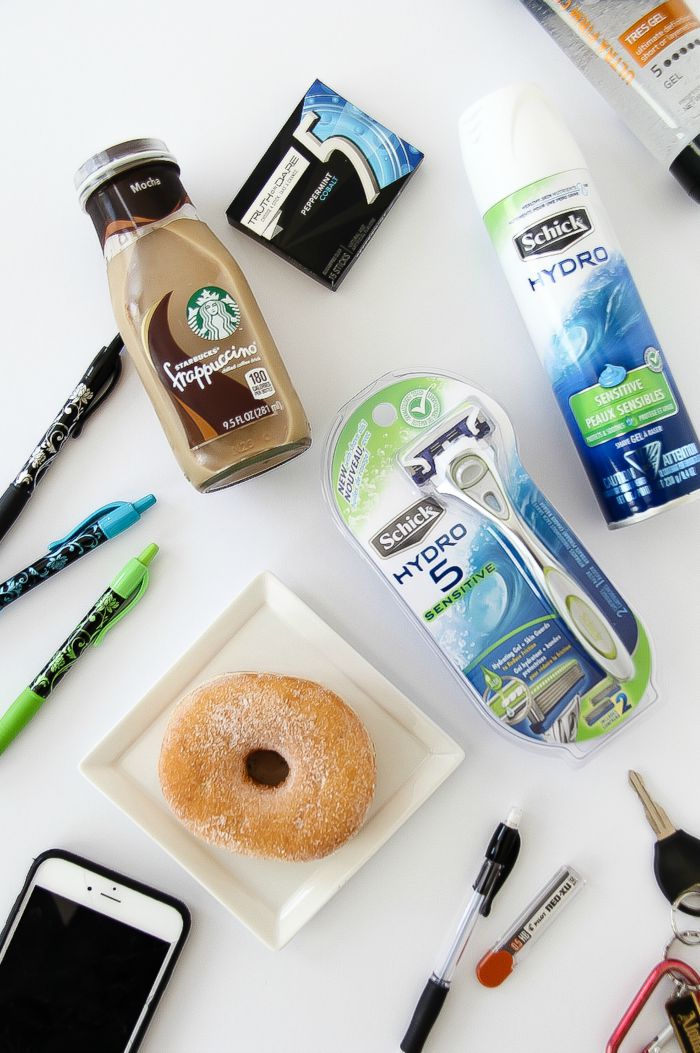 The only thing I didn't photograph here was his laptop. He's a bare basics kind of kid.
This was our conversation for back-to-college shopping:
Me: "I'm picking up school stuff for the other kids, what do you need?"
Him: "Uh." … "Pens."
Me: "What kind of pens – red, blue, black, brand …"
Him: "Black Pilot G2 pens."
Me: "What about paper, notebooks, planner, anything else?"
Him: no response.
Okay then, so I can only guess there are fancy plans to write on napkins, the back of his hand, borrow paper, or maybe he just needed new pens for home.
As he leaves in the morning I can already picture it, laptop in hand, phone in one pocket, pen in another pocket, gum in a third pocket, and his wallet in the fourth. And of course he'll be juggling food and a coffee as he runs out the door.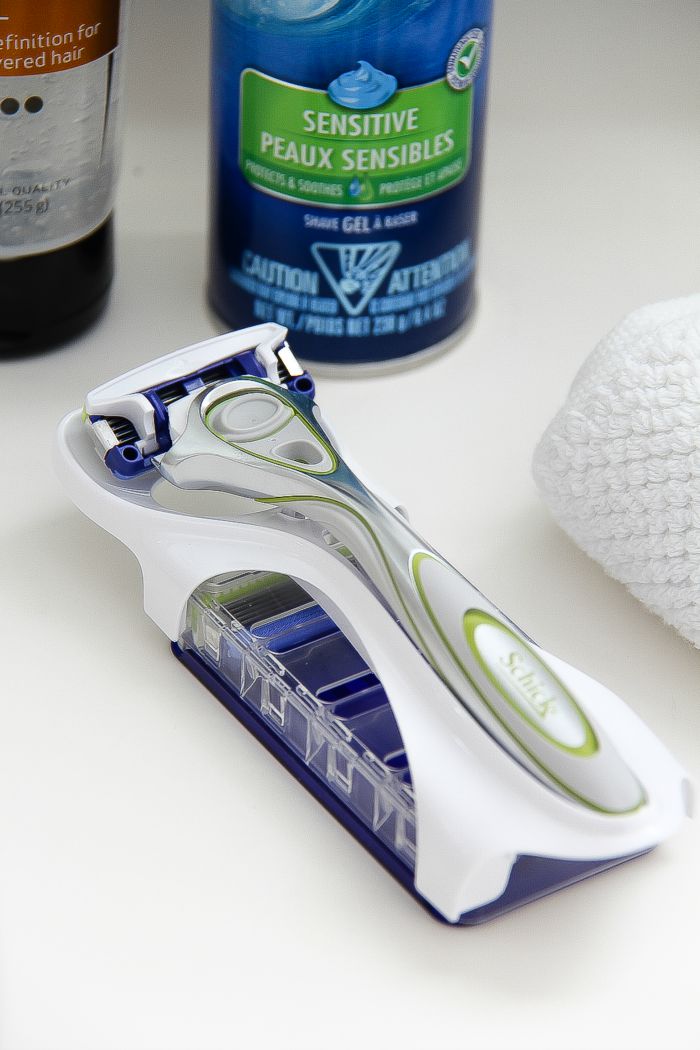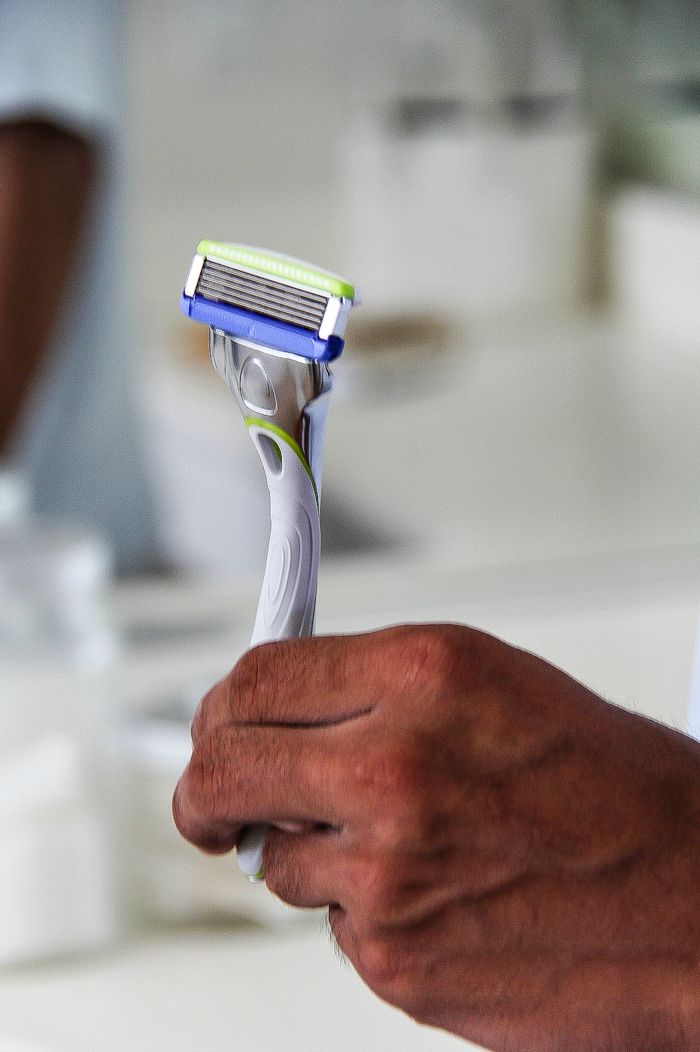 And so off I went to Walmart, with a second list of required school supplies for the little ones, and Jay's lengthy list of, pens. He knows though that he can count on me to just get whatever else he needs – like more hair gel, and of course multiple packs of gum, bottles of coffee and water, a new razor, and shower gel.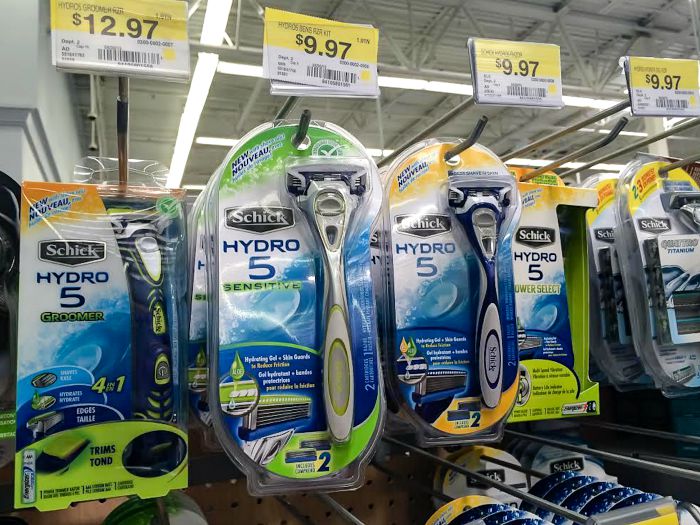 What essential items does your college kid need to prepare for their first day back to campus?
Don't forget to pick up disposable razors during your shopping trip to Walmart, you can find a coupon to buy one, get one free at Walmart.com coupons.
While you are there take a look at the NEW Schick® Xtreme3® Ultimate, it's reinvigorating shaving for men with an improved design and 50% more lubricant* – providing men with ultimate glide and ultimate comfort. Xtreme3® Ultimate fits nicely in your gym or weekend bag and is ideal for shaving on the go. It brings comfort to shaving with disposable razors, with three flexible blades and 50% more lubricant for impressive glide. Your razor is disposable, but your comfort is not – try the new Schick® Xtreme3® Ultimate.
Enter the #SchickSelfieSweeps – Snap a 'Summer Selfie' and tag it with #SchickSelfieSweeps and you could win one of four grand prizes of $10,000 toward college tuition plus other exciting prizes. Full details and rules can be found HERE