This Beef Polska Kielbasa Jambalaya makes for a delicious quick and easy weeknight dish.
At the end of July, before my BlogHer trip, I posted a recipe for Beef Polska Kielbasa Kabobs. I mentioned in that post that Hillshire Farm would be preparing and displaying another dish of mine, along with dishes from a few other bloggers, in their booth at BlogHer to give bloggers ideas on how to prepare delicious meals at home or to enjoy at the booth using their products.
The chefs did such a great job preparing and displaying my dish (below), and because I still have loads of Beef Polska Kielbasa left in my refrigerator I decided to make a new dish and share another recipe with you – Beef Polska Kielbasa Jambalaya.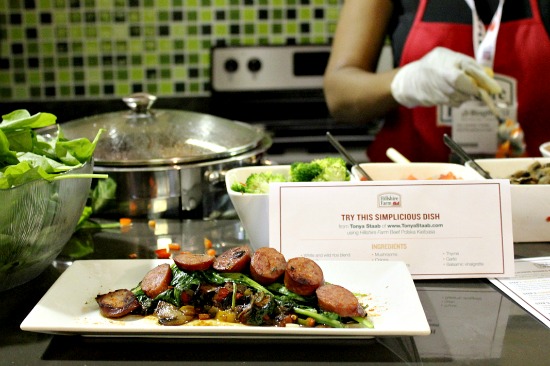 Beef Polska Kielbasa Jambalaya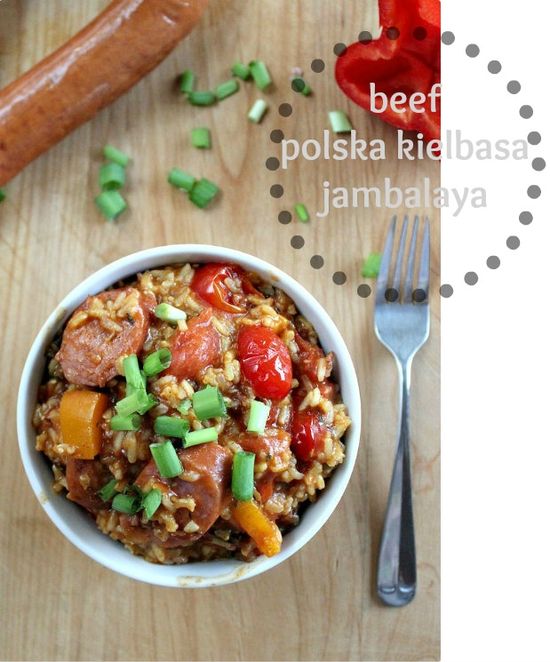 Ingredients:
2 Beef Polska Kielbasa
2 cups wild rice blend (I used white, brown, wild and red)
4 cups chicken broth
1/2 tub cherry tomatoes (sliced in half)
1 orange pepper (julienne)
1 red pepper (julienne)
1 yellow onion (finely diced)
2 tsp crushed garlic
1/4 cup ketchup
2-3 tbs Cajun spice
2 tsp dried thyme
2 tbs olive oil
pinch salt & pepper
Green onions – chopped for garnish
Heat the oil in a large pan, add the onion, saute until translucent, then add the garlic, orange, and red peppers. Cook for a few minutes longer. Add in the tomatoes and cook for another minute.
Mix in the rice, thyme, Cajun spice, salt, and pepper. Combine with the other ingredients. Gradually pour in the broth.  Bring to a boil.
Turn the heat down to medium-low and add the beef kielbasa and ketchup. Combine, and leave to cook for approximately 30 minutes, stirring occasionally until the broth is absorbed.
After serving into dishes top with green onions.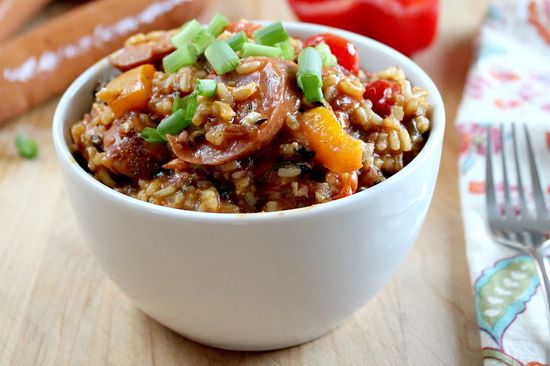 Enjoy!
* To print this recipe, please click on the 'printer' button underneath the social sharing buttons. 
Please pin this post for later: