With these essential items, every picnic outdoors will be perfect.
Has Spring weather officially arrived where you live? We are thoroughly enjoying the weather here in California, aside from the occasional rainy day of course. As the weather heats up even more and we edge closer to summer we are definitely making the most of it and spending more and more time outdoors. I've even caught the kids setting up picnic blankets in the backyard to enjoy their after school snack and drink.
We love to picnic as a family, whether it be at the park, the lake, the beach, outdoor concerts, or in our own backyard.
I have some tips for you to make your outdoor family meal picnic perfect.
Picnic Essentials:
Let's start with the essential items such as a picnic blanket, basket, cooler, and other items to make your picnic more enjoyable. Look for eco-friendly options when shopping for items such as napkins, plates, serving-ware, insect repellant, and wipes . We have been using a fabulous roll-up table for years, it helps to keep the bugs at bay with the food being up higher, as well as providing a stable surface for beverages and plates.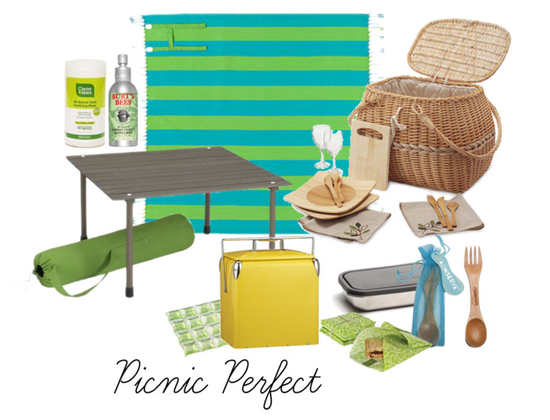 Food:
There are so many options for delicious picnic friendly food. Most importantly let's keep it healthy and ensure that all food is stored in containers, or wraps and kept in a cooler. If you plan on keeping food out family style, have a food tent or other food cover on hand to keep those pesky flies at bay.
Our favorite picnic food is pita pockets. We find that there is less mess because food isn't falling out of them, they are easily stored in containers for transporting, and we can even take the fillings separately and the kids can make their own at the picnic site. We always pack fruit, cold beverages and occasionally we pack a special treat too, such as SunChips®.
Looking for some more picnic food options, these will have you heading to the park this weekend.
Jars are not only a fantastic way to store beverages, but if you freeze the beverages before the picnic they will remain cold, and you won't need as many ice-packs in the cooler.
Fun:
Pack some activities to enjoy either before or after your meal, whether it is books for quiet reading, a travel game, or a kite. Don't forget a camera, and leave those electronics at home.