I have always wanted to learn how to decorate cakes so when I noticed on one of my almost daily trips to Michaels that they were offering Wilton Cake Decorating Classes I immediately signed up. 
Week one the teacher gave us an overview of how to use the various tools, showed us how to make Buttercream Frosting from scratch and how to fill and frost a cake.  With the theory of course that we would all return the following week with a frosted cake ready to decorate.  
Of course, this is me, attending yet another thing that I really don't have time for, so although the other 11 girls in the class were busy practicing over the weekend and pre-making their delicious cakes and assorted icing colors 2 days in advance like they were supposed to, that was not the case here. One day prior to class, at 4pm, I posted a tweet that I was yet to bake a cake and make icing.  By 11:30pm that evening I had made just the first layer of cake.  By 4pm the next day (having spent all morning in class, attending parent teacher conference for the teen and running around after the twins) I realized I didn't have enough ingredients to make the second layer of cake so it was off to the supermarket.  By 5pm the cake was in the oven and the icing was being made. 
Did I mention that class was starting at 6pm.
This is the moment I completely lost it. 
The cake was supposed to cool for an hour, but ended up in the freezer to speed up the process, the red icing had turned a rust color because I hadn't made it in advance like I was supposed to and 5 minutes before class I was scrambling to apply the crumb layer of icing to the cakes, whilst the sides of the cake were literally falling apart in my hands – the crumb layer is the first layer of icing that tends to get crumbs from the cake caught up in it.  Of course it was at this point that I RAN. OUT. OF. ICING.  So I raced to my class, late of course, and purchased some pre-made icing.  The only problem being, that the pre-made icing isn't as thick as the homemade one (which makes it perfect for decorating though), so my top layer didn't harden quick enough for me to roll it before decorating.
However, I'm quite happy with my first attempt at decorating a cake …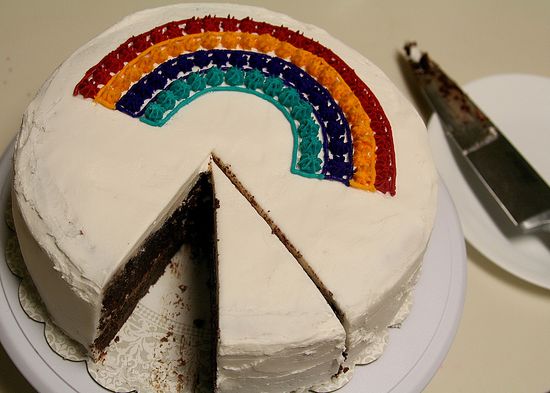 even though I didn't get to finish decorating it or rolling the icing so that it was beautiful and smooth. 
Next week we are making icing clowns and roses.  This should be interesting.  And this time I will make my cake and icing 2 days in advance … I say this as if it's actually going to happen. And I won't sit next to the girl who doesn't need the class because her cakes look beautiful.
Course 1: 4 weeks. $22.50 (half price) + supplies. 2 hours each week. There is a kit you can purchase with the basic supplies needed for course 1 – from memory it is about $27.  Then there are extra things that are suggested such as a turntable, roller (I purchased a clay roller for $3.99), extra disposable icing bags and clown picks.  I had quite a few 40% off coupons so used those over days to purchase all of the supplies I needed plus a case to keep everything in.
There are 4 courses. You can get more information here.