MY BIRTHDAY EDITION
I think it's obvious by now that I'm a couple of days behind on posts.  
My birthday was spent in Santa Barbara.  I had a whole day planned.  It didn't turn out quite how I expected though and just quietly, there were a few tears held back … I know, poor me.
My day started with this: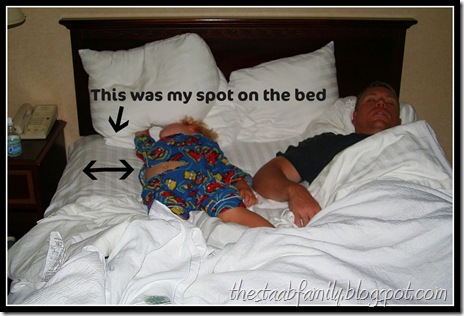 Yep. The little person in the middle had his own bed, but apparently mine was more comfortable.  I would have squeezed in next to the bigger kid who had an entire big bed to himself, but of course he was sprawled across the entire thing. 
Breakfast at our hotel was ending at 10:30 and we made it to the restaurant with seconds to spare.  Nobody could seem to get organized that morning.  After breakfast we came back to the room so I could get up a blog post, so  hubby took the little ones out for a walk to give me some peace and quiet.  They came back with a bottle of champagne and the twins sang happy birthday to me.  I had a couple of mimosa's and we took off for the day.  I had wanted to go to the Botanical Gardens and Alice Keck Memorial Park for the day.  Nice, quiet, family activities.   Little did I know that the Botanical Gardens had been massively burned by the recent fires, such a shame and there was a festival happening in the Alice Keck Memorial Park.  Eek.  By then it was 2pm.  Flynn had pooped in the car (we had no wipes) and we realized we'd forgotten Marisol's asthma medication.  So back to the hotel we went to pick up everything we'd forgotten.  On the way out hubby picked me up an assortment of beverages to enjoy in the car while we decided what to do with the rest of the day.
We ended up driving down to the pier … I must have a thing for pier's. 
This is what he was making.  How creative.  I loved it and had to have one.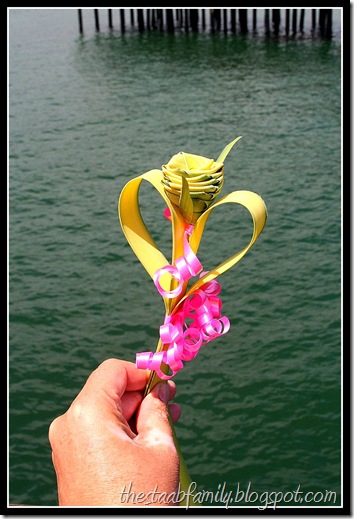 We visited the Ty Warner Sea Center which was fantastic.  It's out on the pier and you can learn all about the sea life of the area.  There were a few hands on areas for the kids which they thoroughly loved and it was very educational.
Baby sharks
This octopus had eggs.  We learned that she will die shortly after they hatch.  Apparently female octopuses refuse to eat after laying their eggs, instead they put all of their energy into caring for them.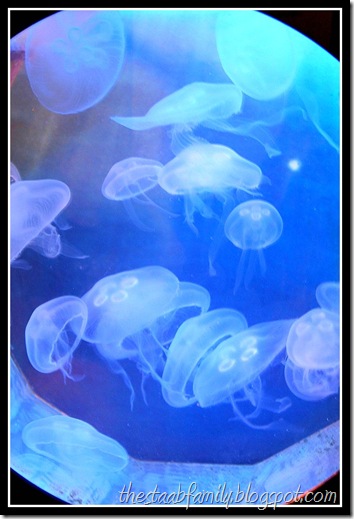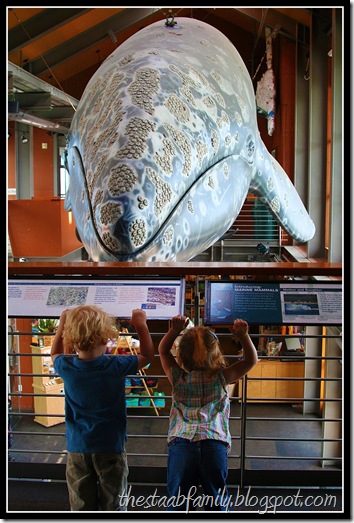 Then we decided to go for a ride along the boardwalk.  Something that in all of our trips to the area we I had wanted to do.  The twins absolutely loved it.  They sat up front and rang the bell.  Jay and Ran peddled their little hearts out, bless them.  Mama sat in back snapping pictures with her feet up.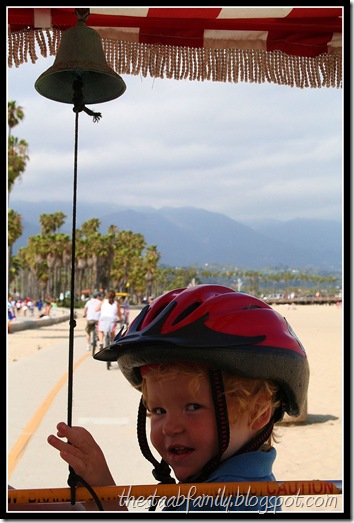 The day was ended with mama doing a little antique hunting, getting a new Flip video camera (after my old video camera decided to pass away a couple of days earlier), eating pizza at the BEST pizza place I've ever been too Rusty's Pizza and then heading to Cold Stone for ice cream.
All-in-all my day ended up being pretty great in the end.