When organizing children's parties, I try to put a few things out for the adults too.  For the twins Curious George party I researched interesting facts and songs.
I found some fabulous 'need to be painted' wooden stakes at Michael's in the Halloween section so I grabbed 4 of them, typed up the information and printed it out onto sticker paper.  I stuck each piece of information to a sign and put them around the party.
I tried to relate a couple of the signs back to Marisol and Flynn – ie the 1st and 2nd ones. The 3rd sign was the Ten Little Monkey's Song and the 4th was just a ton of very curious facts about George.  What you can't see here is the wooden part of the sign was a large circle and had quite a long stake at the bottom of it so they were just perfect for putting in the ground.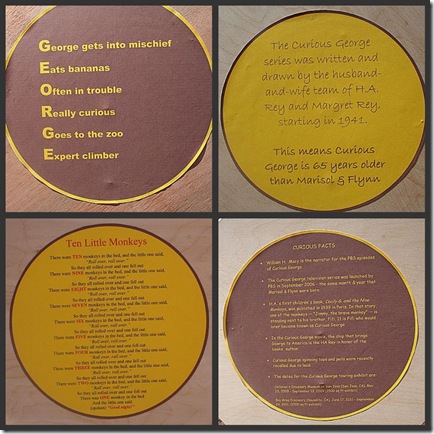 Here are a few websites where you can find some Curious George facts for your party: PBS kids, Houghton Mifflin Books and Wikipedia