Most little people parties end with an injury.  It's only natural for kids to be running around and trip over or fall off something so I like to keep a little emergency station close by for the parents so they don't need to look for supplies.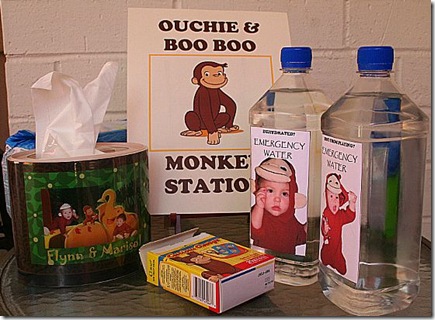 So before I get onto how I did these, about a month prior to the birthday party I bought the twins a Curious George costume (just 1 to share). I dressed each of them up and we took a ton of photographs that I could use for different aspects of their party. I used Photoshop to put a couple of pictures onto a scene from Curious George for the invitations and tissue boxes and used the others to print out labels for the water bottles.
Personalized Kleenex tissue box.
Did you know you could have tissue boxes personalized? I just loved this idea when I heard about it. You can check them out at the Kleenex website
Curious George bandaids
Water bottles
(for washing dirt off scratches or boo boo's).  For these I purchased 2 regular water bottles and peeled the labels off.  I replaced the labels with ones I'd printed at home with the twins photographs on them.