Disney Cinderella was re-released on Blu-Ray/DVD during the week.  
I'm going to show you simple tips for hosting a fun Disney Cinderella viewing party that little girls are sure to love.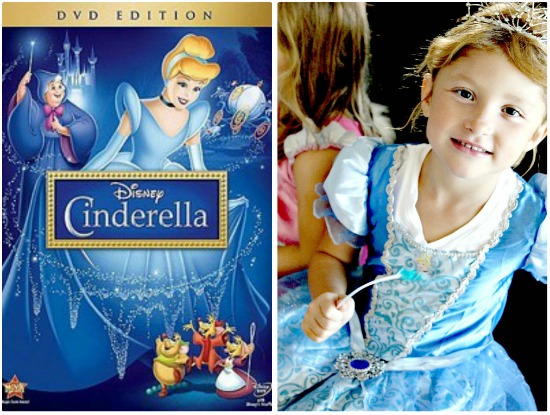 A Cinderella Party doesn't have to be over-the-top to be fun.  Keep it simple, and use as many items as you can that you already have on hand.
For example:
A plain white tablecloth looks crisp and clean and highlights the beautiful blue tones.
A pumpkin is a perfect fit for the Cinderella story line.  If you have pumpkins for your Fall or Halloween decor, bring them out to decorate your table. 
Instead of fresh flowers, bring a plant onto the table.  A little green will look fabulous against the white and blue, especially succulents which are really versatile.
Instead of using plastic cutlery, bring out the silverware, if you stick to mainly finger foods, you will only need to put out a spoon or fork for cake.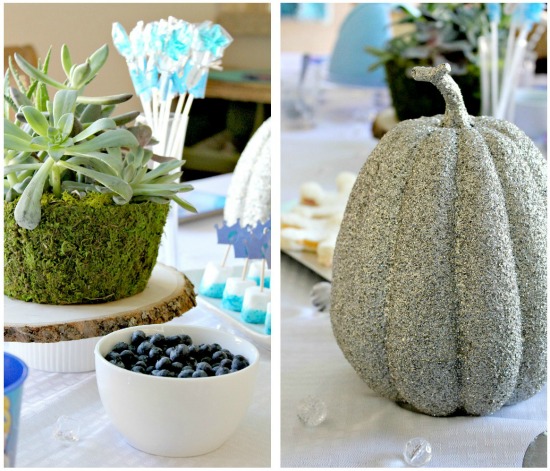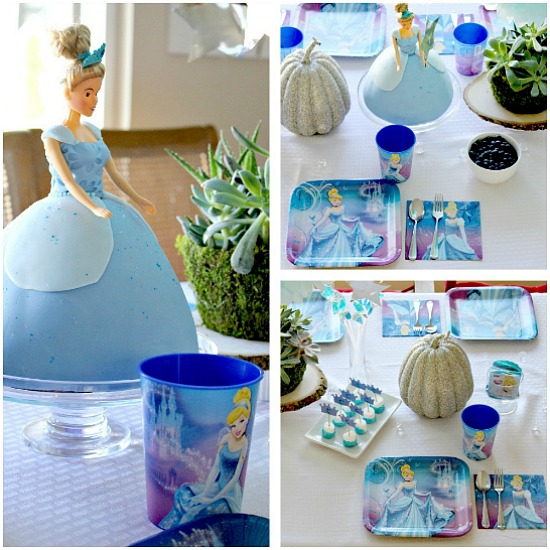 There is no need to go overboard with Cinderella table decor.  There are all kinds of wonderful additions you can purchase, but if you don't need the extra expense, and are not going to use the items again, then I recommend sticking to the basics; cups, plates, and napkins.  These basic items are available at Walmart.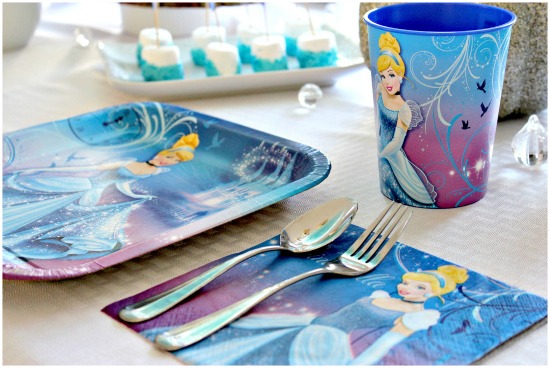 Keep the food equally simple.
For the viewing of the movie, serve popcorn in Cinderella cups.  These can be re-filled as needed, but remember, lunch will be served, so this size is a perfect appetizer.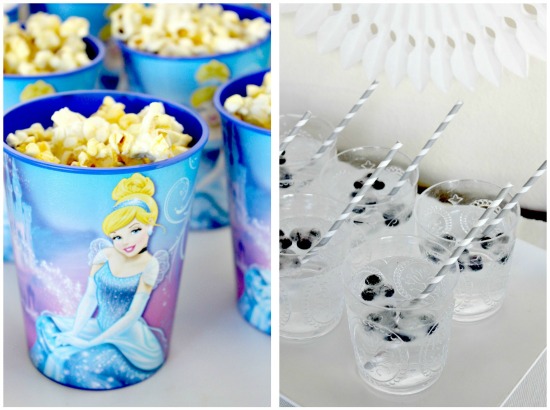 Blueberry water makes a refreshing, healthy beverage for both the movie viewing, and lunch. 
What you need:
Heart-shaped ice-cube mold
Filtered water
Blueberries
Freshly squeeze lemon juice
Put 3 blueberries into each of the heart-shaped ice-cube compartments.  Add a splash of lemon juice, then top with filtered water.  Freeze.
These sandwiches are fit for a princess and are made-to-order.  Pre-cut the bread using a princess crown sandwich cutter and cover with plastic wrap.  Right before lunch is being served, take the princesses orders and fill the sandwich crowns.  Keep it simple though by only offering 3-4 choices.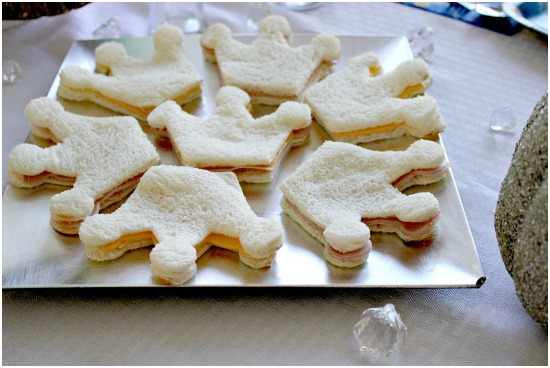 Tip: If your bread is a little too small for the sandwich cutter, gently roll a rolling pin over the top, not only will it make it the perfect size, but the bread will cut much easier without crumbling on the sides.
Add an assortment of snacks to the table too such as bowls of blueberries, star-shaped lollipops, Disney Cinderella (and Brave) fruit snacks, and marshmallow pops.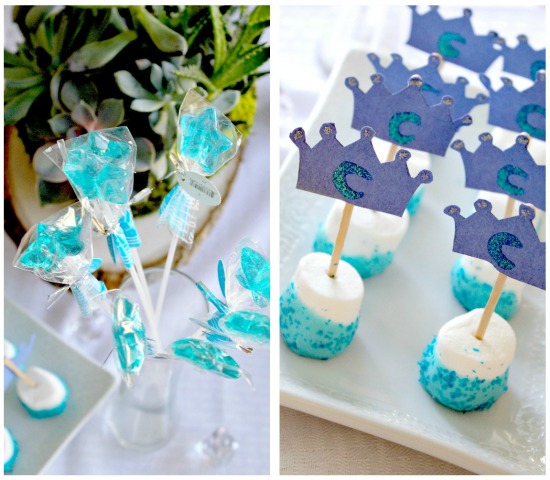 To make the marshmallow pops melt blue candy melts in a microwave, dip the marshmallows halfway in and then sprinkle a little edible glitter over the top. Place on wax paper and refrigerate until set.
The crown picks were handmade.  Here's how:
Cut a small princess crown out of blue card stock.  Use a little glitter glue to decorate the crown, including a letter 'C' for Cinderella.  Attach the crown to a toothpick with glue, then once dry insert into the marshmallow.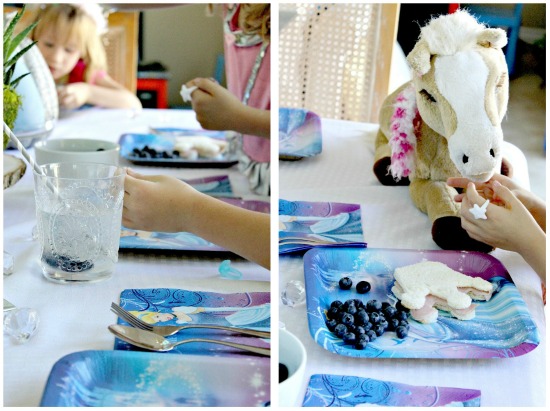 Apparently ponies love sandwiches and blueberries as much as princesses do.
The Cinderella cake is surprisingly easy to make.  This was my first attempt at one, but Wilton have a doll Wonder Mold Cake Kit available at Walmart that makes it easy.  You may however have to purchase a separate blonde doll (only a couple of dollars).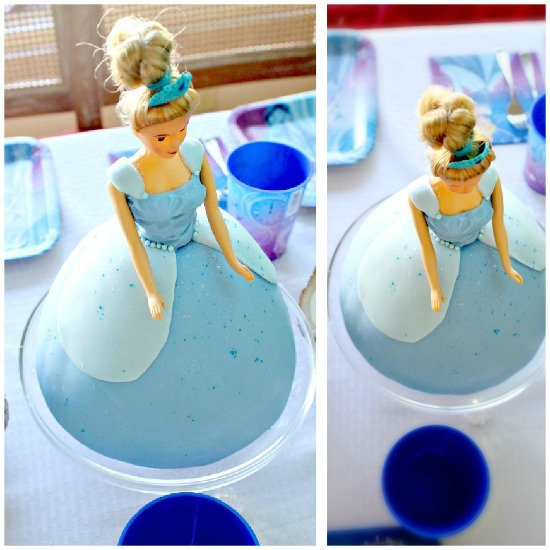 Walmart make cake decorating easy with their Wilton cake decorating section which you can find near party supplies.  I often shop there for icing, and fondant. 
The Wilton Wonder Cake Kit comes with a great tutorial for making and decorating a doll cake, but let me break down the simple steps I took to make this Cinderella one.
What you need:
Wilton wonder cake kit
White and blue fondant (alternatively white fondant and blue Wilton icing color)
Wilton white icing
Blonde doll
Blue Candy Beads
Tiara – we used a tiara from one of Miss M's Barbie dolls.
Bake your favorite cake, you will need to double the mixture, or alternatively use two boxed cake mixes.
Once cooled, remove from the cake pan, and remove the inner heating rod.  Place a little icing on a round cake board and place the cake on top.  This will make it easier to move the cake to a pretty cake tray once decorated.
Cover the cake in Wilton icing, making sure it is fairly smooth.
Wearing gloves combine the blue and white fondant (or white fondant and blue icing), molding it between your fingers until the colors are combined thoroughly and the shade of blue is how you want it for the dress – add more white fondant for a lighter shade, blue fondant (or color) for a darker shade.
Roll out the fondant so it is large enough to cover the cake.  Lay the rolled fondant over the cake and smooth it out making sure there are no creases.  I find that pulling it out from the bottom then smoothing my hands over it from top to bottom help with this.  Take a knife and cut off any excess fondant from the bottom of the cake.
Cut a small slit in the top of the cake where the heating rod was.  Insert the doll head adding a little icing to the base of it so it doesn't move around.
Roll out a small rectangular piece of fondant to make the top of the dress.  Wrap it around the doll.  It will attach without any effort.  Before attaching it I used a stamp to create a pattern on the fondant.
Mix the remaining blue fondant with a little more white fondant to make a lighter shade of blue.  Using a knife cut out the sides of the dress.  With a brush, put some water on the back of each piece and attach to the dress.   Cut out two small rectangles and place over the dolls shoulders, then carefully mold them over her shoulders.
Press the blue beads into the base of the front and back shoulder straps and around the top of the overskirt.
I also sprinkled a little blue and white edible glitter over the top to really make her sparkle.
Last but not least, are party activities.  You can have so much fun with this.
Watch the new Disney Cinderella on Blue-Ray/DVD
Download the free Disney Princess Royal Ball app
Paint the princesses nails ready for the ball
Make beaded bracelets or necklaces
Play games, such as Cinderella Bingo
Read Disney Princess and Cinderella books
There is also a link on the Walmart Disney Princess page for free coloring pages. 
Walmart offer a great collection of beads in their craft department, along with elastic cord.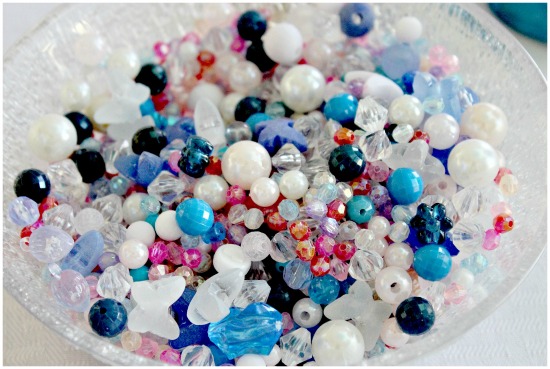 Keep up-to-date
with all things Disney Princess by following the #DisneyPrincessWMT
campaign hashtag on Twitter and Instagram, as well as here:
Walmart Disney Princess Page
Disney Princess on Facebook
Play 'n Explore
You can view more images from my recent shopping trip as well as screenshots of the app on my Google+ photo album.
Disclosure: I am a member of the Collective Bias™ Social Fabric®
Community.  This content has been
compensated as part of a social shopper insights study for Collective Bias™and
Disney Consumer Products. Inc #CBias #SocialFabric #DisneyPrincessWMT