I love decorating our table for the Holidays, but you don't need to spend a lot of money on a variety of table decor for every holiday and every season. Purchase the basics, and decorate around them. I'm going to show you how to create simple and stylish Halloween and then Thanksgiving tablescape using a few basic items.
It's no secret how much I love World Market. From their food items, to their jewelry, and of course their furniture and decor I'm a regular shopper.
My most loved household items are my dining table and chairs, which of course I purchased from World Market about a year ago. Our dining table is where we entertain visitors, and enjoy family meals most nights.
These basic items that I'm going to show you can not only transform your table from Halloween to Fall, or Thanksgiving, but also (aside from the pumpkins) through to Christmas as well. The colors and items are very versatile.
Basic items:
Table Runner: Brown Woven (from World Market)
Placemats: Red Pandan Square (from World Market)
Chargers: Fluted Silver (from World Market)
Napkin Rings: Hammered Silver (from World Market)
Candle Holder: Alto Metal Taper (from World Market)
Candles: Metallic Silver Taper (from World Market0
Napkins: Brown Woven (already owned)
Cake Stand with Dome (already owned)
Silver Glitter Pumpkins (already owned)
This is how these basic items come together. The colors are perfect for every day dinner parties, not just for the holiday season.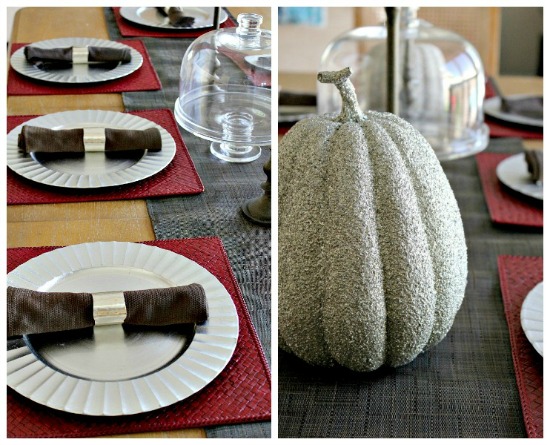 The reason I chose these colors:
Silver not only goes with everything, but adds a little more style to every tablescape.
Red is perfect for Fall when paired with green, orange, yellow, and brown tones, but always looks fabulous against black, silver, and these dark brown woven table items for Halloween. Let's not forget Christmas, just add a touch of green.
When choosing a basic item for the basis of these tablescapes I wanted something that would go with everything. A regular flat brown table runner and placemats just wouldn't cut it, but the woven ones I found show a little of the darker and lighter tones in them making them very versatile when pairing with any color.
Now to transform these basic items into a Halloween Tablescape perfect for entertaining.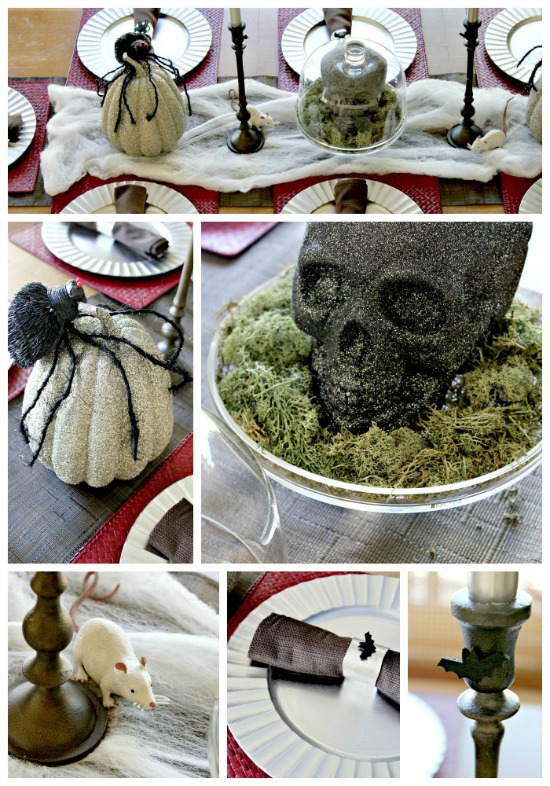 What I did:
Using removable glue dots add felt bats (available at World Market)to the candle holders and napkin rings.
Inside the cake stand add reindeer moss along with a black glitter skull (available at World Market).
Place large spiders (available at World Market) on the silver pumpkins.
Add spider webs and rats on top of the table runner.
Now we are going to remove all things Halloween and transform this space to create a lovely Fall or Thanksgiving Tablescape.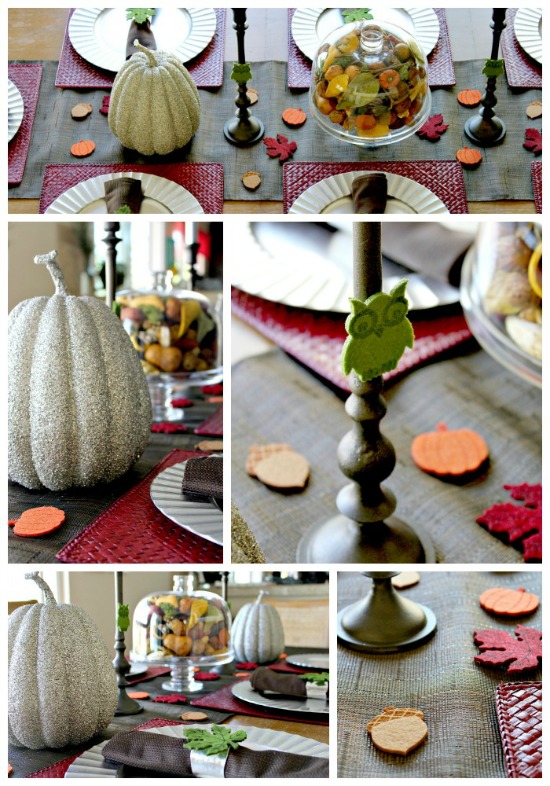 What I did:
Replaced the felt bats with green felt leaves on the napkin rings and green owls on the candle holders.
Used the remainder of the Fall felt items (available at World Market) in the packet to scatter as confetti over the table runner.
Filled the cake stand and dome with the most delicious smelling Mexican Pumpkin Potpourri (available at World Market)
How do you decorate your table for the holidays?
Enter the HGTV Passport to Style Sweepstakes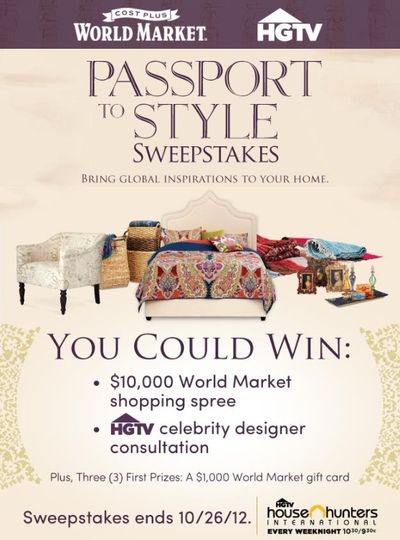 Grand Prize package includes: A $10,000 World Market shopping spree and design consultation with an HGTV Designer
There will also be 3 runner up prize winners that will each receive a $1,000 World Market gift card!
The HGTV Sweepstakes runs from September 22, 2012 until October 26, 2012.
If
you share the sweepstakes with 5 of your friends (via FB share or
email) you can receive 5 additional bonus entries. This is part of the
registration process when entering. Users can also enter daily for more
chances to win.
Enter online at worldmarketsweepstakes.com or facebook.com/worldmarket
Keep up to date with all things World Market here:
Disclosure: This shop is part of a social shopper marketing insight campaign with Pollinate Media Group™