I'm going to begin my Earth Day post with a giveaway.  I love giving things away.  So much fun.  
So today I have a My Natural Bamboo Collection monkey from MiYim to give to one lucky reader.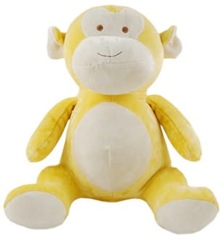 This cute little guy is 9" tall and made of all-natural bamboo fiber.  He retails for $14.99 and is available exclusively at Barnes and Noble.
Bamboo is a renewable resource easily grown without harmful pesticides and it absorbs more carbon dioxide and releases more oxygen than any other plant on earth.
It's naturally antibacterial, has reduced toxicity and allergy levels and is super-absorbent and quick drying.
The PureWaterWash™ coloring process is safe for all little ones.  The fabric is brightened with nature's own plants and minerals and then hand dyed repeatedly in soy-water to set the color.
If you would like to enter the giveaway to win this My Natural Bamboo Collection monkey:
1.  Leave a comment on this post telling me one thing you do to help the environment.  (If you don't have a blog, please leave your email address so I can contact you if you win)

2.  Tweet this giveaway for a 2nd entry.  Leave another comment with your twitter name.

3.  Stumble this post for a 3rd entry. Leave another comment

4.  Become a subscriber and follow my blog for a 4th entry. Leave another comment (just let me know if you already do these 2 things)
You have until 10pm Tuesday April 28th.  Good luck
 *************************
An here is a little of what we did today to celebrate Earth Day.
TEDDY BEAR PAINTING
I picked up these adorable EarthRite teddy bears from CVS yesterday for $1.99 each.  What a bargain.   The bears are made from the conversion of recycled (PET) plastic bottles into new polyester.  I thought they would make a great Earth Day activity for the twins.  I put out some fabric paints and armed the twins with paintbrushes and away they went.  Painting their own teddy bears.
PLANTING SEEDS
While I had newspaper on the table it was a great time to get out the gardening kits Easter bunny had brought for the twins.   They had a great time sprinkling too many seeds in each pot and watering their little pots to the point of seeds splashing over the side but they loved it.   Their little greenhouses are sitting on the kitchen window and we'll wait and see if anything grows – which may happen if I actually remember to water them occasionally ha ha.   Flynn planted seeds for cucumbers and carrots and Marisol planted seeds for Zinnia and Cupid's Heart flowers.
*************************
Onto some links:

If you haven't seen the Earth Day Every Day Challenge essay contest from Walmart and have school age children then you should definitely check it out and you still have until the 1st of May to enter.
Walmart also have a You Tube channel dedicated to green tips and ideas for Earth Month.  The channel is full of product reviews, sustainability efforts and education so please check it out.