These easy kid-approved baked flounder fillets are perfect for a busy weeknight dinner. Serve with fries and salad.
You have no idea how many times I have tried and failed to add breadcrumbs to fish to make homemade fish sticks or crumbed fish fillets. I don't know why I've found this so hard to do.
I finally have a winner, for two out of three kids. The third child would love it if he didn't devour the waffle fries and then claim to be too full to eat the fish.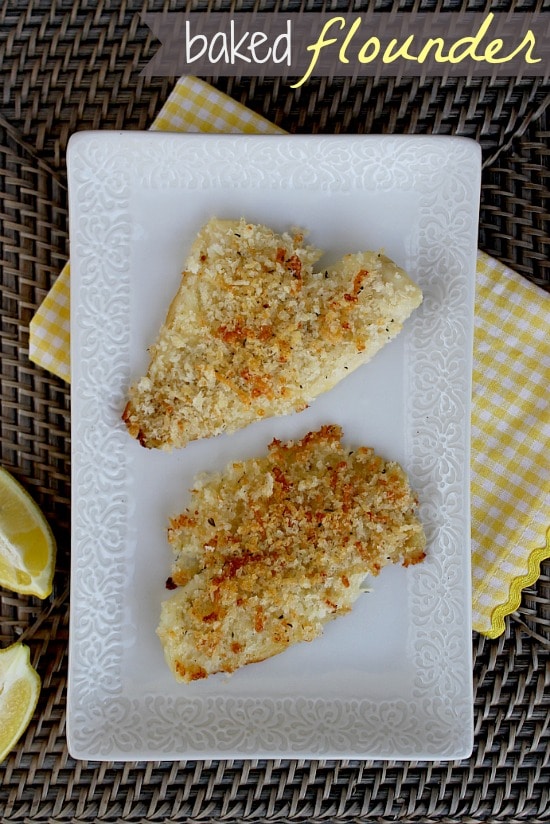 Note: I made 10 of these. They were not large flounder fillets so I made one for each of the little ones, two for the rest of us, and an extra two just in case the kids wanted more.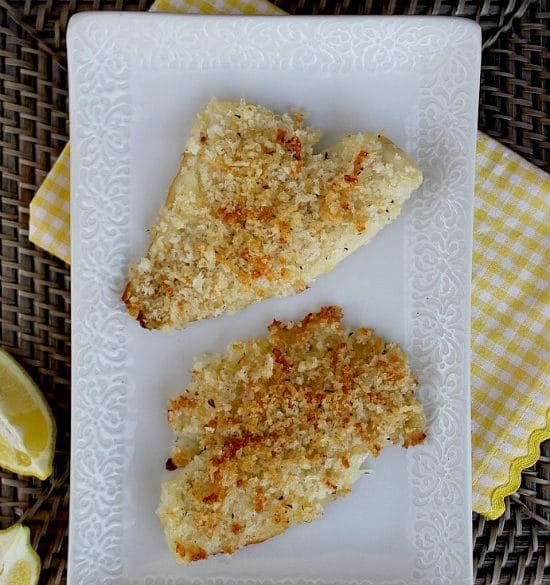 Ingredients
10 flounder fillets
1 1/2 cups Panko bread crumbs
1 cup grated cheese - I used a cheese blend of parmesan, asiago, fontina & mild provolone
4 tbs Earth Balance butter - divided in half with one completely melted and one softened
2 tsp dried thyme
salt & pepper
2 lemons - quartered (for serving)
Instructions
Preheat the oven to 400 degrees F and place the oven rack a little higher than the center.
Place the flounder fillets into a couple of baking dishes that have been lightly greased. Brush each fillet with the softened butter.
In a separate bowl combine the Panko bread crumbs, grated cheese, thyme, salt, pepper, and melted butter.
Sprinkle the combined mixture over each of the flounder fillets and lightly press it down.
Bake in the oven for approximately 15-18 minutes.
Serving suggestion: fresh lemon quarters, waffle fries, and Caesar salad.