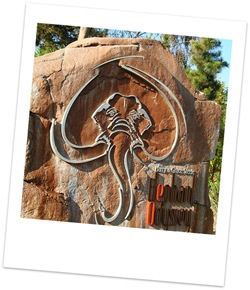 Last night I was invited to the unveiling of the San Diego Zoo Elephant Odyssey.  It was a fantastic event.  
We opted to catch the Skyfari® aerial tram across to the event from the Zoo entrance instead of taking the shuttle buses provided.  I'd never been on this ride before and I'll admit it, I was scared.  The 3 kids however LOVED it.  It was the first time the twins had ridden on anything like this. 
Look at what we spotted on our walk to the ride: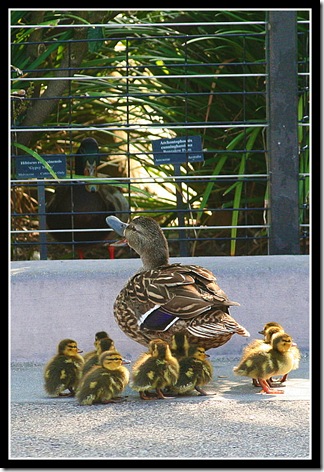 Once we arrived at the event, we were greeted by zoo handlers with these: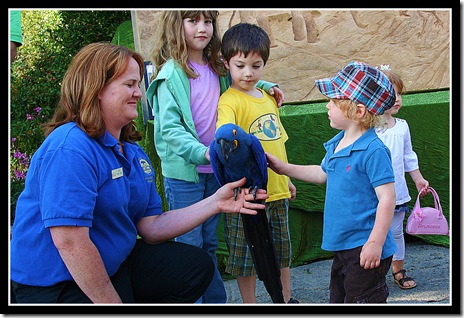 Marisol giving her sharp clawed friend a little pat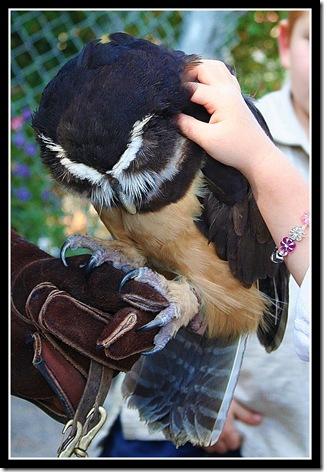 Then after calling for the hand sanitizer guy (as he seemed to be referred to ha ha), it was off along a path where we were greeted by this gentleman: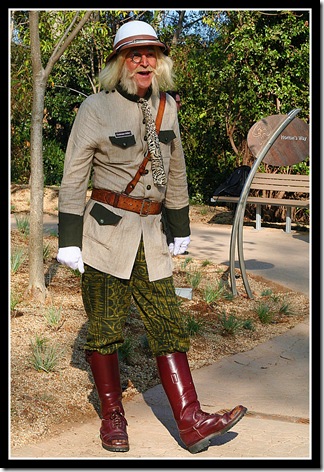 and these:
Pink Elephant cocktails – non-alcoholic for the kids and alcoholic for mummy.  Woohoo.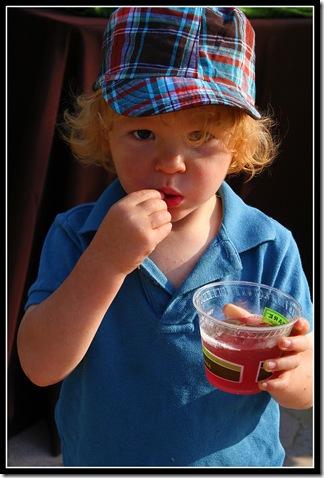 We passed this guy on our journey along the path to the entrance of the Elephant Odyssey: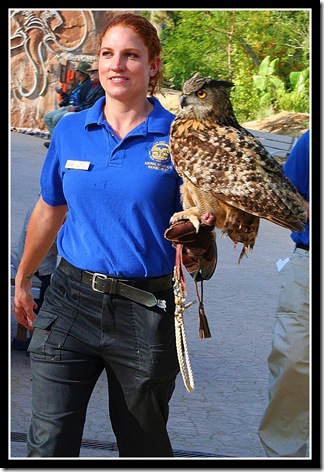 Then it was into the Elephant Odyssey.  First point of call, the Fossil Portal, where fossils and other items were on display for us to look at and touch and a giant tar-pit in the middle of a walking path where bones of animals from the Pleistocene were revealed and then disappeared again.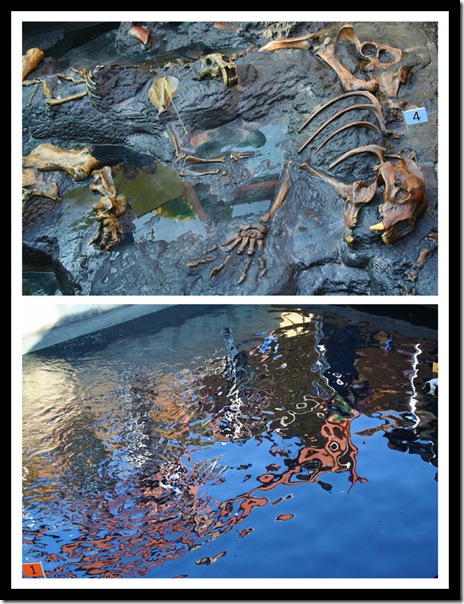 Flynn was absolutely fascinated by this.  It was as we were leaving this area that I lost him.  I freaked out and nearly cried.  Seriously.  The kid had ants in his pants all night.  We rarely use the stroller these days, but last night I wish I had a straight jacket for the kid.  I honestly don't know what got into him, but possibly his cocktail had a little too much sugar in it ha ha.  He'd disappeared behind a wall and I was running around like a freak until Sugar Jones spotted him for me.  Phew. 
Anywho, after the Fossil Portal, we were greeted by these:
(photograph courtesy of the zoo staff)
and what we had all come to see: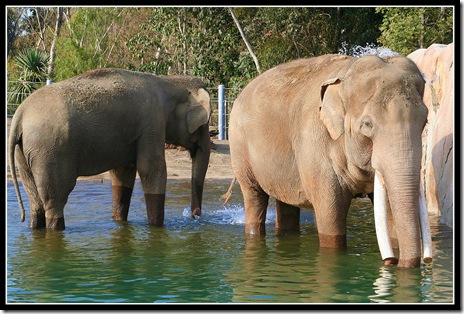 After catching up with our amazing friends: San Diego Momma, Sugar Jones, Virtue IMC, Family Adventure Guidebooks, Happy Healthy Hip Parenting and Mel, A Dramatic Mommy and enjoying a few appetizers, we all headed off along the path in search of bathrooms and food to feed our now ravenous children.  Along our way, this is a little of what we saw:
The keeper was there, feeding the elephants pellets.  They'd reach their long trunks over the concrete platform separating us from them to collect them.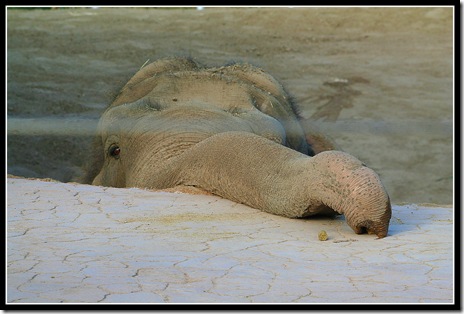 Unfortunately we missed seeing quite a few things along our fast walk to the Sabertooth Grill where the party, food and more importantly, bathrooms, awaited my now 'holding on' Jay & Marisol.
Once bathrooms were located, it was onto the party … and yes these are real people in costume inside the tables of food:
This was the MOST delicious Pumpkin Jalapeno Bisque I've ever had in my entire life.  Jay had 12 of these shots, he loved it so much … and the best part, I now have the recipe to make it at home.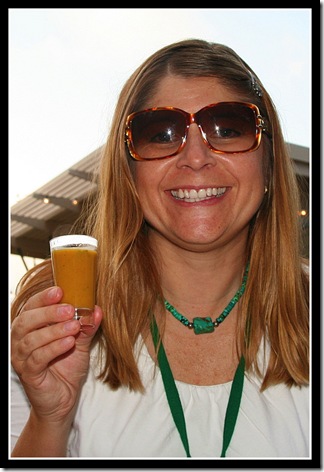 The amazing women (and their families) we were lucky enough to be there with:
l-r: Bridget of Family Adventures Guidebooks, Sondra of Happy Healthy Hip Parenting, moi, Sugar Jones, Deb of San Diego Momma, Mel of Mel, A Dramatic Mommy, Charity of Virtue IMC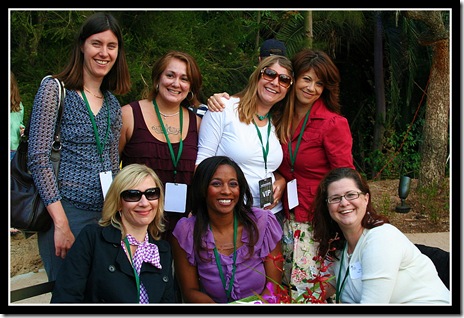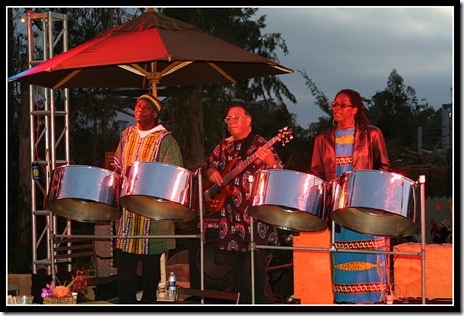 Can you believe these cakes … yes they really are cakes and they were delicious.  The twins each had 2 slices they loved it so much.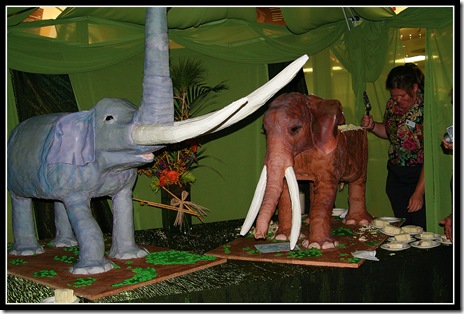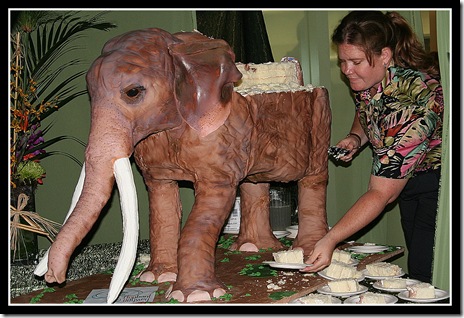 We didn't stay at the party for too long.  Marisol was great and quite happy to sit at our table eating cake, dancing on the chairs and playing with her big brother.  Flynn on the other hand, aside from stuffing his face with sliders and cake (at the same time) and trying to feed one of the dads cake off the ground, had ants in his pants still and would wander off into the crowd, turning around briefly to let me know he'd "be right back, mum" … yes that's what this 2 year old was actually saying to me.  What makes him think he is old enough to wander off on his own.  So off I'd go following him through the crowds while he tried to out-maneuver me.  He had everyone laughing though, the funny little man.  He also stopped to listen and dance to the band for a while and check out the beautiful colored uplights in the 'spooky forest' as Marisol referred to it.
As we were heading toward the shuttle bus to leave, we picked up our photographs (see above with the mammoth) and then were pleasantly surprised by even more exhibits, a playground and a chance to touch this slippery guy, which the kids all eagerly did.
Then we were lucky enough to get a ride back to the entrance of the Zoo on a double-decker bus.  The twins first ever ride on one.  We sat up the top and let the little ones sit right at the front.  They LOVED it.
I almost forgot to mention, that as we arrived at the Zoo, we were taken to the media waiting room where we were given our access pass and a bag.  I had briefly looked in the bag before we headed toward the Skyfari and had noticed there was a stuffed mammoth in there for the kids.  I knew fighting would ensue if they saw this, so planned to keep their paws out of the bag until we got home where I'd sneak it into their toy box.  However, while we were waiting in line for our photographs a lovely couple in front of us saw that I had 2 little ones and offered me theirs because they didn't have children and had no need for it.  Yay.  The kids were over the moon when I handed them each their own toy and hugged it all the way home and even slept with it last night.
This is no ordinary picture frame.  This frame is made from poo.  I am NOT kidding.   It is 100% recycled, odorless and made from elephant poo.  Isn't it fantastic.  I love it.
I had to investigate this company further.  After all, how often do
you see products made from elephant poo.  Personally, this was a first
for me and I was intrigued.
So if you are looking for a great Father's Day gift this year, check out what else the Poo Poo Paper Company has to offer: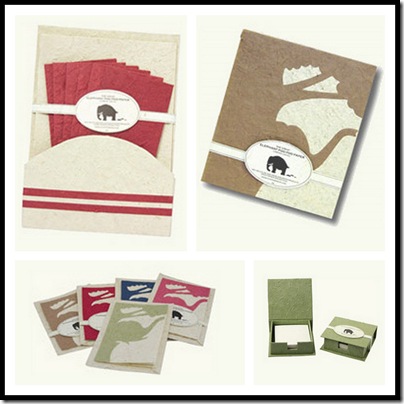 Stationery sets, journals, greeting cards and noteboxes
Their products are 100% recycled and odorless and a portion of the profits goes to elephant welfare and conservation.
What I've shown you here, is really only a portion of what you can actually see at the new Elephant Odyssey at the San Diego Zoo.  There are just so many amazing things to see and do, including a new Lion and Jaguar Habitat, watching a film in a tunnel, the Elephant Care Center, California Condors, Rattlesnakes, Dung Beetles, a Streamside Habitat, the Secretary Bird and even more elephants.   Don't forget to stop for a drink or snack at the Sabertooth Grill where you can watch the elephants as you are enjoying a break.
The San Diego Zoo Elephant Odyssey officially opened to the public today.  It's definitely worth a visit.  In the meantime though, there is a fun on-line game for the kids to play where they can learn about mammoths and elephants so click here and get them playing.
Disclosure: My family and I were invited to attend the media preview of the Elephant Odyssey.