This no-bake chocolate cheesecake in a jar that's topped with a hand-piped chocolate football is perfect for Game Day celebrations.
If you are looking for a delicious dessert for your next football party, then this one is for you. It'll add a little glam and fun to the traditional football food of wings, pizza, and grilling out.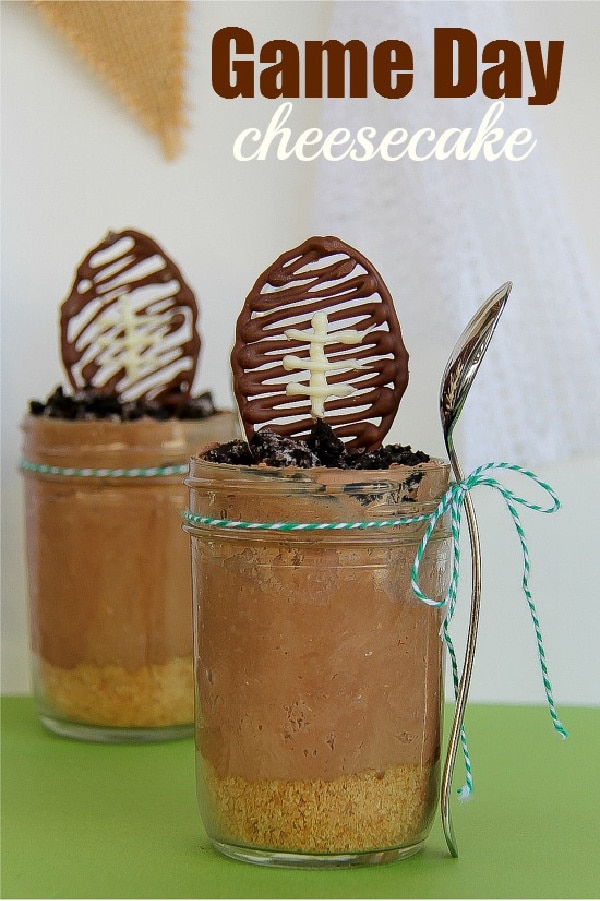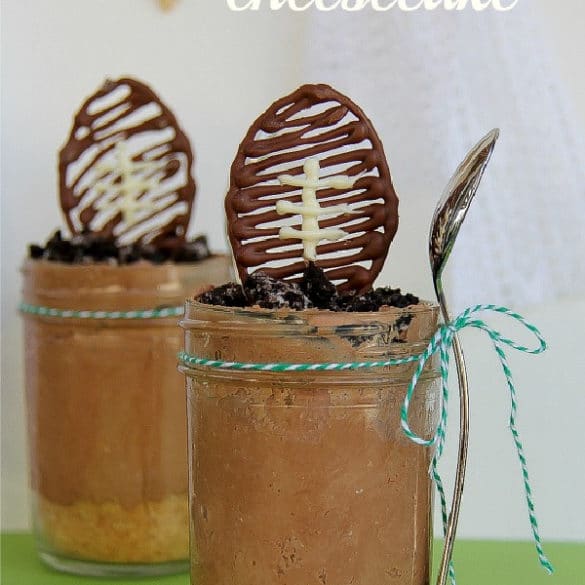 Ingredients
1 1/2 cups Ghirardelli chocolate chips
1 pkg cream cheese
1/3 cup sugar
1/2 tub Cool Whip (softened)
1 stick butter - divided in half (half-melted, half softened)
1 cup Graham Crackers
1 cup Oreo's (crushed)
Instructions
In a food processor crumb the Graham Crackers. Add half of the stick of butter melted and continue to process for a few seconds until you can see that the Graham Crackers are no longer finely crumbed but a little thicker and moist. Press a spoonful into the bottom of each jar.
Melt the chocolate chips in a microwave-safe bowl at 15-second intervals, stirring after each until completely melted. Set aside to cool just a little but you'll need to work fairly quickly so they don't set again.
Blend cream cheese, softened butter, and sugar in a bowl on medium speed until creamy. Add the melted chocolate and combine thoroughly. Fold in the Cool Whip. Pour into the jars and top with the crushed Oreo's. Refrigerate until ready to use.
Pipe a chocolate football
Find an image of a football and print it onto a plain piece of paper. The image needs to be about 2 inches tall. Put a piece of wax paper over the image.
Melt about 1/2 a cup of chocolate and pour it into a piping bag with a No.4 piping tip attached. Very carefully pipe the outline of the football on the wax paper, then roughly fill it in by piping back and forth across the football making sure that you meet up with the edge of the football each time. Refrigerate until set.
Melt a little white chocolate and again pipe the football seam. Refrigerate until set and then once the entire football is hardened you can place it into the cheesecake right before serving.
Please pin this post for later: