Looking for simple ideas to celebrate with Dr. Seuss', The Lorax, then check out all of these, including parties and craft projects.
Disclosure:  This post was written as part of the Get Creative With The Lorax Blog Tour in support of Universal Pictures' DR. SEUSS' THE LORAX that is in theaters on March 2.  I was compensated.
I am the last stop on the Get Creative With The Lorax Blog Tour, so please stay a while and enjoy some treats because it's party time!  We are not only going to be celebrating Dr. Seuss' The Lorax which is being released on March 2nd but also celebrating Dr. Seuss Birthday, which is the same day.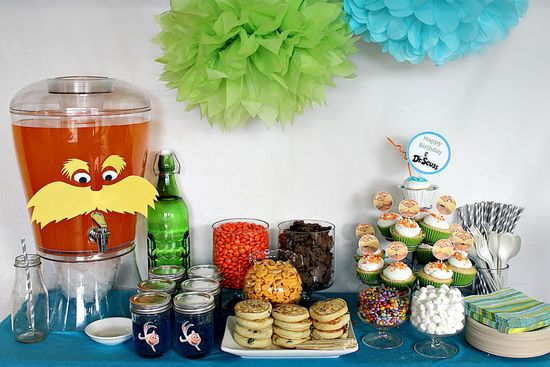 There is a wonderful environmental message behind The Lorax, so I wanted to incorporate some tips for greening up your Dr. Seuss party plans.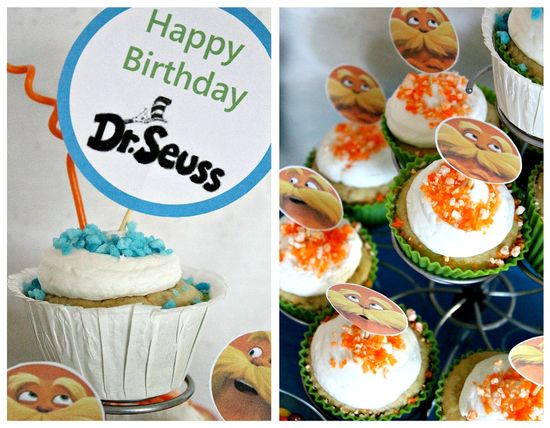 Even when it comes to baking delicious cupcakes, you can be kinder to the environment by using cupcake liners that are biodegradable.   I just love my silicone baking cups too, they are easy to clean and can be re-used over and over again.
Note: The cupcake toppers were made by printing The Lorax Reflection Activity Sheet, cutting out the discs and attaching them to toothpicks.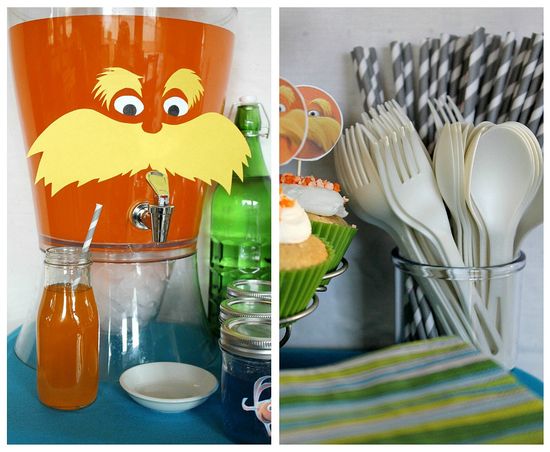 When celebrating with children, it is not always possible to use plates that won't break, but that doesn't mean you can't use more eco-friendly products such as bamboo, or the ones that I have used for this party which are compostable and made from wheat stalks.   The cutlery is compostable plastic made from plant materials.  And of course, if you do use straws, I prefer paper ones as they can be recycled. 
Instead of serving juice boxes (with plastic straws), or soda to the kids, fill a beverage dispenser and leave out glass bottles of water.  Serve beverages in re-useable glass bottles or jars.
My party tip:  If you are using jars instead of bottles to serve beverages, turn your straws into truffula trees that tickle your nose when you are drinking.   Kids will love it. 
Note: The Lorax face on the beverage dispenser was made by printing the pumpkin carving template available on The Lorax Movie site, under downloads.
I thought the chocolate 'seeds' were a nice touch for the party treats.
Glass vases, hurricane candle holders, bowls, and canning jars are another great way to present your party treats.  Finn and Gil's jelly pond treats were made by pouring the jelly into canning jars and refrigerating until set.  The lids help protect your treats from bugs, and little fingers, plus you can pop these jars into a shallow ice bucket to keep the jelly cold.
Another thing I love to use for parties is fabric, bed sheets, or tablecloths for both back drops, and to cover tables rather than plastic table covers.
When planning your party food, get to know what your characters like.  Do you know what the characters of The Lorax love to eat?
Finn and Gil: Marshmallows

Bill: Truffula Fruit

The Lorax: Truffula Berry Pancakes

Pip: Mini Marshmallows
These should give you some great ideas for your Dr. Seuss' The Lorax party. 
I made some delicious blueberry pancakes for our party table.  I used my standard pancake recipe, then added in about 1/3 of a tub of fresh chopped blueberries.  Then I used circular metal rings in the pan to make the perfect little round pancakes pictured.  Note: Make sure to spray the rings before using so the pancakes don't stick to them.  Once you flip the pancakes, carefully remove the metal rings (not with your fingers silly), and set them aside to cool for a few moments before making your next batch.
Now a party doesn't just begin or end with food.  The other ladies on The Lorax Blog Tour have lined up some fabulous things to do that would be a great addition to your Dr. Seuss' The Lorax party.
Follow The Lorax on Twitter and Facebook for more updates.
Looking for more great ideas for activities inspired by The Lorax? Take a look at these:
The Lorax candy and t-shirts | Truffula Tree Watercolor Art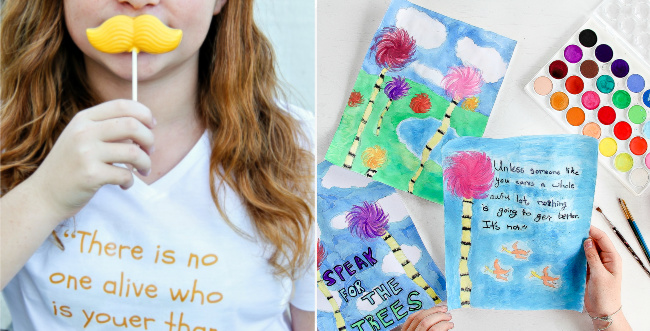 Please pin this post for later: