Even though we grill year-round, I especially love that over the warmer months I can add grilling to my weekly meal plan without fear of rain putting a damper on things. Although now that I have a new Sandra Lee indoor grill from Sears (blog post about our fabulous NYC event with Sandra Lee to come) I'm guessing I won't mind the grilling indoors so much over the winter months.
This week though we grilled outdoors again. This Grilled Salmon with Blueberry and Mango Couscous Salad is quick, easy, kid-friendly, and delicious.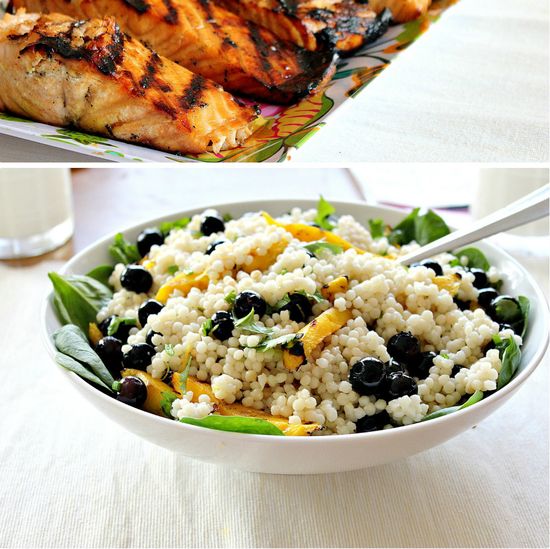 Grilled Salmon
Ingredients:
My husband wings this recipe so the measurements are not exact, but as close as I can get. He combine's approximately 3/4 cup of honey, with 2-3 shots of Maker's Mark in a bowl, then spreads it over the salmon, covers, and refrigerates for an hour before grilling.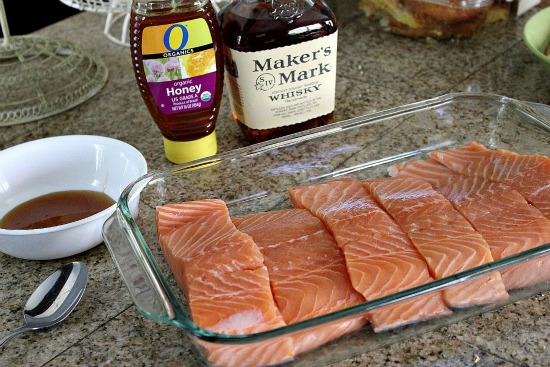 Blueberry and Mango Couscous Salad
Ingredients:
2 cups Israeli Couscous
1 punnet of blueberries
2 slightly firm mangoes
2 green onions
1/2 cup fresh cilantro
1 heaped tsp of lemon zest
Juice from half a lemon
1 tbs olive oil
2 cups of fresh baby spinach
While the salmon is in the refrigerator marinating, prepare the couscous according to the package directions – which is roughly 2 1/2 cups of water brought to the boil with 1 tsp butter and a pinch of salt, add 2 cups of couscous, cover and simmer for 10 minutes.
Once cooked, mix in the olive oil to prevent sticking while the couscous is cooling.
Slice the mango into spears. It's time to pop the mango and salmon on the grill.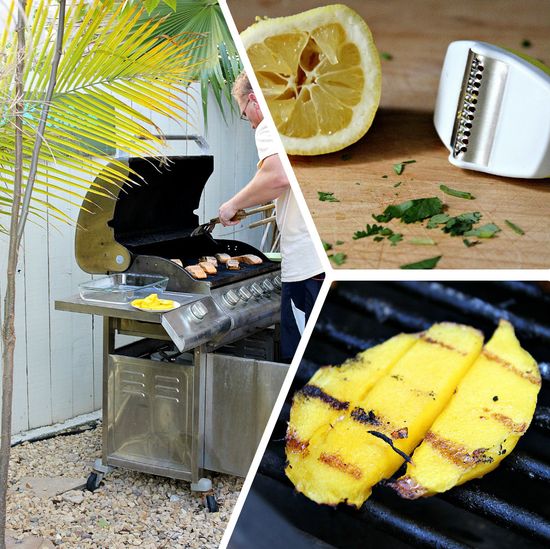 While the mango and salmon are on the grill and the couscous is still cooling, roughly chop the green onions and cilantro, and prepare the lemon juice and lemon zest. The mango will grill fairly quickly, so once it is done set it aside to cool.
Prepare a bed of spinach in a wide dish. Toss the green onions, cilantro, lemon zest and lemon juice into the couscous and combine. Add the blueberries and combine gently so as not to break any of them open. Using a large spoon add the couscous into the bowl of spinach, every now and then alternating with some of the grilled mango.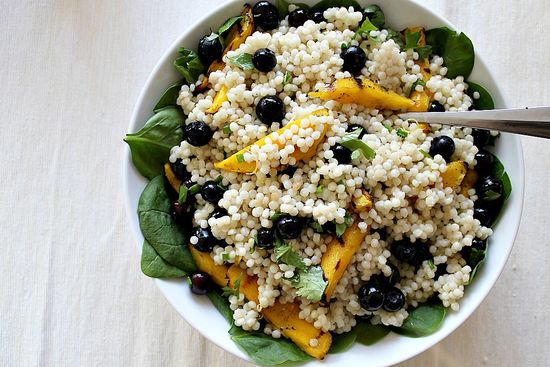 Getting hubby on the grill at least once a week cuts down on my time in the kitchen and is just one of the reasons why Grilling is my Happiness. Besides all of the tasty food, tell me what you love about grilling. One of my lucky readers who answers below will win a $25 Sears Gift Card!
This is a sponsored conversation written by me on behalf of Sears. The opinions and text are all mine. Official Sweepstakes Rules.