The best delicious recipes that are perfect for home entertaining by Sandra Lee.
A couple of weeks ago I was invited by Sears to travel to New York City for a Summer Carnival hosted by Sandra Lee, to celebrate the launch of Sandra's new home collection currently available in Sears and Kmart.
Sandra Lee is a bestselling author, entrepreneur, and TV star.  She has a keen eye for what women want in home entertaining, with almost 200 items in her collection, that are affordable, and stylish.  The items range from storage, utensils, and tableware, to small kitchen appliances, bakeware, and textiles.  The signature red and white items are perfect for year-round entertaining, you can not only use them for holidays such as Valentine's Day, and Christmas, but throw in some blue for 4th of July, and add bursts of color with napkins, tablecloths, and other assorted items to brighten up your summer entertaining.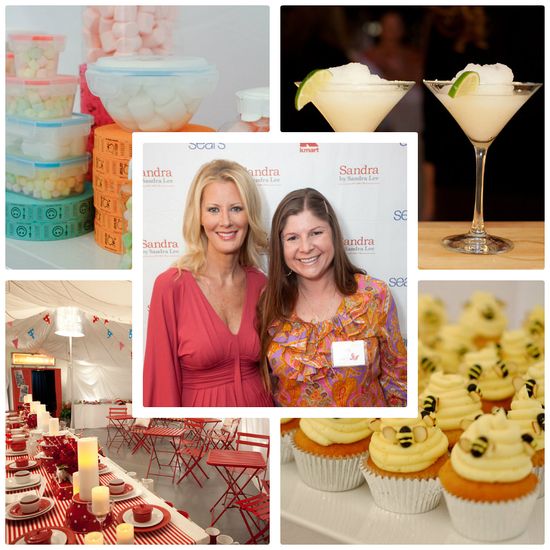 Upon our arrival in New York City and checking into the Fitzpatrick Manhattan Hotel we (the 21 bloggers in attendance) headed to Café Centro to meet with the Sears team where we enjoyed a lovely dinner and cocktails, and spent some time meeting the other bloggers.  Guest speaker Mark Bonchek, SVP of Communities and Networks at Sears Holdings discussed the future of social media. 
The following day we visited a Sears store where we were given a tour, viewed the Sandra by Sandra Lee line displayed in-store, listened to the marketing team talk about how they come to work with celebrities on their lines, and enjoyed demonstrations by representatives from Keurig, KitchenAid, Hamilton Beach, SodaStream, and Dolce Gusto. 
After our tour we were taken to The Kitchen where Sandra Lee was more than welcoming.  She is absolutely delightful in person and had taken the time to read up about each of us before our arrival and had many questions for us, we tasted her delicious recipes and cocktails, viewed more of her fabulous line, did a little tablescaping with her, and learned about the Holiday line that will be released later this year.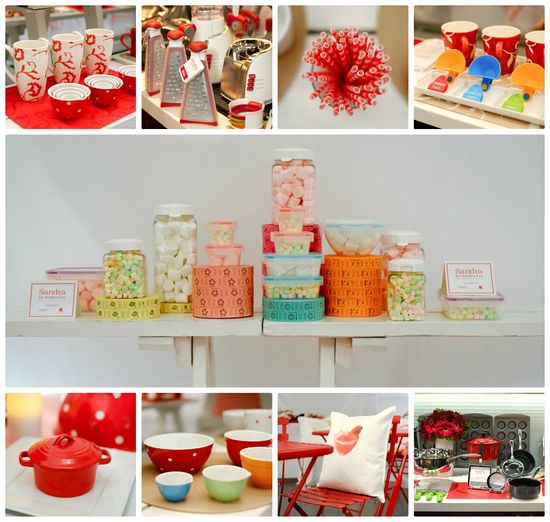 I have a few recipes to share with you that we enjoyed during the Summer Carnival, these are perfect for your summer parties.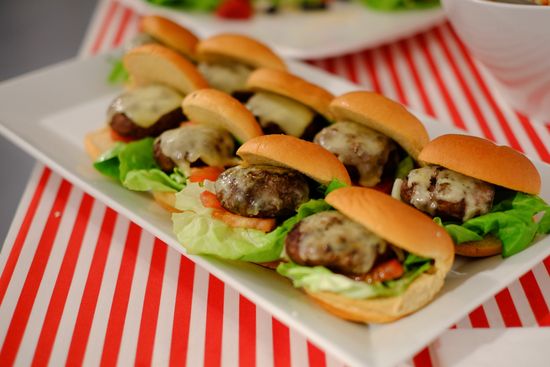 Sandy's Sliders
Prep 15 minutes – Grill 9 minutes
Makes 6 servings
1 pound ground chuck
1 pound ground round
1 tablespoon Dijon mustard
1 tablespoon Worcestershire sauce
2 tablespoons Montreal steak seasons, divided
3 Cheddar cheese slices, quartered
Bibb lettuce leaves (optional)
1 (15-ounce) package classic wheat slider buns, Pepperidge Farm*
Tomato slices (optional)
Spray grill rack with nonstick nonflammable cooking spray.  Preheat grill to medium-high heat (350 to 400).  In a large bowl, gently combine ground beef, mustard, Worcestershire sauce, and 1 tablespoon seasoning.  Using hands, shape mixture in 12 patties.
Grill, covered with a grill lid, for 3 to 4 minutes on each side, or until desired degree of doneness.  Top each patty with 1 cheese slice quarter, and grill, covered with grill lid, for 1 minute, or until cheese melts.
Place lettuce on bottom halves of slider buns, if desired.  Add patties, and top each with a tomato slice, if desired.  Sprinkle with remaining 1 tablespoon steak seasoning.  Cover with bun tops.  Serve immediately.
Copyright © 2011 Sandra Lee Semi-Homemade www.sandralee.com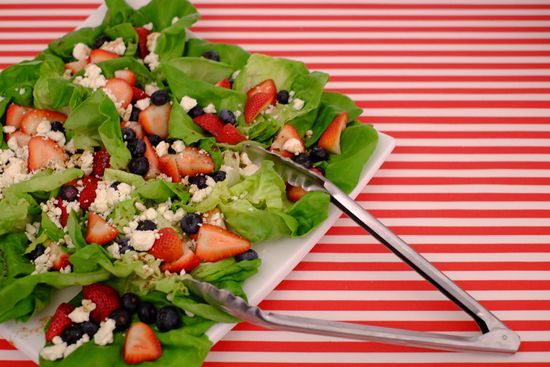 Summer Berry Salad
Prep 15 minutes
Makes 6 servings
1 quart fresh strawberries
1 (4.5 ounce) package butter and tango lettuces
1 pint fresh blueberries
1/2 (4-ounce) container crumbled feta cheese
Prepared balsamic vinaigrette
Hull strawberries, and cut in half.  Arrange lettuce leaves on a serving platter.  Top with strawberry halves and blueberries, sprinkle with feta cheese, and drizzle with desired amount of vinaigrette.
Copyright © 2011 Sandra Lee Semi-Homemade www.sandralee.com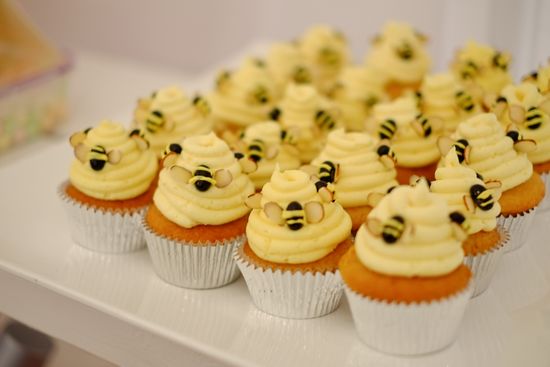 Beehive Cupcakes 
 These would have been perfect for the twins Bears and Bees Birthday Party.

Prep 40 minutes – Bake 15 minutes – Cool 30 minutes – Stand 30 minutes
Makes 24 cupcakes
1 package (18.25 ounces) butter recipe yellow cake mix, Betty Crocker®
11⁄2 cups (3 sticks) butter, softened
3⁄4 cup water
1⁄2 cup plus 3 tablespoons honey, Sue Bee®
3 eggs
1 cup vegetable shortening, Crisco®
8 cups powdered sugar, sifted, C&H®
5 drops yellow food coloring, McCormick®
1⁄4 cup heavy cream
1 tube (4.25 ounces) yellow decorating icing, Cake Mate®
48 black jelly beans, Jelly Belly®
96 sliced almonds, Planters®
Preheat oven to 350°F. Line twenty-four 21⁄2-inch muffin cups with paper bake cups; set aside.
In a large bowl, beat cake mix, 1⁄2 cup of the butter, the water, 1⁄2 cup of the honey, and the eggs with an electric mixer on low for 30 seconds. Scrape down side of bowl; beat for 2 minutes on medium. Spoon batter into prepared muffin cups, filling each about two-thirds full.
Bake for 15 to 18 minutes or until a toothpick inserted in the centers comes out clean. Cool cupcakes in muffin cups on a wire rack for 5 minutes. Remove cupcakes from muffin cups; cool completely on rack.
For yellow frosting, in a large bowl, beat shortening and the remaining 1 cup butter with electric mixer on medium until fluffy. Add powdered sugar, the remaining 3 tablespoons honey, and the yellow food coloring. Beat until combined. Add cream, 1 tablespoon at a time, and beat on high until desired thickness.
To create beehives, insert a large round decorating tip into a large pastry bag. Fill pastry bag with yellow frosting. Pipe a small cone of frosting in the center of the top of each cupcake. Starting from the outer edge of each cupcake and working inward and upward, pipe frosting to form a hive shape.
To create bees, pipe yellow decorating icing in thin horizontal lines on black jelly beans. Let icing stand for 30 minutes. Insert two striped jelly beans on each frosting hive. For wings, insert an end of a sliced almond on each side of each striped jelly bean.
Recipe excerpted from Sandra Lee Semi-Homemade Bake Sale Cookbook by Sandra Lee
Copyright © 2011 Sandra Lee Semi-Homemade www.sandralee.com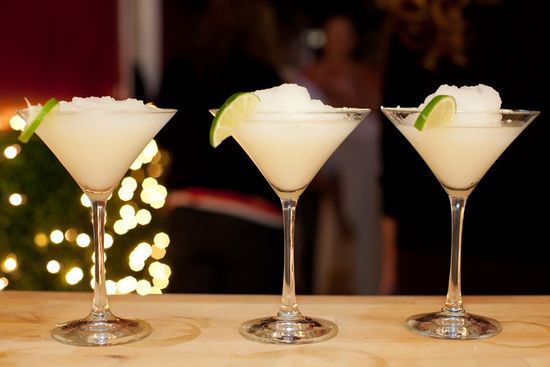 Meringue Marg
Makes 1 cocktail
1 1/2 ounces margarita mix
4 ounces crushed ice
1 teaspoon meringue cookie crumbs
1 fresh lime wedge
Combine margarita mix and ice in a blender.  Rub the rim of a chilled margarita glass with lime and then dip into crushed meringues.  Pour into the glass and garnish with lime wedge.
Copyright © 2011 Sandra Lee Semi-Homemade www.sandralee.com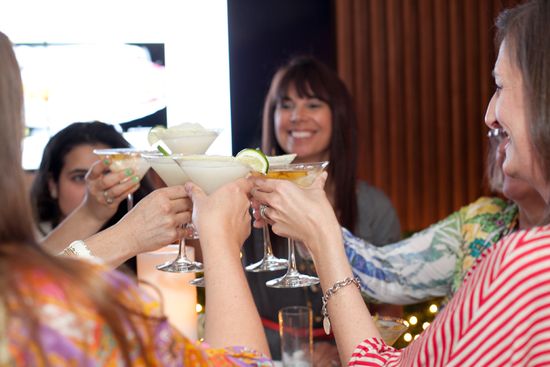 You can view more photographs (including photo booth photos after cocktails, hilarious) on my Facebook album.
Disclosure:  My travel and accomodation for the Sandra Lee Summer Carnival were covered by Sears.  Photographs of the event above were provided by professional photographers. I also came home with some fabulous Sandra Lee items, including the indoor grill, which grills bacon perfectly.
Save