I love simple summer meals.  The kind where you send your husband out to the grill and you whip up a salad inside.  Not a lot of thought has to go into it and I find that it is a huge break for someone like me who can easily spend an hour or two in the kitchen putting together our evening meal.
One of our favorite items to grill is salmon.  We would normally use Maker's Mark and honey to marinate it, but apparently somebody forgot to buy Maker's Mark.  In the pantry though I found a bottle of Chandelier Chardonnay and Fire Grilled Garlic Marinade.  I've been purchasing Tavern Direct products ever since I met Lou Bivona at a dinner last year in New York.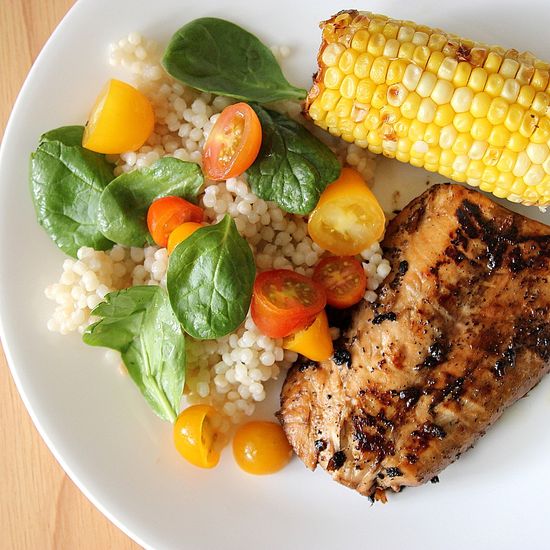 Ingredients:

6 pieces of salmon
Chandelier Chardonnay & Fire Grilled Garlic Marinade
1 cup Israeli Couscous
1 cup Cherry Tomatoes (mixed medley)
2 cups Baby Spinach (stalks cut off)
6 Yellow Corn
Fresh Bread Loaf
1 tbs Olive Oil
Place the salmon in a dish and pour over the marinade.  Cover and pop into the refrigerator for about half hour to an hour to soak in all of the delicious flavor.  While this is in the refrigerator, wrap the corn in aluminium foil and turn your oven onto 350C.
Now send your husband out to the grill  with the salmon and corn and put him to work – or do it yourself of course, but I don't deal with anything that has a flame, so the grill is his domain. 
Once the oven is ready, cut thick slices into the bread loaf (don't cut all the way through) and pop it on a tray and into the oven for 8-10 minutes.  Next, follow the directions on the Israeli Couscous container – which is basically: 1 1/4 cups of boiling water over 1 cup of couscous, cover and simmer for 8-10 minutes.  While the couscous is on the stove, chop your cherry tomatoes in half and cut off the baby spinach stalks if you haven't already. 
Once the couscous is cooled a little, mix in a little olive oil (to prevent sticking) and then toss in the baby spinach and tomatoes.
Finish slicing through the warm bread loaf and place a dish of your favorite garlic butter, or regular button on the table.
Everyone, including the twins, who normally won't eat grilled fish or chicken if it has a marinade on it absolutely loved this new flavor and I think it will have to become a staple in our house.  This simple summer meal was a big hit.
Note:  This meal feeds a family of 6.
TavernDirect.com donate 50 cents for every product purchased to the National Center for Missing & Exploited Children's®