These 10 tips and tricks will have your home looking like you'd spent days cleaning it and not just the 10-minutes before guests arrived.
Disclosure: I'm sharing my tips for being guest ready in 10 minutes with Zep Quick Clean Disinfectant as part of a sponsored post for Socialstars #ZepSocialstars
When it comes to cleaning our home, I'm all about it being the quickest and easiest way possible.
There are certain things that we do weekly, and I allocate days or time in my schedule to tackle one huge task such as the bathrooms. Plus giving each person in the house chores sets a good example for my kids. Because although I'm sure I would cave and hire a housekeeper once a month just to pick up the slack a little (if I could afford it), I do appreciate the example I'm setting for my kids in teaching them how to take care of their own home (and themselves) as they get older.
But, in saying that it doesn't mean that our home is guest ready at all times. I like to think of it as 'lived in'. I do have a few tricks up my sleeve though to make it guest-ready in 10 minutes because there are always impromptu play dates, people popping over, or neighborhood kids wanting to play, especially over the summer.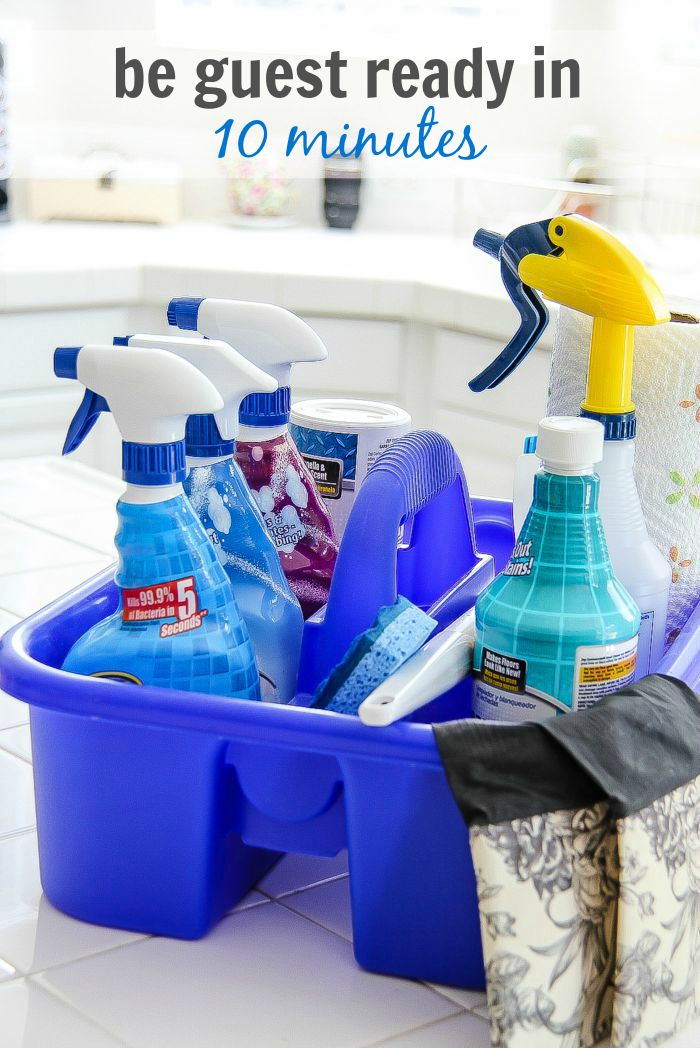 The more time you have before your guests come over, the more of this checklist you can get done, but this is how I tackle things.
10 Tips For A Guest-Ready Home in 10-Minutes
Keep the entrance clutter free. This is a no-brainer and something to be mindful of every day. You won't see a pile of shoes, umbrellas, backpacks or clothes by the entrance, we don't keep the mail piled up and if I'm to open the front door the home will always appear clean and tidy. So even if the neighbors are just popping over to ask a quick question, or you get an unexpected knock on the door that doesn't require someone coming into the home from where they stand your home is ready to be seen. The kids know that their shoes need to be put away, (if they are dirty they are carried to the back door and put outside), backpacks are emptied after school and put into their bedrooms and mail is kept on a counter in the kitchen.

Bathrooms. It's almost guaranteed that if you have a repair man, neighborhood kids or guests come into your home someone will need to use the bathroom. Make sure towels are hung, toilet paper is on the holder (because in this house I seem to be the only person capable of doing this) and there's soap in the dispenser. Give the counter, sink and toilet a quick wipe over with a cloth and Zep Quick Clean Disinfectant. Check that the hand towel is clean – because I'm not pointing fingers at anyone (cough, kids), but they don't always wash properly and instead use the towel to clean their hands. Note, you don't need to do every bathroom, just the main one guests will be using, the chances of someone wanting to use your en-suite are pretty slim.

Dog hair.

If you have dogs, like we do (who shed over everything), a quick flip of couch cushions will solve that problem in no time. Now if you already did this last time guests were popping over and forgot to go back and actually vacuum them then I can't help you.

Put the kids to work.  When I feel like the kids bedrooms and play room are starting to get out of control we make a quick game of tidying up.  They have to each pick up (and put away) 20 things as fast as possible. They love trying to outdo each other and get the job done quicker than the other person. 
Kitchen. If there are still dishes in the sink fill the dishwasher, don't worry about scraping off grime, just get those dishes in there, you can fix it later. The microwave and oven have been known to become pretty handy for hiding them too. I'm just saying. Give the counter a once over with Zep Quick Clean Disinfectant.
Baskets. Baskets are your friend. I have a laundry basket in each bedroom for the kids to throw their dirty clothes and towels in as they get dressed each day. There are also boxes and baskets around the home to throw things into at the last minute. Use them. Keep a basket or toy box in the play room to quickly throw toys into and keep one in the living room to throw odds and ends such as games and knick-knacks into that you can put away later.

Microfiber cloths.

Keep a stack in your laundry or under the sink. Dampen a cloth and give television screens a quick wipe over. I then fold it the other way and do a quick wipe over of any chalk or white boards too.

Wipe over surfaces.

If you still have time, give coffee tables and television stands a quick wipe over with a cloth and Zep Quick Clean Disinfectant. It will pick up any dust and rings from cups.
Vacuum. Hopefully you've already vacuumed, but if you haven't, just give the main room your guests will be in a quick vac. Feel free to leave the vacuum out and they can see that you were right in the middle of cleaning before they popped over.
Pray. If you are the praying type, pray your guests are running late, that they don't look inside the oven, or notice the 3 inches of dust on the window ledge.
Zep Quick Clean Disinfectant is your quick clean, go-to, tackle everything product. You can use it for so many things including a quick kitchen cleanup, bathrooms, patio furniture, and more. It kills 99.9% of bacteria, and cleans, disinfects, and deodorizes in one easy step.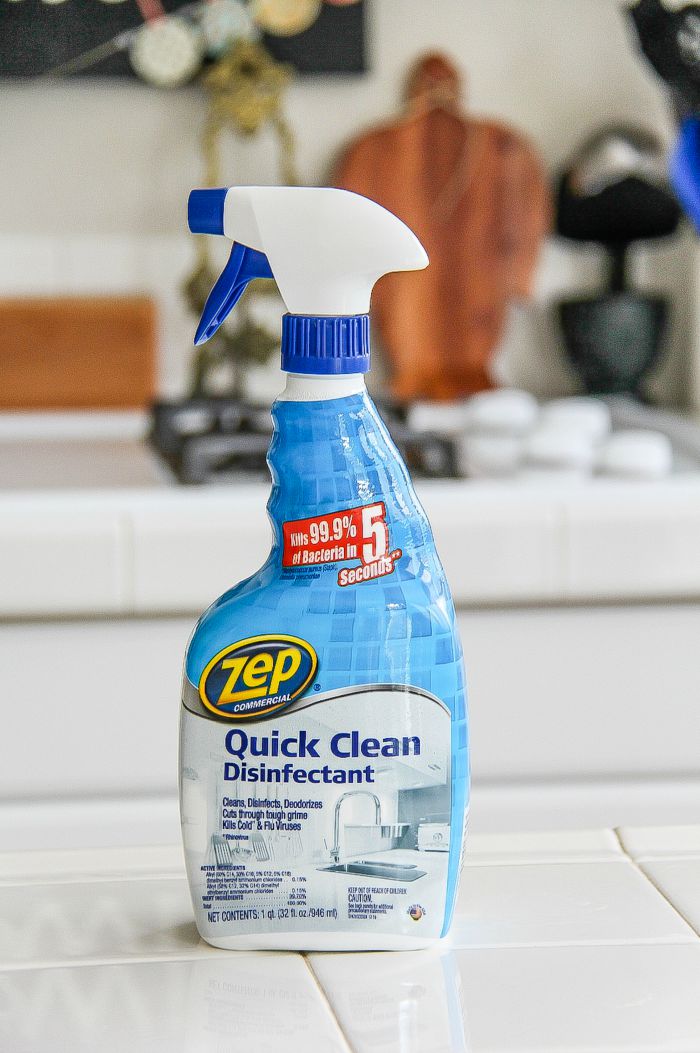 Zep Quick Clean Disinfectant retails for $3.48 and is available at Home Depot.
Please pin this post for later: