In honor of such a great day I give you
Barilla Lemon Spaghetti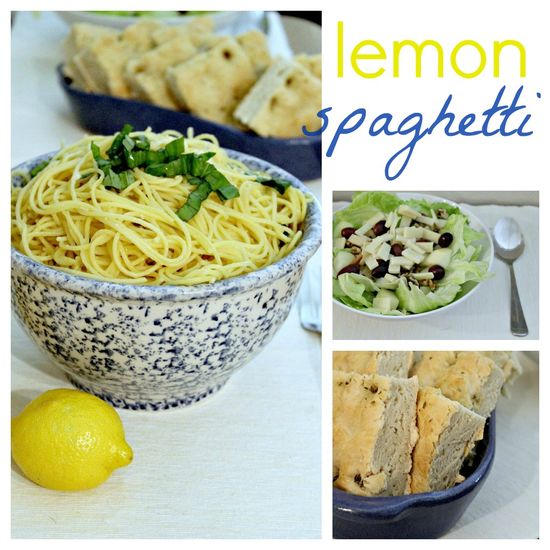 Recipe from: Barilla – The Modern Family Pasta Cookbook
Prep Time: 10 minutes
Cook Time: 9 minutes
Serves: 4-6
Ingredients:
1 lb Barilla Spaghetti
2 fresh lemons
2/3 cup extra virgin olive oil
2/3 cup Parmigiano-Reggiano cheese, freshly grated
3/4 teaspoon salt
1/2 teaspoon black pepper, freshly ground
1/3 cup fresh basil, chopped
Preparation:
Grate lemon peels and place lemon zest in a small bowl. Juice the lemons into a separate small bowl. Whisk the oil, lemon juice, Parmigiano-Reggiano cheese, 3/4 teaspoon of salt, and 1/2 teaspoon pepper in a large bowl and blend. Set the lemon sauce aside.
Meanwhile, bring a large pot of salted water to a boil. Add the spaghetti and cook, stirring occasionally, until tender but still firm to the bite, about 8 minutes. Drain, reserving 1 cup of the cooking liquid. Add the spaghetti to the lemon sauce, and toss with the basil and lemon zest. Toss the pasta with enough reserved cooking liquid, 1/4 cup at a time, to moisten. Season the pasta with more salt and pepper to taste.
Transfer to bowls and serve.
This meal was served with Pear Parmigiano Reggiano Salad and Focaccia with dipping oils for a family dinner night. I loved that the salad also used lemon and Parmigiano-Reggiano cheese, so it was the perfect accompaniment for the pasta.
We eat dinner together as a family at least five nights a week, with at least two of those nights being a pasta night, which the twins' absolutely love seeing as pasta is one of their favorite foods. One of the best parts of having pasta nights in our house is that I always make extra to give to the kids in a thermos the following day for their school lunch.
Did you know that:
88%
of parents are reliant upon multi-tasking each day and more than half
(58%) say their life is more hectic now, than a year ago.
Pasta
is recognized by parents and non-parents as a tasty (88%) and easy
(87%) meal option and one that can be prepared using on-hand ingredients
from a pantry (82%).
Other
benefits of pasta that help alleviate chaotic schedules include that it
is versatile (52%), a quick go-to meal (51%) and allows for
multitasking while it's cooking (44%)
Leading contributors to a hectic lifestyle, making meal-planning and preparation a challenge are: work, household chores, errands, kids' after school activities, and kids' homework
(statistics and information provided by Barilla)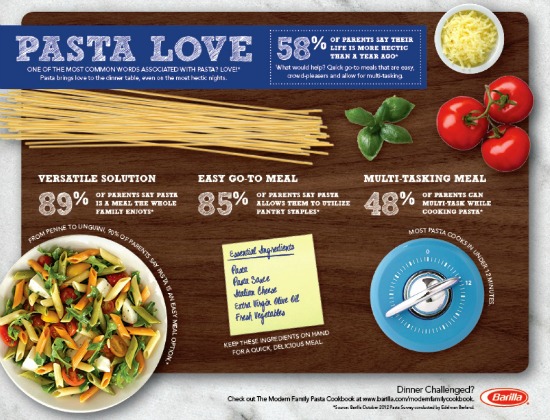 Stay up to date with all things pasta by liking Barilla on Facebook and following Barilla on Twitter.
On World Pasta Day (October 25) visit Barilla on Facebook to 'Share a Hug' to fight hunger and help Barilla reach their ultimate goal of donating 200,000 meals. For simply 'sharing a hug' with a click of a button, the first 25,000 people will receive a product coupon and everyone gets a copy of The Modern Family Pasta Cookbook download.
Disclosure: I
participated in a campaign on behalf of Mom Central Consulting for
Barilla. I received product samples to facilitate my review and a
promotional item as a thank-you for participating. #BarillaWPD