These handmade Harry Potter golden snitch cake pops are perfect for your next Harry Potter party or movie night.
As soon as the kids had decided to have a Halloween Harry Potter LEGO party, the first thing that came to mind (besides LEGO of course), was making golden snitch cake pops.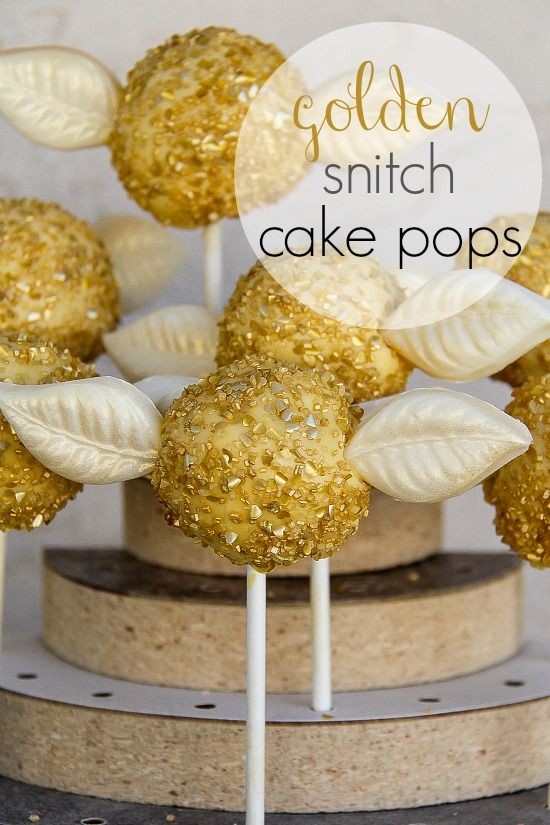 How to make golden snitch cake pops
What you need
Vanilla cake pop balls. Unfortunately, I didn't have time to whip up my own recipe so I used the vanilla cake pops recipe from Molly Bakes: Crazy For Cake Pops book.
1 1/2 cups yellow candy melts
1 bag plus 1/2 cup white chocolate chips
Lollipop sticks
Wilton Gold Color Mist food color spray
Leaf candy mold
Gold sprinkles – I put together my own mix using 3 different varieties.
Instructions
Make your cake pops according to the directions – whether you use the book, or a recipe on-line and refrigerate. You can even make these the day before the party.
Put the white chocolate chips into a microwave-safe bowl and melt in the microwave. Start with 1 minute on 50% power, and then 15 seconds at a time until completely melted.
Pour (or spoon) the white chocolate into the leaf mold and refrigerate until set. The leaves will be used for the snitch wings, so you will need two per cake pop. Repeat this step until you have enough wings.
Lay all of your wings on parchment paper and spray lightly with the gold color mist and set aside until completely dry.
Pour the yellow candy melts and extra 1/2 cup of white chocolate chips into a microwave safe bowl and follow the same guide above for melting them.
Dip a lollipop stick into the melted candy and then into the cake pop. Repeat the process for all of the cake pops placing them onto parchment paper so the candy can harden inside the cake pop so that it is secure.
Dip each cake pop into the melted candy, allowing any excess to run off. You don't want them to have too much melted candy on them. Give it a few seconds and then dip the cake pop into a bowl of gold sprinkles. Fairly quickly stick a wing into each side of the cake pop before the candy hardens.
Place your cake pops directly onto a cake pop stand so the candy can finish hardening and set the wings in place securely.
Tips
Try to avoid putting your cake pops in a warm environment or the candy coating will melt a little and the cake pops will drop down the sticks. Unfortunately, this did happen to a few of mine, but I did keep the majority of the cake pops in my cooler kitchen and refreshed the cake pop stand, which was outside, as often as I needed to during the party.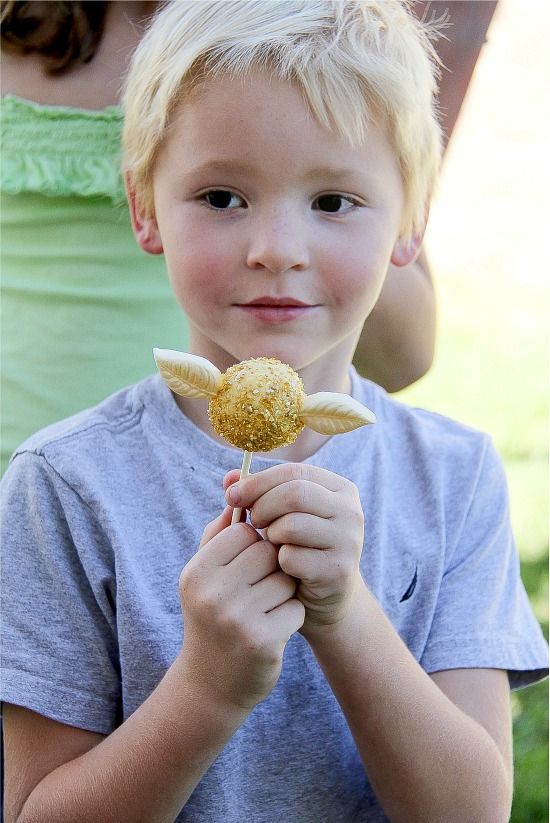 Please pin this post for later: