Halloween cupcakes don't need to be complicated to look great. Follow these simple tips to make graveyard cupcakes that will be a hit at your Halloween party.
Disclosure: As a Good Cook Kitchen Expert I receive compensation and/or Good Cook product to facilitate reviews and giveaways
Are you looking for a spooky, but fun, last-minute Halloween cupcake idea?
These graveyard cupcakes are perfect for your next Halloween party.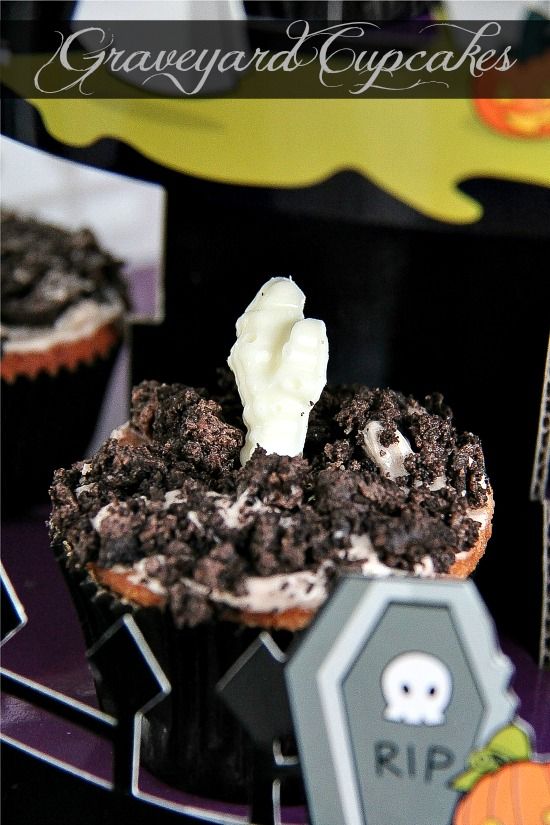 I was inspired by a Halloween cupcake stand I received from Good Cook to make these spooky graveyard cupcakes. They are simple to make and you don't need to have any decorating skills. It's a great way to get the kids into the kitchen to help too. They can help with the baking, crushing Oreo cookies, and putting the white chocolate body parts onto each of the cupcakes.
Graveyard cupcakes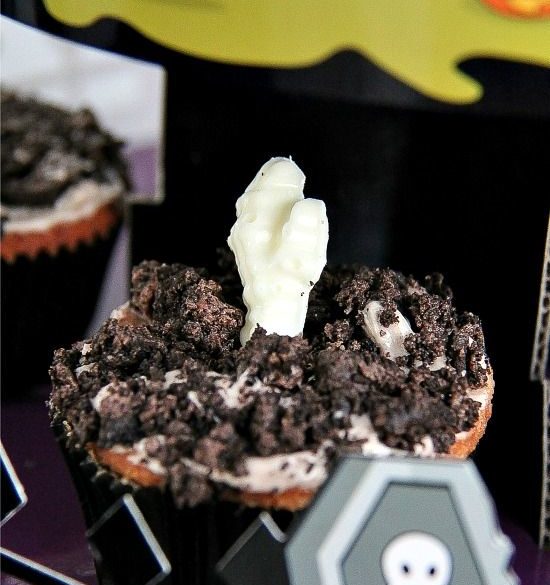 Ingredients
Cupcake ingredients:
5 oz milk chocolate 
3/4 unsalted butter - softened
1 cup white sugar
1 tsp vanilla essence
3 eggs - lightly beaten
1/2 cup non-fat vanilla Greek yogurt
1 cup self-raising flour
Icing ingredients:
2 sticks Trader Joe's milk chocolate - there are 3 in a pack so I used 1 for the cake and the other 2 for the icing
2 cups confectioner's sugar
1/4 cup unsalted butter - softened
1 tsp vanilla essence
3-4 tbs reduced-fat milk
approx 1 dozen Oreo cookies with chocolate creme filling
Skeletons:
Instructions
Pre-heat oven to 325F.
Line a cupcake pan with black baking cups.
Melt the milk chocolate in a microwave-safe bowl for 1 minute on 50% power and then for 15 seconds at a time until completely melted. Set aside.
Cream the butter and sugar with an electric mixer, add in the vanilla and mix a little more.
Gradually add in the eggs, making sure to mix thoroughly so that they are completely combined. Pour in the melted chocolate and then the yogurt, continually mixing. Gradually add in the flour ensuring that it is thoroughly mixed in.
Pour the mix into the baking cups and bake for approximately 22 minutes.
Set the cupcakes aside to cool while you making the icing and white chocolate skeleton bones.
Melt the white chocolate in a microwave-safe bowl following the directions above. Carefully spoon the melted white chocolate into the skeleton candy mold and place it into the refrigerator until set.
Melt the milk chocolate according to the directions above. Cream the butter and confectioner's sugar in a bowl. Add in the vanilla, then the chocolate and mix thoroughly, adding a tablespoon of milk at a time until your icing has reached the desired consistency.
Crush the Oreo's in a large bowl. Add about 2 tablespoons of the crushed Oreo's to the icing mixture and beat to combine a little.
Once the cupcakes have cooled, spread icing on the cupcakes then dip each into the crushed Oreo's. Place a white chocolate bone on top of each.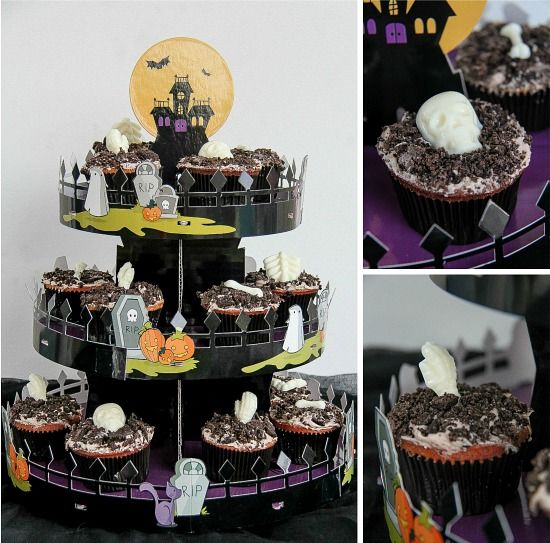 The fabulous cupcake stand is the Sweet Creations Halloween Cupcake Stand from Good Cook.
More Halloween desserts
Are you looking for more quick and easy Halloween dessert ideas? Take a look at these:
Please pin this post for later