I am such a huge fan of homemade salsa that I find it very hard to eat store bought anymore.  I also love heirloom tomatoes.  I don't know if it's just the beautiful colors or the taste, or both, but I buy them as often as I can, from cherry tomato size  to regular size.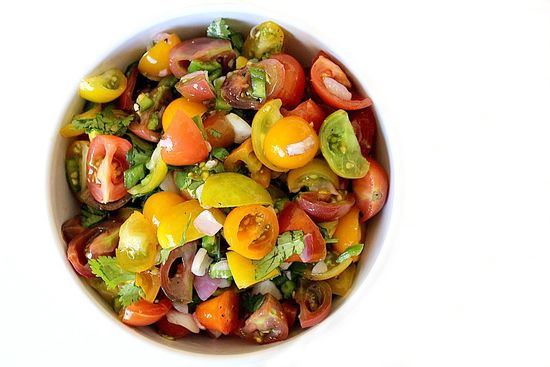 Here is the recipe for my Cherry Heirloom Tomato Salsa.
Ingredients:
1 large punnet of cherry heirloom tomatoes (quartered)
1/2 cup red onion (chopped)
2 serrano chiles (finely chopped)
1/2 lime (freshly squeezed)
1/2 cup cilantro (roughly chopped)
freshly cracked pepper
1 big pinch of truffle salt.
Combine all ingredients in a bowl and gently combine.  Serve with Tostitos multi-grain scoops.