We recently received a delivery of Hillshire Farm Grilled Essentials to try out. These are a new product and I actually had the chance to try them at the BlogHer conference.
I'm a Hillshire Farm Grilled Essentials Ambassador. I do purchase pre-grilled chicken often, I usually keep some in the refrigerator for homemade pizzas, or when I want to whip up a quick salad for myself for lunch.
These come in individual packages and can be heated in 60 seconds. I thought about opening every package and giving each a try, all by myself, but there's no fun in that, and I'm trying to encourage the twins to try new things so I thought I'd make a fun game out of this and set up a Grilled Chicken Taste Testing for them.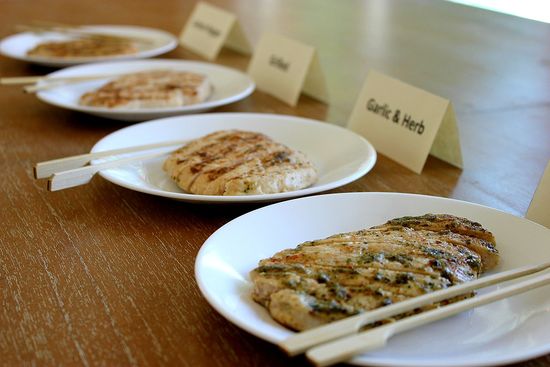 I heated the chicken, sliced it and dished each flavor up on a plate with small skewers for the kids to use for tasting. I gave them each a glass of water to drink in-between each sampling and we made voting sticks for them to hold up after each trying each plate.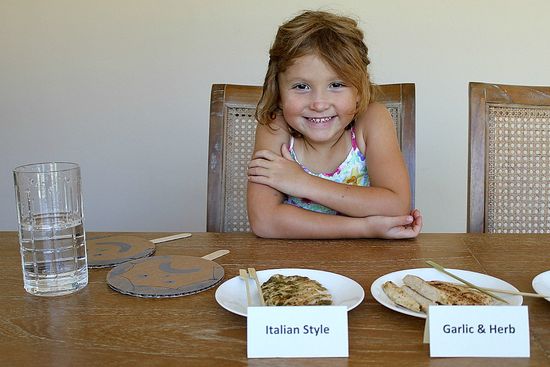 Italian Style Chicken Breast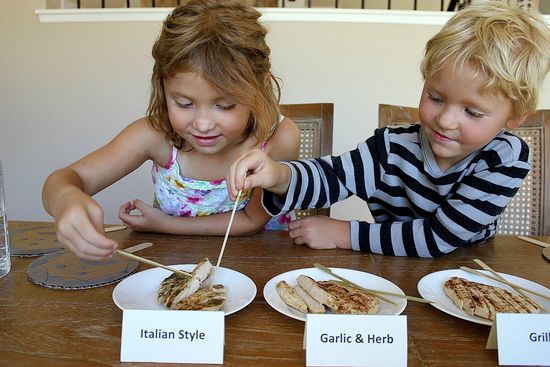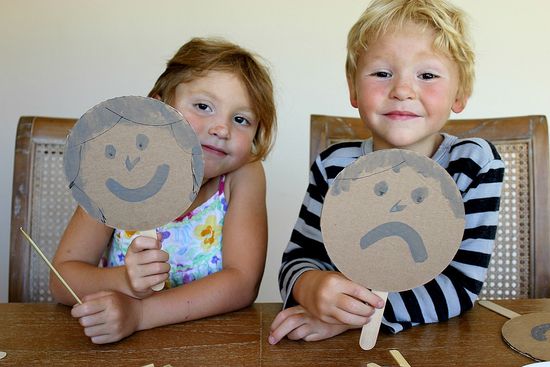 As you can see Marisol really enjoyed this one, Flynn however, was not so happy, his reason behind not liking it: "because it was a different taste".
Garlic and Herb Chicken Breast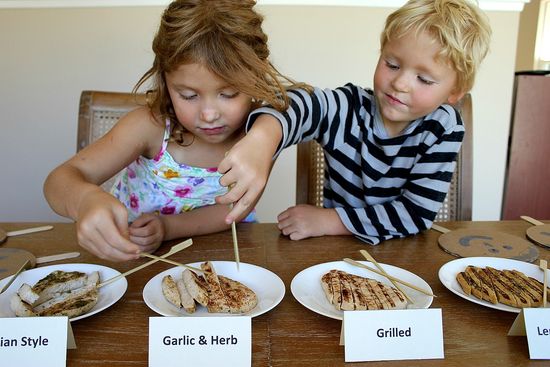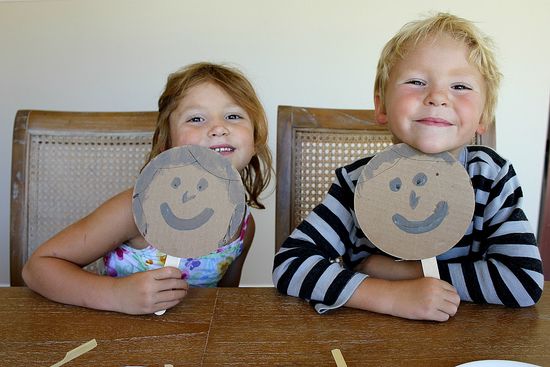 As you can see this one was a fast favorite. They both absolutely loved this flavor.
Grilled Chicken Breast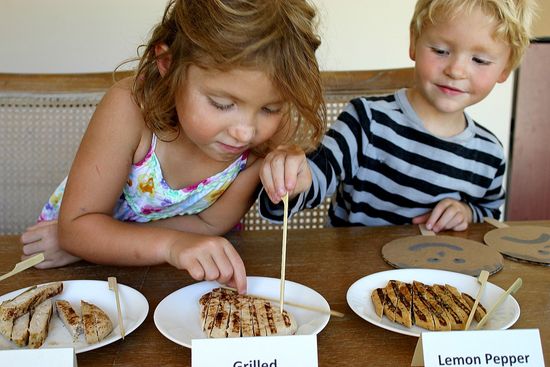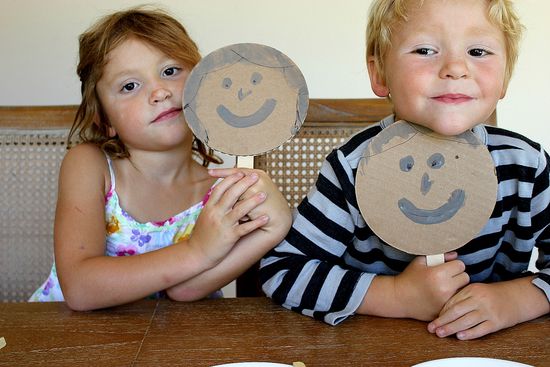 The plain grilled chicken was by far their favorite. After the tasting was over they finished off 2 plates with a bowl of peaches for lunch.
Lemon Pepper Chicken Breast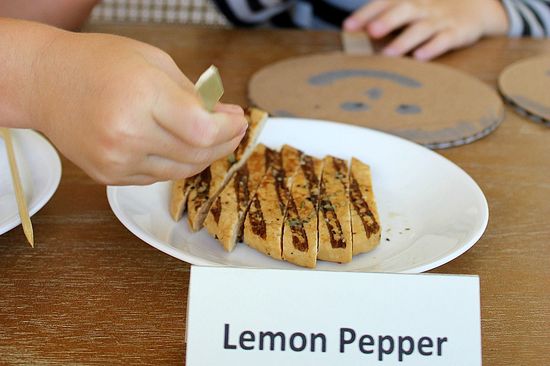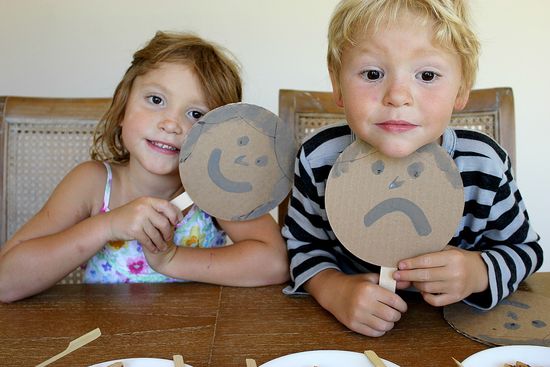 The little man is generally a pickier eater than his sister. She loved all of the flavors. He on the other hand preferred the the Garlic & Herb and Plain Grilled. The other flavors seemed to be a little too strong for him.
I on the other hand love them all too.
I ended up whipping up a quick salad for myself for lunch using the Plain Grilled Chicken.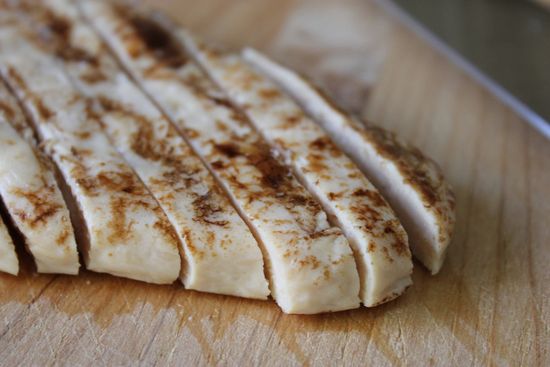 Grilled Chicken, Couscous and Peach Salad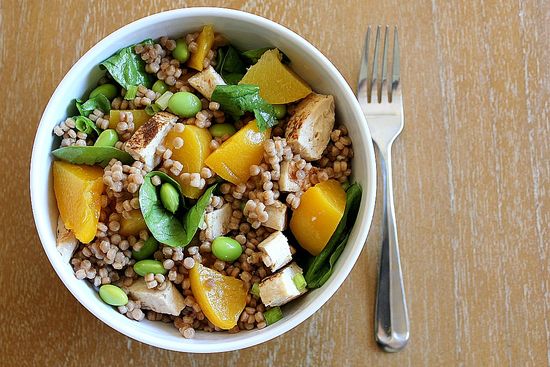 Ingredients:
1 Hillshire Farm Grilled Chicken Breast
1 cup Whole Wheat Pearl Couscous
1 cup Peaches
2 cups Edamame
1 cup Baby Spinach
2 Green Onions
Make the Couscous and boil the Edamame simultaneously according to the package directions.
While those are cooking, heat up the chicken breast for 60 seconds in the microwave, dice the peaches, remove the stalks off the spinach and dice the spring onions.
Run the edamame under cool water and then shell them.
Toss all ingredients in a bowl. Serve.
Disclosure: This shop has been compensated as part of a social shopper insights study for Collective Bias. #grilledessentials #cbias