It's not an ice-cream party without ice-cream cake right?
Instead of dishing up the traditional 'ice-cream' cake, why not try a cake in the shape of an ice-cream.
I picked up this super cute ice cream cone cupcake pan from JC Penney.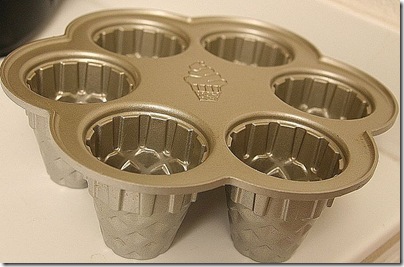 As you can see, it only makes 6 at a time, so this can be a time consuming task if you don't have 2 pans (like me) and are baking cupcakes for a large number of guests.
I also highly recommend giving your cakes a trial run.  I meant to do this.  I didn't.  I had a disaster on party day.  The instructions tell you to fill the pan 3/4 full of cake mixture.  Maybe I went a touch over, I'm not sure, but the cakes became top heavy and toppled over.  It was even worse once icing was added.  We saved the day .. I say we, because my good friend Karie came to the rescue with a great idea for the guests and I solved the babies 'blowing out birthday candles' dilemma.  I recommend filling each pan no higher than the crisscross section.  I made a second batch of these recently and they did stand up.
For the babies:
Their cakes were topped with icing, I popped each inside a waffle cone and filled the cone with jelly beans.  The twins loved it.  Not only did they get cake, but a little candy on the side.
For the guests:
We placed cupcakes on trays.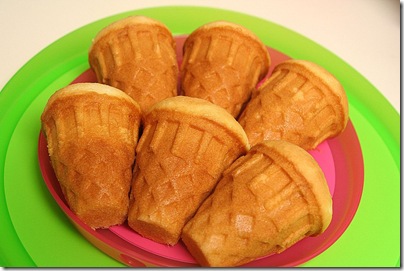 We put out 4 tubs of vanilla frosting which we colored using food dye.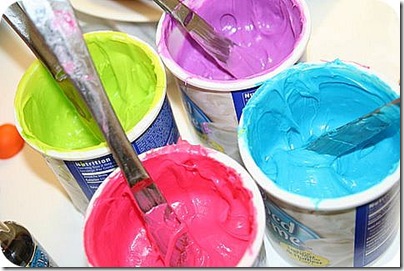 Then with our ice-cream station set up, we invited all of the guests to decorate their own 'ice-cream' cupcakes.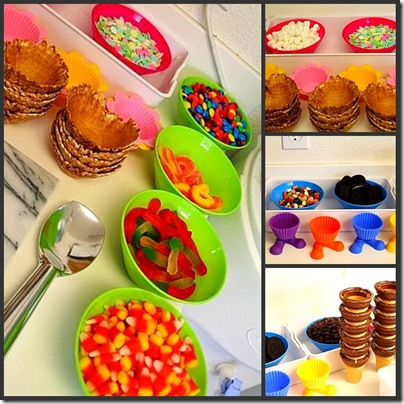 It was a huge hit with the kids.  They loved using the colored icing and decorating their 'ice-creams' with the available candy.