I scream, you scream, we all scream for ice cream.
And that's just what we did at the twins ice-cream party.  I allocated one of the kitchen benches right next to the freezer as an ice-cream station.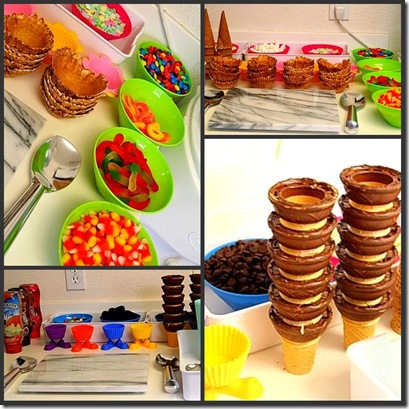 At the back of the bench I placed some containers with little bowls full of toppings.  I primarily placed the toppings that could potentially melt back here, why, well because I could fill the containers with ice and sit the bowls inside to keep them cool if needed.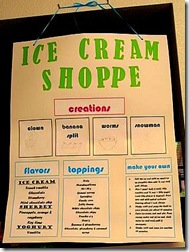 Toppings: white and milk chocolate chips, Oreo's, mini marshmallows, sprinkles, M&M's, candy corn, snakes, peach rings, jelly beans.
Cones: waffle bowls, chocolate dipped cones, regular waffle cones (all purchased from Walmart)
Syrup: strawberry, chocolate and caramel
Other: cupcake feet – to make clown or people icecreams, flower cupcake holders – there were matching flower sprinkles too for the girls to make 'flower' icecreams.  Both of these products were purchased at Michaels.
I had Jay and his friend help me decorate a sign to go above the ice-cream station outlining exactly what toppings, flavors etc were available, how to make your own ice-cream (see below) and they drew diagrams of some ice-cream creations that we thought kids might love such as a clown (with the happy feet), a banana split, the flower creation and a snowman (with 3 scoops and candy corn for a nose)
In the front I set up 2 Chill-It ice cream sets (boards with spades) so that guests could mix ice-creams just like you get at your favorite ice-creamery.  These retail for $19 at Amazon but I found mine on-sale at my local Savon for $4.99 per set.
In between each board/spade set I placed another container to house ice-cream scoops and a cup for hot water if required (I left a kettle of hot water on the back of the stove in case needed) – I've heard that dipping the scoop in hot water makes it easier to scoop ice-cream.
Ice-cream:  I made sure I had one shelf in the freezer available for ice-cream only.  I purchased 4 large tubs of chocolate, vanilla, strawberry and mint chocolate chip flavors.  Knowing that I had some people coming to the party who were not allowed ice-cream, or were lactose intolerant I also purchased 2 sherbet tubs and 1 vanilla frozen yogurt.  This way nobody would be left out of the 'ice-cream' festivities.
ALTERNATIVE 1
As an alternative to store bought ice-cream I purchased 2 Play and Freeze ice-cream makers in the quart size – approx $30 each on Amazon.
The instructions are very easy to follow.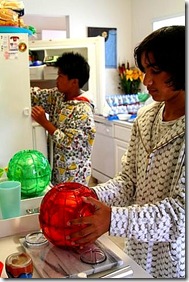 Ingredients required:
Ice
rock salt
sugar
cream or half & half
vanilla or flavoring
There are tons of different recipes you can try at the Ice Cream Revolution website but in a nutshell, you put ice and rock salt in the ball and then you mix up the sugar, cream and flavor and pour it into the cylinder.  Make sure the lids are secure then roll the ball between friends … the boys were throwing it very gently to one another, if it drops it can break so be very careful.  After 15 minutes you pour any water out of the ice end and add in any ice or rock salt needed, mix the ice-cream end and roll it around for another 15 minutes.
Jay and one of his friends made their own ice-cream at the party.  I tried it.  It was good.
ALTERNATIVE NO.2
Which unfortunately I didn't have a chance to try (but desperately want to) was passed onto me from my friend Kj who found it at this blog.
I purchased empty paint tins at Home Depot for just a few dollars.  I'd even purchased cute ice-cream themed wrapping paper to decorate my tins … I will get around to doing it, I'm sure the kids (especially the twins who won't be very gentle with the expensive balls) will love to play with these out in the yard.