These homemade Jolly Rancher LEGO brick lollipops are the perfect treat for kids who love everything LEGO.
Marisol and Flynn are turning 6 tomorrow. I can hardly believe it. When I discussed parties and gift ideas with them, all they wanted was LEGO and to go to Legoland. That's it. I about fainted when I wasn't going to have a chance to plan a party for them, but then I gathered myself and realized I could still put together some fun things for their birthday even if there was no big party being planned.
I began by making these fun LEGO lollipops for the twins' to hand out to their friends at school tomorrow.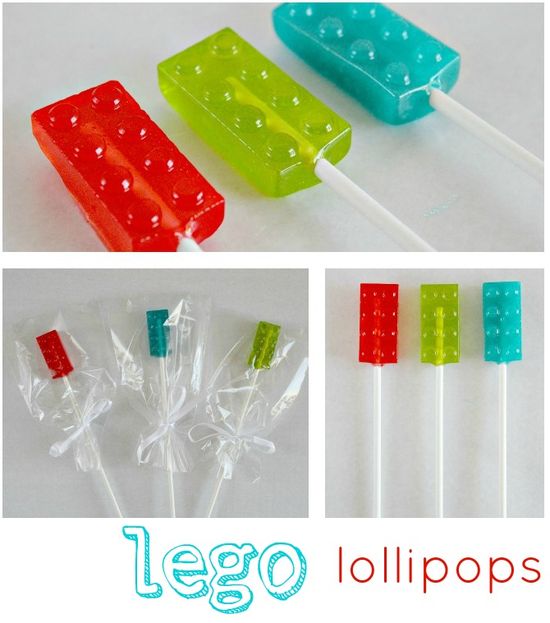 They ended up being surprisingly easy to make considering I could not find a LEGO lollipop mold anywhere – unless you count the LEGO person lollipop/popsicle mold, but I wanted actual LEGO bricks.
What you will need:
LEGO ice bricks mold
Lollipop sticks
Scissors
Jolly Rancher candy – watermelon, green apple, and blue raspberry
Small saucepan
Metal spoon
Lollipop bags
Jug of hot water
Oven mitt
To make:
Get everything you will need to make these set up within arms reach because the process from start to finish moves very quickly and you will not have time to look for things once you get going.
Your first step is going to be cutting small slits into the sides of the ice bricks mold for the lollipop sticks (see below). Don't cut all the way down, you will want to leave about 3-4mm at the base still intact.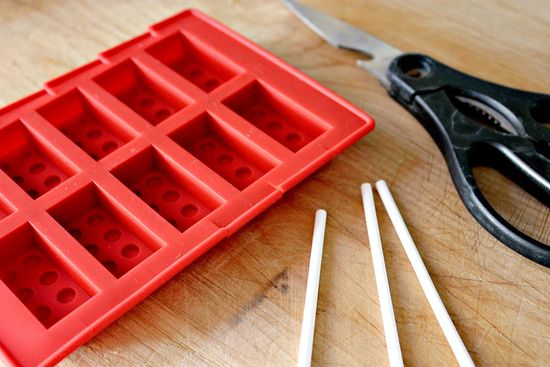 Place lollipop sticks into the slits that you cut and weigh them down, I used a couple of recipe books, this just prevents them from shifting as you are filling up the molds.
Cover the bottom of your saucepan with one color of Jolly Rancher candy. Turn the heat onto low. Stare at the saucepan! DO NOT WALK AWAY! As soon as the candy begins to melt gently stir and move it around so it doesn't burn. It will take a few minutes for the candy to turn completely liquify. As soon as it does, remove it from the heat and pour immediately into the LEGO mold.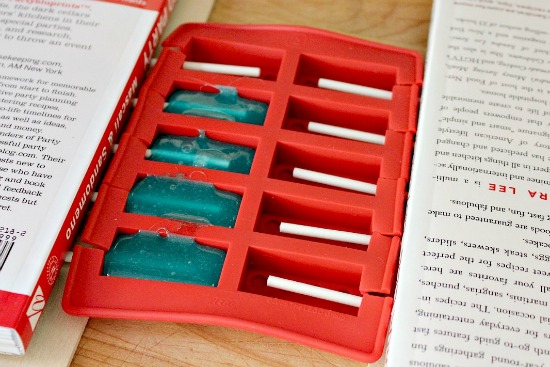 The liquid sets very quickly, so you don't need to worry about any of it coming out through the slits where the lollipop sticks are. Leave the lollipops in the mold to cool on the counter for about 15-20 minutes, then pop into the freezer for about 10 minutes.
As soon as the liquid is poured into the lollipop molds pour the jug of hot water into the saucepan, put the saucepan back on the stove and turn it on high. Use an oven mitt and the same spoon (which most likely has hard candy stuck to it), to gently stir the water, it will gradually melt the hard candy that's stuck on the sides of the saucepan and on the spoon.
Once you remove them from the freezer immediately remove the lollipops from the mold and place into a lollipop bag. Place all of the bags into an airtight container and store in a cool place away from moisture until you are ready to use them otherwise they can become a little sticky.
Repeat for other colors.
Please pin this post for later: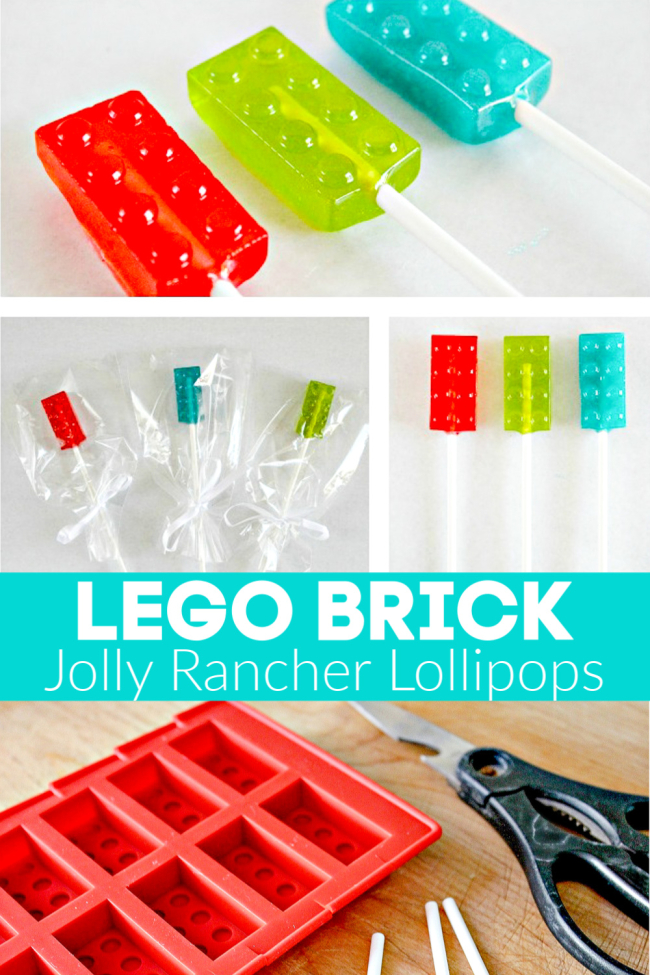 Save