Celebrate Mom's Night Out with your favorite moms with these easy tips and ideas including invitations, free printables, fun food, and cocktails. 
May 7th is National Mom's Night Out. Take this time to gather your closest mom friends, put on your sparkliest dress and host a mom's night out at home. No party is complete without tasty treats, a champagne cocktail, and of course the movie Mom's Night Out.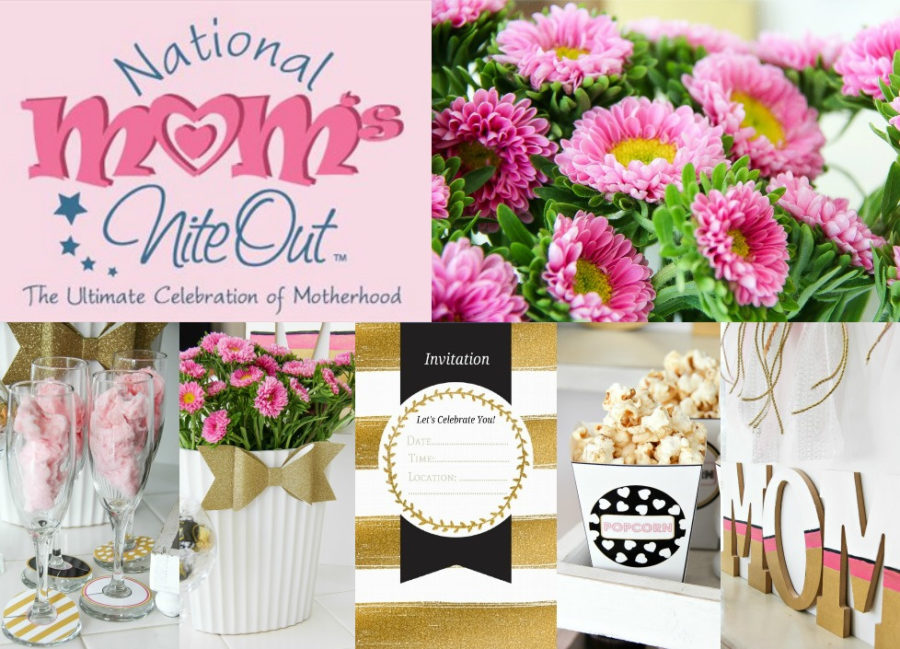 Note: This project was originally created for Hewlett Packard's MyPrintly website however that site is no longer available. You can still find some of the MyPrintly projects on the HP YouTube channel.
A glam party doesn't have to be expensive or over-the-top, keep it simple and stay on budget with these simple tips.
What you need
Free HP Photo Creations Software
HP ENVY 5660 e-All-in-One Printer
HP Advanced Photo Paper, Glossy 5 x 7
HP Photo Paper, glossy 8.5 x 11
Free Printables | Popcorn Boxes and Glass Markers
Party food – popcorn, chocolate, mini cupcakes
Cocktail – recipe below
Decorations – Wood letters and paint, flowers, banner
Glue and scissors
Make the invitations
Download the free version of HP Photo Creations software.
Click on cards, anniversary set, anniversary gold set.
Adjust the type on the invitation if you like to suit your party and do the same for the RSVP card.
Print and send.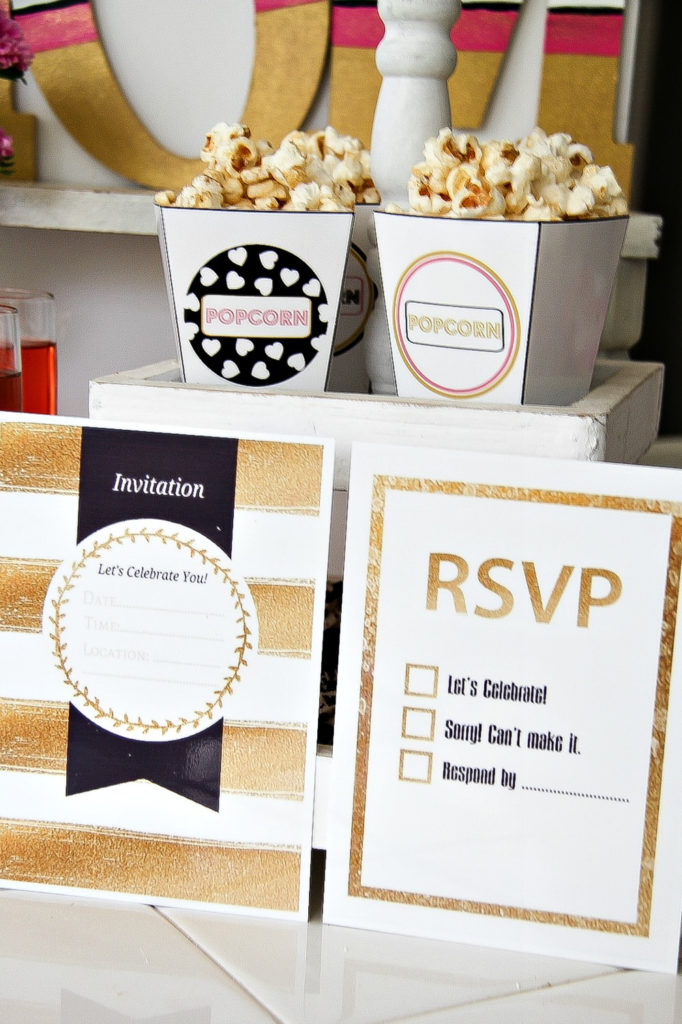 Make the glass markers and popcorn boxes
Click here to grab my free printable glass markers and popcorn boxes. Cut out the popcorn box template, fold along the edges and assemble using glue. Set aside to dry.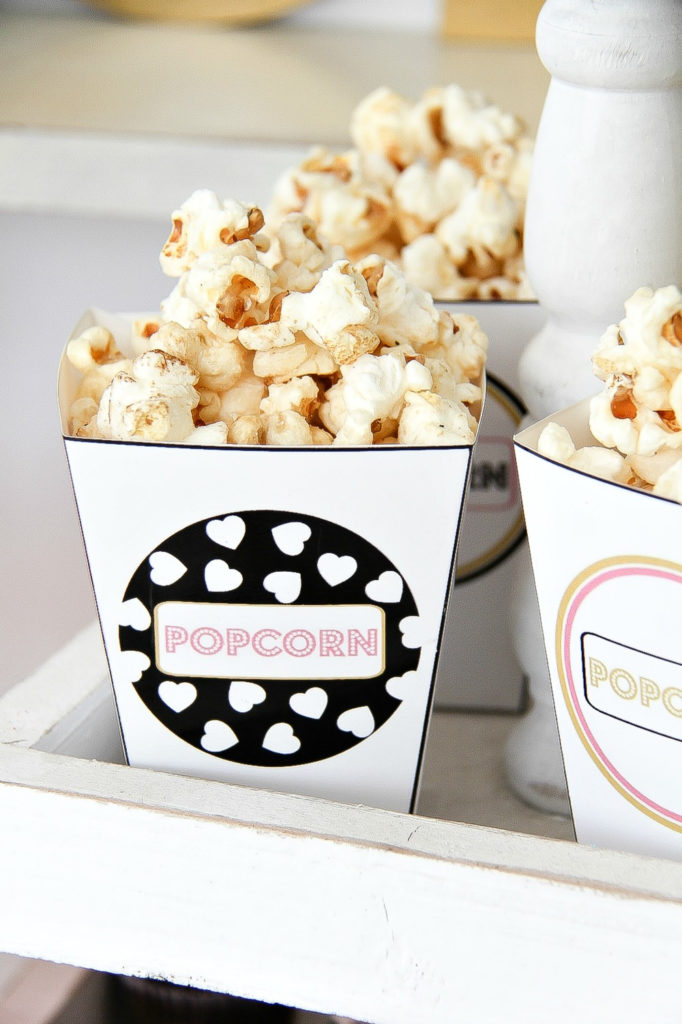 Again, cut out the glass markers template. Make sure to cut along the black line so you can wrap the glass marker around the champagne glass.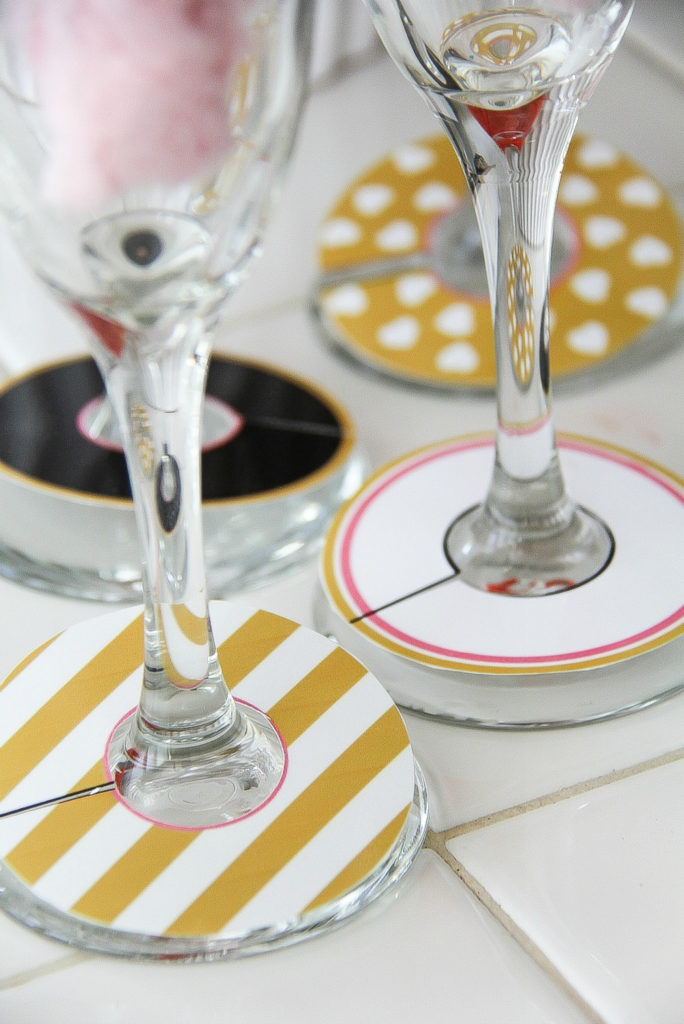 Feel free to mix and match prints, just choose one, or print the entire set so each guest has their own matching popcorn box and glass marker.
Create a cocktail for the evening, this one is really easy and only requires two ingredients:
Pink Cotton Candy
Champagne
Place cotton candy inside your champagne glass and top with champagne or sparkling wine.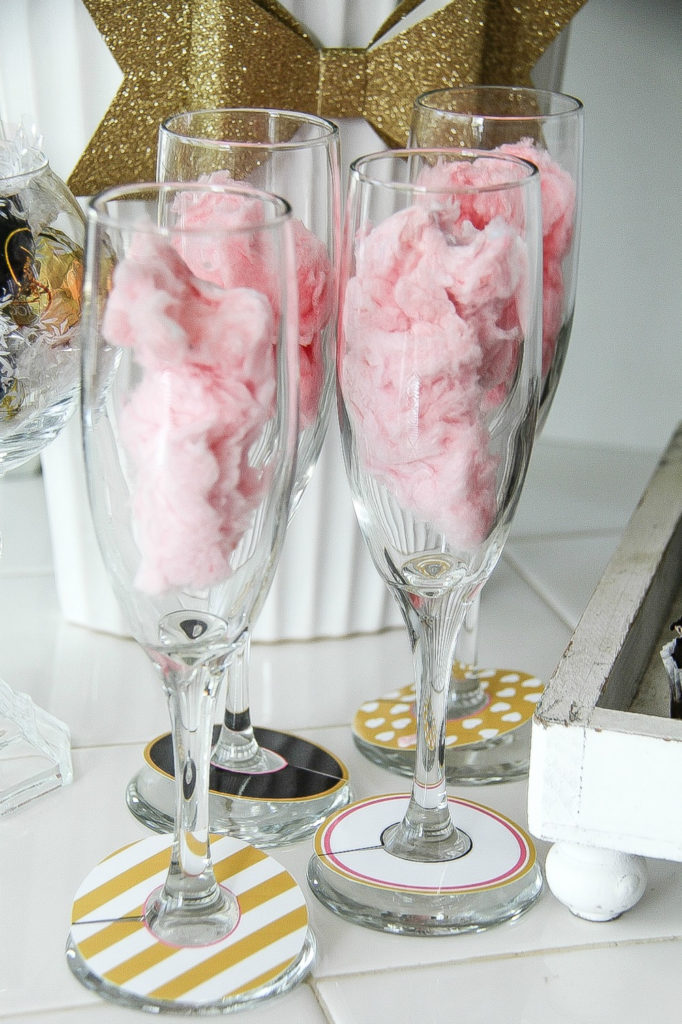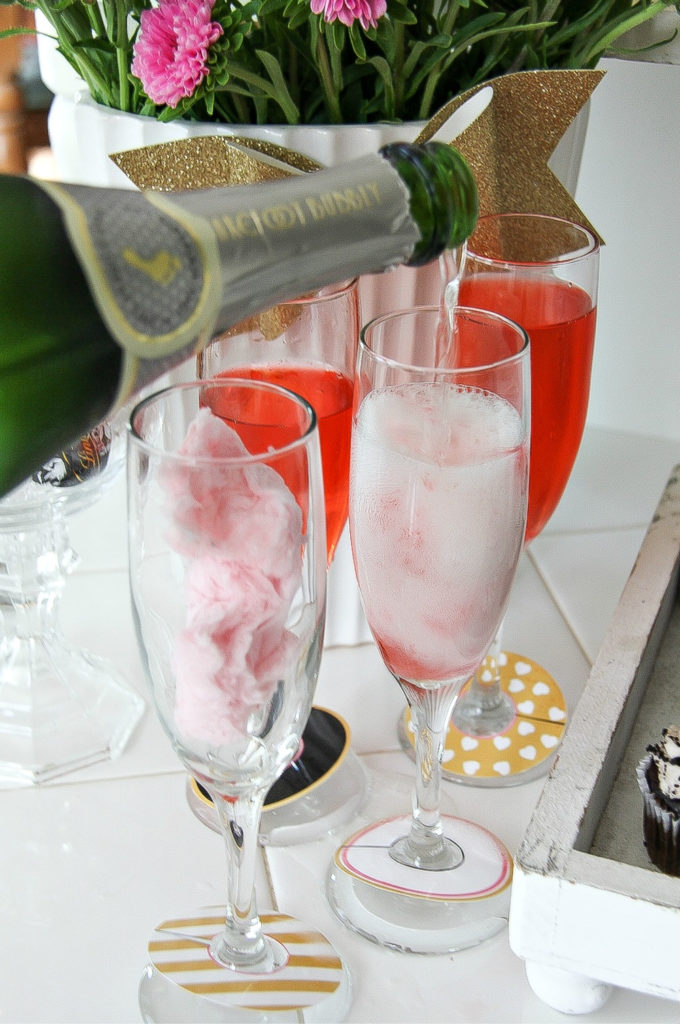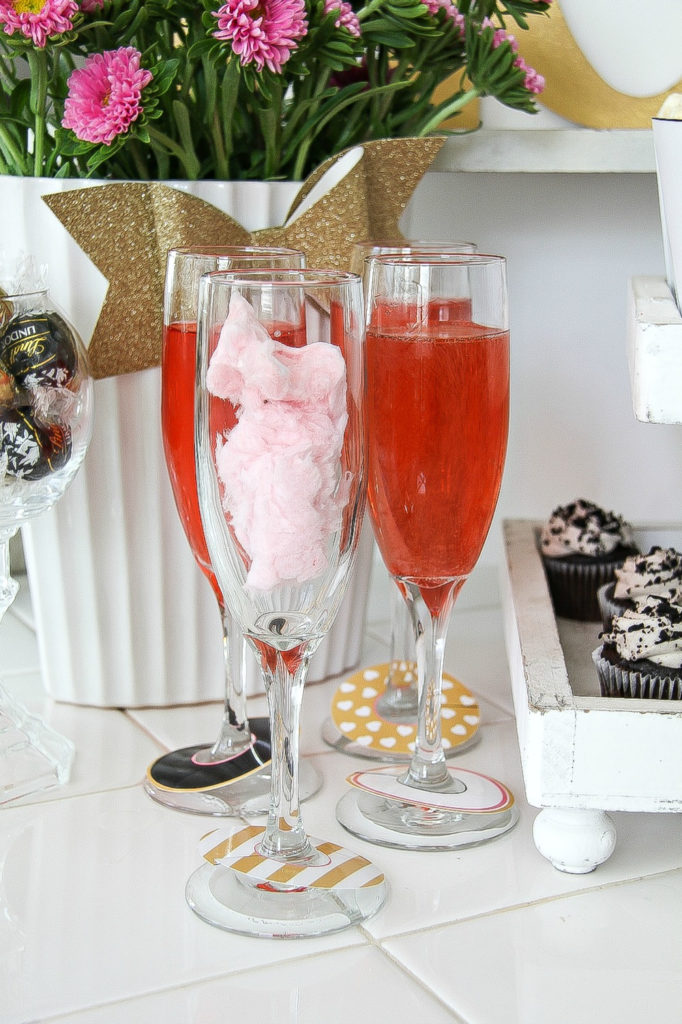 You could also rim the glasses with gold sprinkles before pouring if you like.
Keep your food simple. A tasting bar is perfect whether it be savory or sweet. I have a sweet tooth so I went in that direction for this one including kettle corn, mini cupcakes, and Lindt chocolate.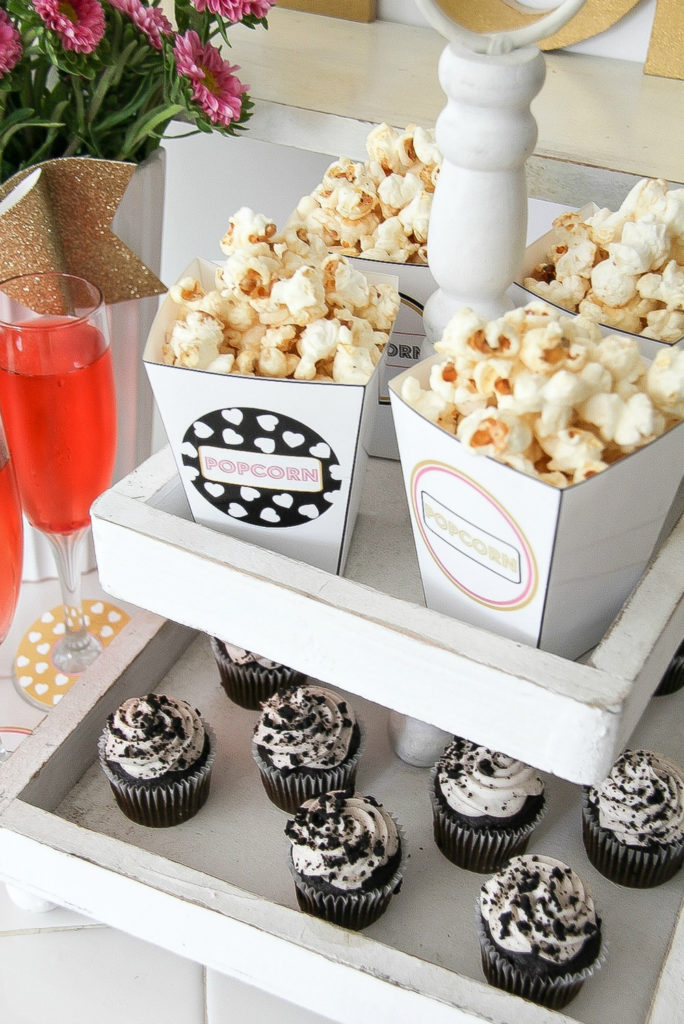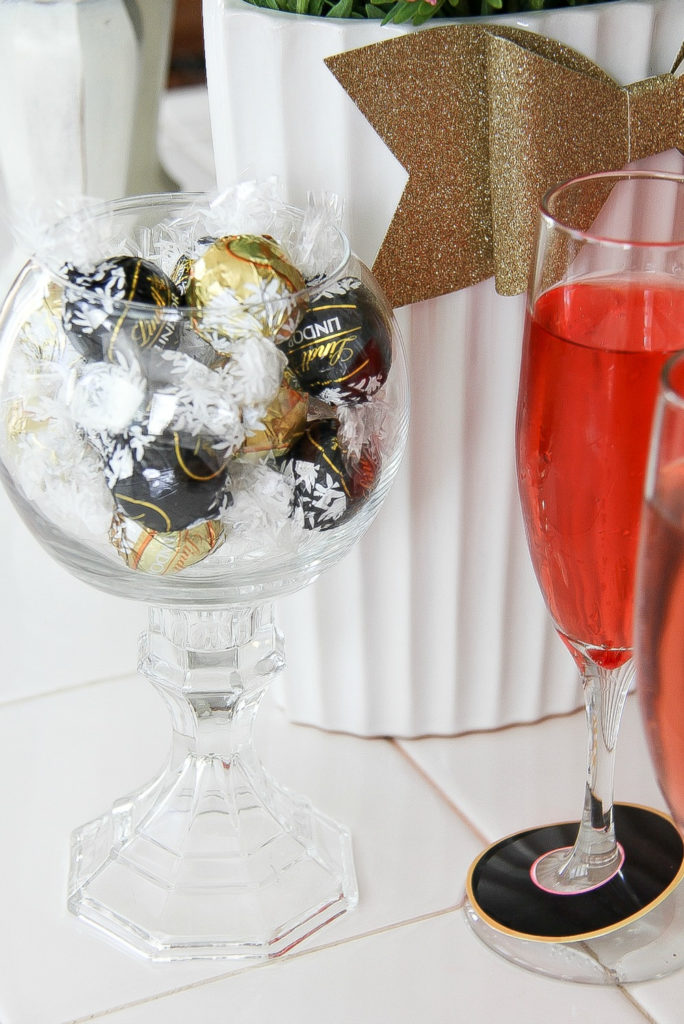 Decor doesn't need to be expensive either. Wood letters are only a couple of dollars each at Walmart. Then all you need is paint and a brush. I used white, pink, black, gold and gold glitter.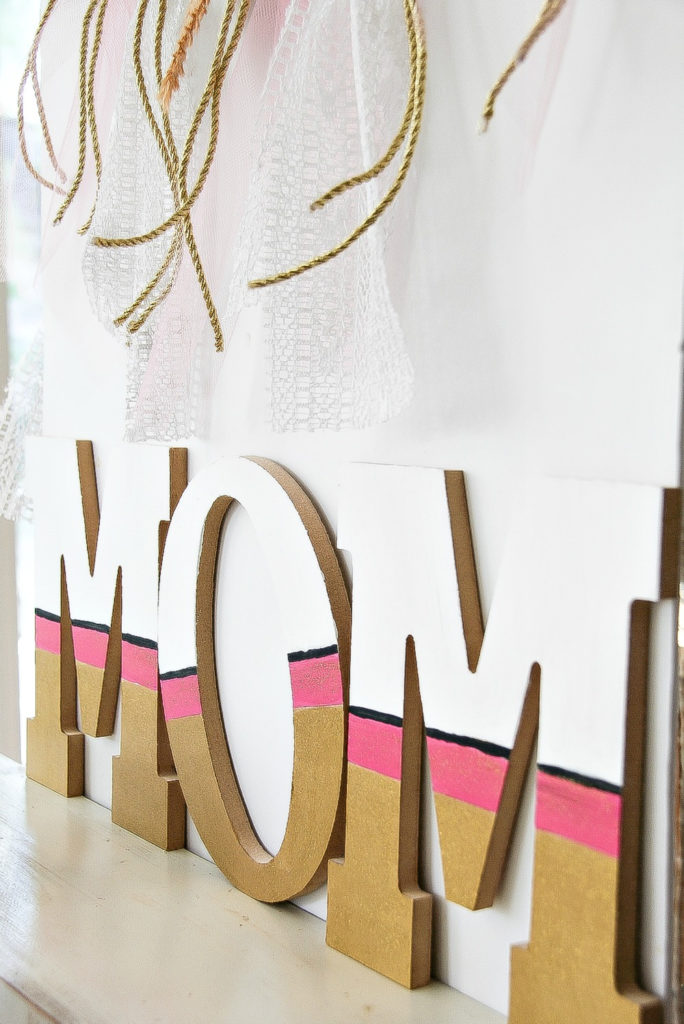 A simple banner can be re-used for any party, you just need a few staple pieces on it and then change out the colored ribbons to match your party decor.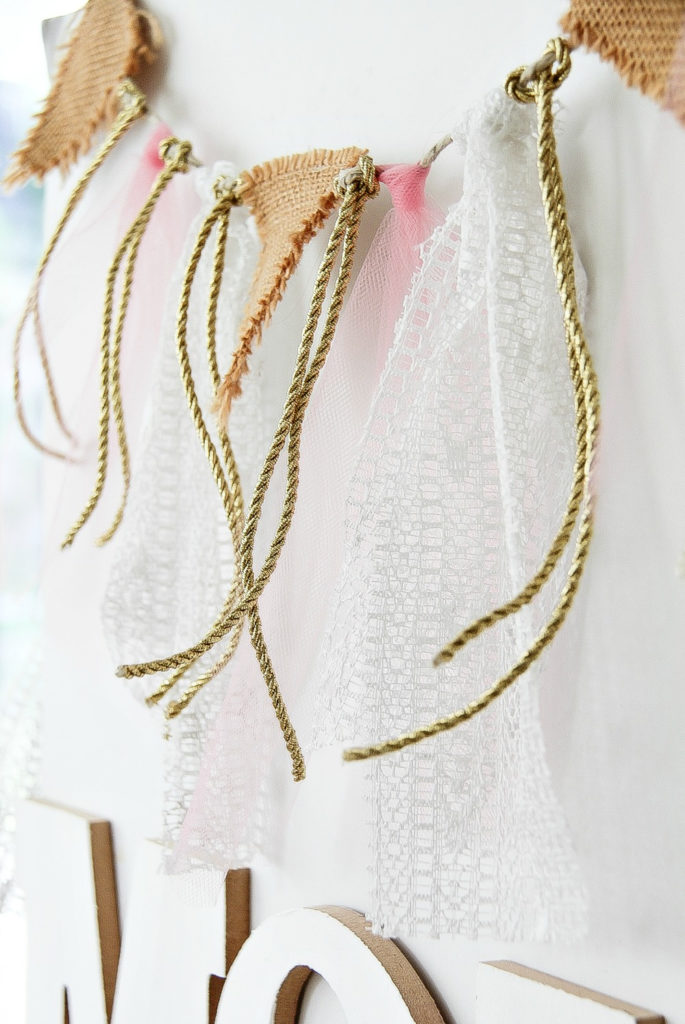 Fresh flowers brighten up any space but are a must at a glamorous Mom's Night Out celebration.
Add a pretty paper bow (the kind you would put on packages) to a simple vase to give it a more glam look.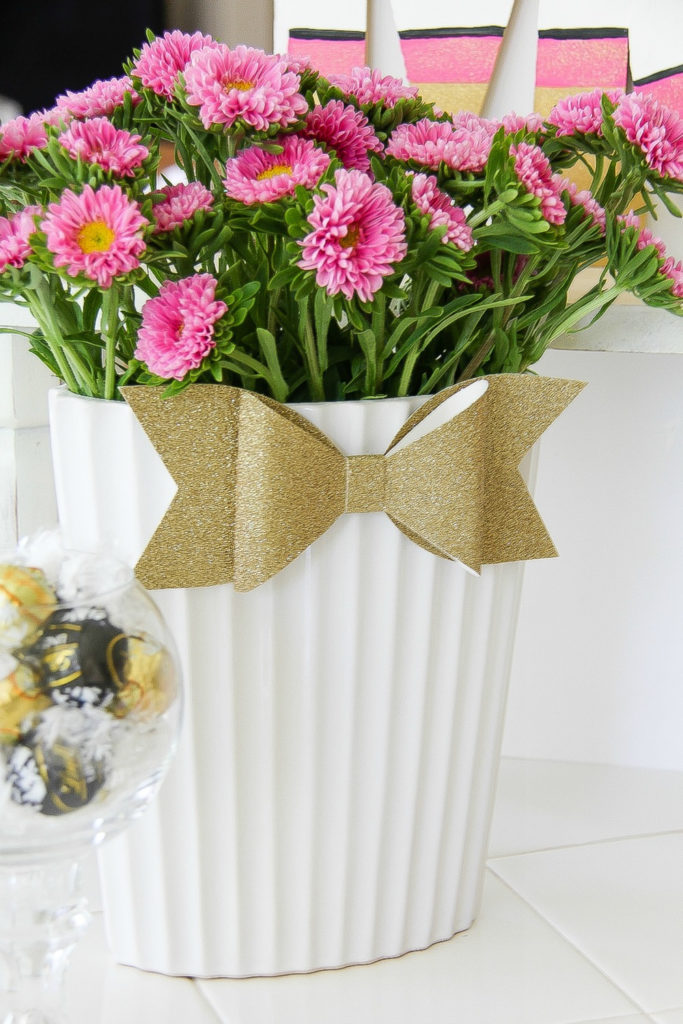 There you have it, a simple, inexpensive, but glamorous Mom's Night Out party that your friends will love.
Please pin this post for later: