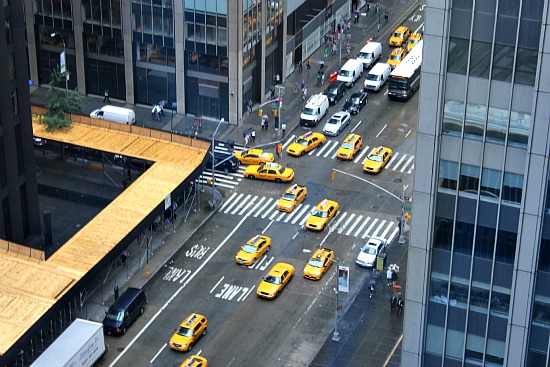 As a person who doesn't really 'do' public transport, I rely on cabs, or town cars generally to get about when I'm out of town.  That's not to say that I don't catch the occasional train, but I'm normally with a group, or treating my little train lover to a day out.
Looking out of my window at the Hilton New York, the above image is pretty much what I see.  Lot's of cabs.  All the time.
Now trying to get a cab is a whole other ball game.
This isn't my first time in New York by any means, I think it's closer to my 6th time, from memory, yet for some reason this trip I'm only just realizing how difficult it can be to navigate the cab system.
Being that I was arriving very late into New York (which ended up being after 11:30pm due to flight delays), I had a room booked at a hotel by the La Guardia airport, with the intention of sleeping, catching up on a little work in the morning, then making my way over to the Hilton to check in for the BlogHer conference.  My shuttle didn't collect me from the airport as promised, and then stopped answering their phones when both myself and my husband tried calling to find out why.  So of course the only option I saw at that point was to grab a cab.   As soon as I got in the cab and told the driver where I was headed he was extremely rude, and not just to me, he also had 'words' with the lovely security lady guiding us through the cab line.  Apparently cabs don't take passengers to La Guardia hotels.  Really?   Regardless, I convinced him to take me, and I immediately pulled up the hotel address on the GPS on my iPhone.  I then noticed that he was driving around blocks after passing the street of the hotel in what I feel was an attempt to up the fare.  I called him out on it and he immediately turned around and drove me to the hotel.
This morning before checking out of my hotel I called down to the front desk and asked them if they could call me a cab to take me to the Hilton.  I was told that you can't call for a cab, and they don't go out to the hotel, instead I would need a town car which had been requested and would collect me in 5 minutes.  Not a problem really, but once I safely made it into the city I decided to do a little research about cabs in New York and found some really useful information.
Everything you need to know about New York Taxis
Trip Advisor: New York City Taxis and Rental Cars
I hope this information helps you get around New York City.