Here are a couple of appetizers I made for a New Years Eve party, but obviously you can make them for anything.  They are both super quick and easy.
SAVOURY ZUCCHINI BOATS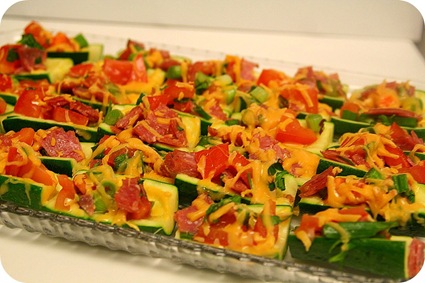 This recipe was taken from Family Circle Fabulous Party Pieces.  Now I would love to give you a link to this book so you can purchase it, but it seems like it's extremely difficult to come by.  I've had my copy for about 12 years when I worked for the distributor. 
Ingredients:
5-6 zucchini
1 large tomato, finely chopped
2 spring onions, finely chopped
1 tbs parsley, chopped
4 slices salami, finely chopped
1/2 cup grated Cheddar cheese
To make:
Slice each zucchini lengthways down the center, then cut each half across the middle … this will make 4 zucchini boats.
Using a small spoon scoop some of the center out of each boat
Simmer zucchini for 3 minutes, drain and run under cold water.  Pat dry.
Combine all other ingredients in a bowl.  Spoon the filling into the zucchini boats. 
Grill until the cheese has melted.  Serve immediately.
CRISPY PROSCIUTTO CUPS WITH PEAR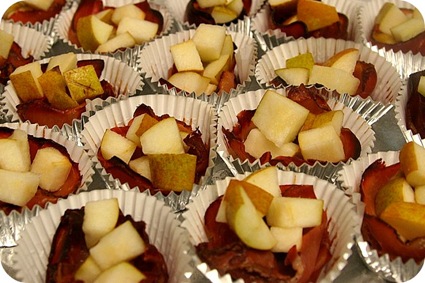 This recipe is courtesy Martha Stewart so please visit the link here for the recipe.  Also check the comments because a reader suggested adding cantaloupe to these as alternative