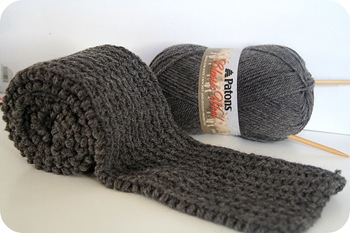 About a week ago we were hanging out at the Wild Animal Park with friends.  It was cold … okay, okay, it was cold by California standards.  Every time we passed a gift shop Jay asked me to buy him a scarf.  Being the oh so kind mother I am, I refused.  I'd reminded him approximately 3,472 times before we left the house that it was going to be cold, but he knew better and thought he'd be just fine.  Then I heard bells, alarms and whistles and a little light went off above my head.  I'd knit him a scarf for Christmas. 
I surfed the net and looked through my knitting books and came up with a super easy scarf.
What you need:
Size 9 needles
2 balls Patons Classic Wool (Dark Grey)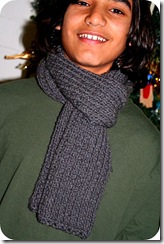 To make:
Double the yarn – work with 2 balls at the same time so the scarf is thick and warm.
Cast on 23 stitches
1st row – knit 1, purl 1 .. repeat to end (end on knit 1)
2nd row – knit
repeat these 2 rows until desired scarf length is reached.  I used the entire ball/s
Cast off loosely.
N.B.  You will need to pay close attention to your knitting, you are working with 2 balls at the same time so it's very easy to knit/purl into one loop of the stitch and not the other (hence your pattern won't work and you'll end up with too many stitches on your needle).  I had to pull my knitting apart a couple of times and re-do when I got sidetracked by a show on TV.
As seen on:
  One Pretty Thing